Beach Trip Checklist

If there's a beach vacation in your future here's a practical beach trip checklist with a little shoreside flair thrown in.

Scroll down for Tips, Lists and Links to make your vacation 
just beachy.

On this page is a beach trip checklist containing all those items needed especially for shoreside, island and other tropical vacations. As you would expect, it's filled with water friendly stuff to make the most of a trip to the sun, sand and surf.
Take these things along on your next beach vacation and start making memories!

Looking for a complete packing list? You'll find the Mother of All Vacation Packing Checklists here.
From there, every vacation is as individual as you are. Climate, activities, special events and modes of travel will dictate must-haves for your list.


Beach Trip Checklist

Sandals or Flip flops - Apparently we aren't supposed to call them thongs anymore. Whatever you call them, a pair of "easy to slip on and off" shoes like flip flops, sandals or Crocs are an absolute must. Something you don't mind getting wet or that are easy to kick off during beach walks.

Hat - Take your shade along. A big brimmed hat protects your face, neck and shoulders from the tropical sun.

Book - Check out our list of Best Books to Read for a selection of "great-reads" to take along on vacation. Are you a "heavy reader"? The Kindle Reader is a fantastic way to take along as many books and magazines as you can possibly read without the weight or bulk of paper bound issues.

Sunglasses - Polarized sunglasses with UVA and UVB protection are a good barrier between your eyes and the sun. Your eyes are just as vulnerable to melanoma as your skin is. Remember that the sun reflects off the water and intensifies the effects. You'll also find that good sunglasses make the scenery more crisp looking.
Sarong or Pareo - These brightly patterned lengths of fabric are around 3 feet X 6 feet (size varies) . The versatile sarong scores super high in our double duty category and no beach trip checklist would be complete without at least one. You can often buy these from vendors that stroll the shoreline and if you've been on a beach vacation before, chances are pretty good that there's one in your closet. If you have one (or two) pack them. They'll come in handy as a swimsuit coverup, bathrobe, skirt, dress, beach blanket, table cloth, privacy curtain, sun shade, light blanket, etc... and they'll ask for very little space in your luggage in return.
Disposable Waterproof Camera - I love my digital and it goes most places with me but the beach and water activities don't play well with digital cameras. However, there is always a disposable waterproof camera in the beach bag to capture all those photos that would otherwise have been missed. The disposables are rugged and take good pictures and I'll take them places I wouldn't think of taking the good camera.
Dry Bag - Dry bags are designed to float and keep water out. A small dry bag keeps clothing, towels, cameras, paperbacks, money, smoking materials, etc. dry whether you're sailing, motoring or paddling. The Sea to Summit 13 Liter Dry Bag is about 3 gallons in size and holds a pareo, a towel, sunscreen, water bottle, camera etc. The bigger sizes can double as your beach bag. These are our favorite dry bags on the boat because they're soft, flexible and the colors are fantastic but the thing that's best about them from a traveler's perspective is how little space they take up when they're not being used.
Beach Bag - Beach Bags are flaunting some serious funk these days. A roomy bag to carry all your beach essentials in is a must. Pockets inside (or out) help keep small things organized and handles that are big enough to put over your shoulder make it a breeze to carry. In the right column you'll see a link to our beach boutique which offers a fantastic selection of beach bags - just right for your needs.


As for what should be in the bag, visit our Beach Bag Booty page for the scoop.
Zip Lock Bags - I can't resist picking up shoreside treasures whenever we walk on the beach. Zip Lock bags hold shells, sea glass, bits of driftwood and wave worn stones.
Hair Accessories - You'll probably want to put your hair up on hot days and sultry nights.
Sweater/ Hoodie/ Jacket/ Shawl - At night the beach can be quite chilly and the effect is often magnified by the amount of sun and heat you were exposed to during the day. Your beach trip checklist should include something warm and cozy and also pack a lightweight sweater or shawl for those almost chilly evenings.

Stay at The Beach in Luxury For Free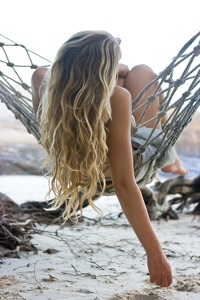 Even though it seems too good to be true ... I'm not kidding! Here are some very real ways to get free accommodation anywhere.

Home swapping gives you the best of both worlds. Enjoy all the comforts of home at your destination, living in an established residence while it's owner lives at your house and keeps an eye on things there.
No need for ploys to fool robbers into thinking your house is occupied while you're gone, the house is occupied.
Trade places with someone who lives in one of your bucket list destinations. Stay for days or months - whatever you work out with your trade partner.
Tens of thousands of people who want to trade homes have signed up here.
No house to trade? No problem
And yet another way to stay for free at a vacation location is by pet or house sitting. Yes, there are tens of thousands of pet and homeowners that are looking for someone to stay in their house while they vacation, visit family or attend events. Many have pets that can't be left alone but some want the security of having someone reliable staying in their house while they're gone.
Here's more about how to be a House Sitter.

What Other Visitors Have Said
Click below to see contributions from other visitors to this page...


More Savvy Shoreline Stuff

Printable Beach Checklist
Mesh Bag
Straw Tote Bag
Large Beach Bags
Canvas Bag

Top of page - Beach trip checklist
Home
> Beach Trip Checklist