Canvas Beach Bag & Carry All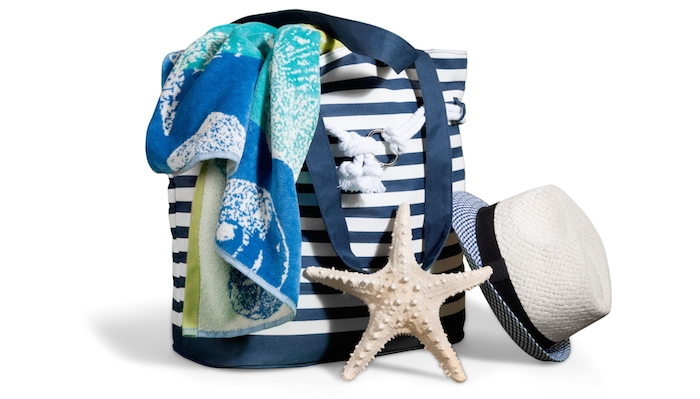 The Practically Indestructable Canvas Beach Bag
Beach bags have a task to perform - to hold all of your stuff together and look good - and nothing steps up to the plate like canvas.

It's hard to improve on this versatile fabric known for it's durability, paintability, washability and comfortability and boasts a very long history in the business of
travelability.

The super tight weave keeps your stuff in and sand out which pretty much covers the list of things-a-beach-bag-should-do.
Some of the most beautiful tote bags are crafted from this fabric which can be embellished with paint and pretties to achieve any look.
For a durable bag at a great price look no further. Deluxe Canvas Tote Bag, Navy
offers the best value and will last for years.

Waterproof Canvas Beach Bag

This bright and beautiful bag is made of durable canvas that is waterproofed on the inside.
Measuring in at 16.5"x14"x7" it is roomy enough for towels, water bottles, books, even a pop up tent.
Handy pockets on each end hold bottles and small belongings and an inside zippered compartment is perfect for keys and things you absolutely don't want to lose.

The chubby rope handles are soft and comfortable with a 10" drop that makes it easy to sling over your shoulder. It's classic styling means it'll never go out of style.

Learn more about the
Baja Beach Bag here
.

Tropical Print & Waterproof

Palm Tree Canvas Beach Bag
Just right for a beach excursion, this beauty tics all the boxes.
It's big enough to carry a towel and a beach blanket plus snorkel & mask, book, purse, water bottle...you name it.
Adorned with brilliant colors and beautiful

scenes along with wooden bead detail at the handles, the bag measures 21 X 15 X 6 inches and sports a full length zipper making access to the contents super easy.
There's a little pocket on the inside so your keys and ID don't get lost.
It has some gorgeous sisters too with salt water scenes (hover over the links for a look) in blue
, red, purple and green as well as a mutli colored dynamo
that brightens your day just by being near.





More Beachy Stuff

Large Tote Bags
Mesh Bag
Plastic Beach Bags
Straw Bag

Top of page - Canvas beach bag