Sailing Vacation Lists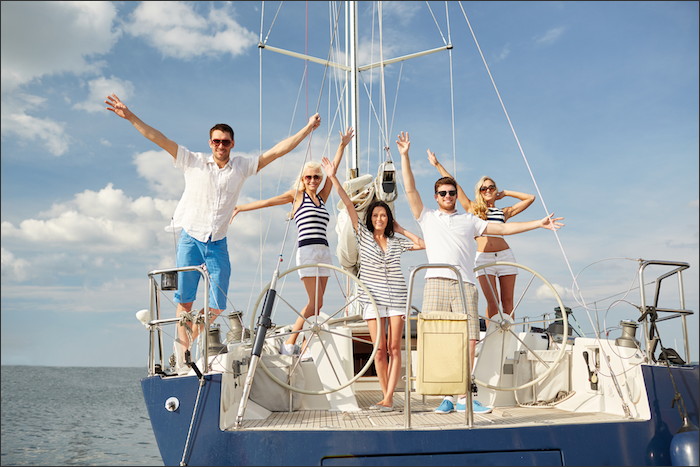 What to Pack for a Sailboat Vacation
If there's a boating adventure in your future these sailing vacation lists are going to simplify the packing process no matter what type of weather you expect.
Obviously a packing list will be very different based on the location of your charter

What to bring on a sailing vacation and more importantly ... what to leave behind.

Whether you'll be Captaining the vessel yourself or going on a fully crewed charter, vacationing aboard a boat requires a unique list of items.

In order to live comfortably in the space and still have room to sail the boat, there are things that need to be paid attention to before you even board the vessel.
Constant motion and small spaces make for some interesting dynamics aboard - here are some basic rules to help you make good boating choices.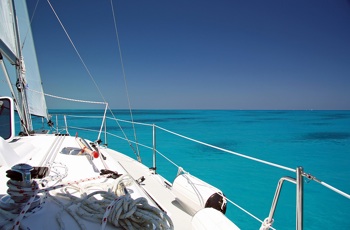 Pack the absolute minimum.
Use soft roll-up-able bags.
Only non-marking soles.

Stow your stuff securely.
Layer clothing for more options.
After years of chartering and bare-boating in the Pacific North West and the British Virgin Islands we bought our beloved "Pacific Jade", a 41 foot ketch rigged sailboat which we keep in Mexico for fun filled winters.
The following list combines what we've packed for numerous sailing vacations and what we want visitors to Pacific Jade to know when they're packing to come for a visit on board.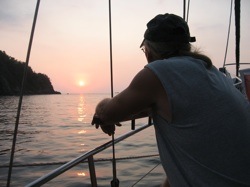 You probably won't have to pack everything on the list but you should make sure that they are aboard. Things like bug spray, a first aid kit, a sewing kit, binoculars and a flashlight are likely already there.

Check with your hosts or charter company to see if foulies and other hard-to-pack items will be available.
Disclosure: Some links on this page may be affiliate links. When you buy a product through one of these links, for example at Amazon.com, we earn a small commission and that helps to keep the site live. Thank you for your support.


Basic Tropical Sailing Essentials

Passport/travel documents
Sandals and walking shoes
2 swim suits (at least)
3 pairs of shorts
4 t-shirts (you'll probably buy some)
1 long sleeved cardigan style (open down the front) shirt or sweater.
Underwear
Sleepwear (for privacy)
Light windbreaker
Personal toiletries
Eye care products
Sailing Gloves
Boat Shoes (we usually go barefoot on board)
Backpack or Dry Bag for shore excursions
Small sewing kit
Flashlight or headlamp/ batteries
Hat/ visor
Sunglasses
Sunscreen and SPF lip balm
Bug spray with DEET
Prescription meds in original bottles
Soothing lotion (aloe vera, noxema)
Hair care and accessories

Books/ magazines/ Kindle reader
Small binoculars
Mini travel first aid kit
Zip Lock bags
Dice/ cards, etc.
Snorkel - I don't mind using communal masks and fins but I draw the line at a snorkel
Camera/ film/ chip/ batteries
Waterproof disposable camera
Journal/ notebook/ pen
A couple of clothespins

Just For Women - Sailing Vacation Lists

Sun Dress - You'll probably go ashore for suppers and shopping.
Skorts - These look great while preserving privacy when getting out of the dinghy.
Pareo or swimsuit cover-up - You'll likely live in your swimsuit.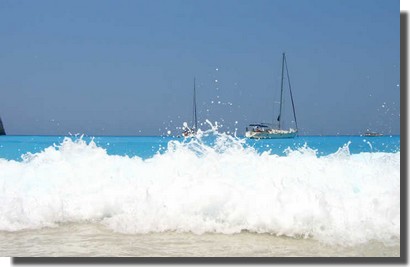 Sailing Vacation Lists - Gear for Cool Climates
The most picturesque sailing we've done has been in the Gulf Islands, British Columbia, Canada and it's almost always in the early Spring or late Autumn when you can expect almost any weather from fair to blustery.
Our packing list included items to keep us warm and dry as well as many of the items in the list above.
You'll see that I recommend polar fleece more than once ... here's why. It's a fabric that is soft against the skin and one of the very few materials (wool is another) that can keep you warm even if it gets wet. If you roll it up in a towel and wring the whole thing the polar fleece will emerge almost dry.

 2 pair wool/ polar fleece socks
1 pair long underwear
1 foul weather jacket with hood
1 ball cap - I wear one under my hood to keep it from slipping over my eyes.
1 foul weather pants
1 long sleeved, turtle necked, t-shirt
1 polar fleece vest
1 pair sea-boots
1 warm toque
1 fleece hoodie
1 pair warm pants (non denim). Polar fleece is a great choice.

Start with the Right Luggage

What you pack your gear in is as important as what you pack. The typical sailor's bag is a soft sided duffel and for good reason.
Nautical Superstition
Sailing history is rife with superstition and salty lore. Here you'll find sailing superstitions that many sailors still heed.

Nix the hard sided luggage for sailboat trips. Storage is limited on boats of all kinds but the hull configuration of a sailboat makes for small and oddly shaped stowage areas. There just isn't anywhere to put a big unyielding box.
Our Sailing Vacations start with soft bags. Usually a knapsack and a soft duffel bag each.
The back pack is used as carry on and later for shore excursions, day trips and shopping.
Soft duffels can be unpacked then rolled up and stowed in a net or cupboard out of the way.

Luggage Never Sleeps

On a trip to the BVI we brought along cousin Harry. We love Harry or we'd never have invited him on a vacation that offered such tiny living quarters. The boat we chartered was 31 feet in length. I can't remember how many times I mentioned that space would be very limited and that a soft sided bag would be best, maybe two.
Harry arrived at the airport with a matching set of 3 hard sided bags. First he was unable to handle all 3 of his bags on the hilly and cobbled streets of Road Town so we took turns carrying the third suitcase to the rooming house. We had each brought a small backpack and a duffel which left a hand free.

Once on the boat Harry's luggage was a chore. During the day the bags resided on Harry's bed which was fine, except when he wanted to have a nap. At night it was moved into the salon which was also OK except when we were up earlier or later than Harry and had to navigate around those bags. Then we'd move them to the cockpit for easy access to the salon only to want to have our coffee in the cockpit so back down the companionway the bags would go.
A few years later we invited him to spend some time aboard our boat in Barra de Navidad, Mexico and area. He looked like a true sailor when we met him at the airport with his one duffel and a smaller soft bag.

Seasickness Remedy

Recent studies strongly suggest that taking at least 4000 milligrams of Vitamin C for 4 days prior to sailing can prevent seasickness.
Try Ginger capsules, tea, cookies, ale or candies to settle an already upset stomach.
Find more motion sickness remedies here.


Make Your Sailing Vacation Better


Top of page
Home
> Sailing vacation lists