RV Packing List

The Universal RV Packing list includes camping essentials, food lists and suggestions on how to pack a whole life into the confines of your RV.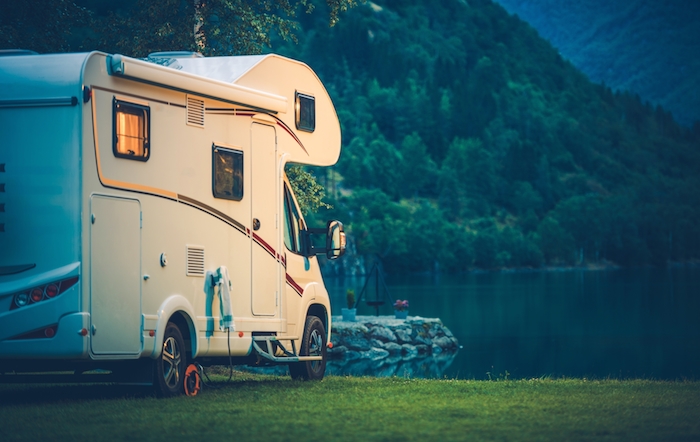 Camp in Comfort Wherever You Are

I think we can all agree that packing and unpacking the RV and stressing about whether we're forgetting something important is one of the least fun parts of RVing.
    We can help with that.               
Whether you're heading out for the weekend or the rest of your life, we have the lists that'll turn your RV into a self sufficient traveling caravan loaded with home comforts.
Here's a Universal RV Packing list that includes camping essentials checklists, food lists, personal gear and first aid needs.


RV Packing List - Cleaning and Sanitation
Large and small garbage bags
Dish cloth, towels, scrub pad
Plastic washing bin
Towels, face cloths
Laundry soap
Rags, shop towels
Soap, shampoo, dish soap, laundry soap, pre soak.
Cleaning solution (we use vinegar a lot)
Hand sanitizer, hand wipes
Tissues, bathroom tissue
Short handled broom and dustpan
Short handled mop/bucket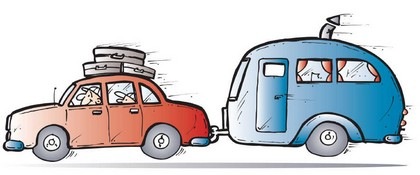 RV Packing List - Cooking and Campfires
Axe
Portable Propane Gas Grill , camp stove, grill for campfire cooking
Fuel for BBQ, stove, charcoal
Cooking utensils (flippers, grabbers, stirrers etc.)
Pot, pan, griddle
Coffee pot, teapot
Firewood
Firestarter, fat sticks
Long handled lighter, matches
Newspaper or other non-glossy paper (or Fatwood )
Weiner sticks, popcorn popper
Other campfire cooking tools
Skewers
Flame resistant gloves (We LOVE the Ove' Glove )
Oven mitts, pot holders
Table cloth, weights or clamps
Plates, bowls, glasses, mugs, go cups
Knives, forks, spoons
Knife, knife sharpener (or self sharpening)

Toothpicks
Mixing bowl
Bottle/can opener, corkscrew
Ice Chest , Ice
Timer
Plastic containers, zip lock bags
Foil, plastic wrap, wax paper
Napkins, paper towels
Can and bottle cozies
Wine glasses (for us, stainless steel wine glasses are rv essentials)
Here's what you said to the above question!

61% - Yes
23% - No
16% - Once or Twice
RV Packing List - Food
Salt, pepper, sugar, spices
Mayo, mustard, ketchup
Butter/margarine
Salad dressing, dip
Flour, sugar
Baking soda, baking powder, cornstarch
Cooking/Salad oil
Peanut butter, jam, syrup
Coffee, tea, cocoa, cream
Pickles, olives, hot peppers
Bread, rolls, hotdog/hamb. buns
Eggs, cheese, milk
Sour cream, yogurt, cottage cheese
Bacon bits, parmesan, croutons
Oatmeal, cream of wheat, corn meal, etc.
Cold cereal
Pancake mix
Marshmallows, popcorn, campfire food
Tortillas
Tuna, ham flakes
Kraft dinner, noodle/rice side dishes
Limes, lemons
Corn on the cob
Potatoes, yams, carrots
Pasta, spaghetti, instant noodles
Hot dogs, hamburgers
Watermelon, grapes, oranges, etc.
Lettuce, cucumber, green onion, celery
Purple cabbage, radishes
Onion, garlic
Cabbage, broccoli, cauliflower
Mushrooms (canned or fresh)
Tomatoes, peppers, avocados
Chicken, pork, beef, fish
Bacon, sausage, ham
Canned beans, soups, spaghetti sauces
Fruit cups, pudding cups
Taco kit
Marshmallows, grahams, chocolate
Peanuts, nuts, chips, etc.
Sliced meats
Granola bars, cookies
Juice, soft drinks
Beer, wine, coolers
Liquor, bailey's, mix, ice
Mix up a batch of marinated vegetables and some muffins to help with rv meals while you're getting set up.
The marinated vegetables are great raw or wrapped in foil
and roasted on the BBQ or campfire.

We always carry some just-in-case rations, usually a can or jar of spaghetti sauce and a package of pasta, as emergency meals.
If we are delayed for some reason or have unexpected guests it comes in very handy.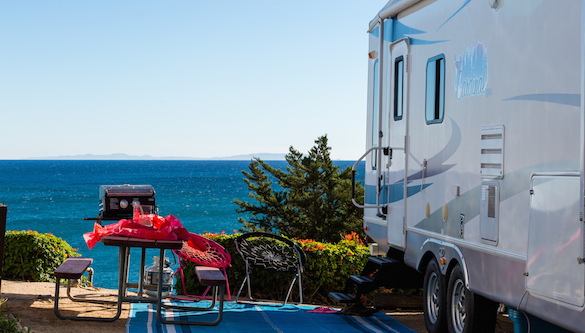 RV Living

Large piece of outdoor carpet
Lantern, fuel, mantles
Heater, fuel
Flashlights, headlamp
Smoking materials
Insect discouragers
Compact table
Folding chairs
Batteries
Scented candles
Water jugs
Camera, GPS, cell phone
Swiss army knife, multi tool
Warm clothing, wool socks
Lightweight binoculars
Rain gear, umbrella, gum boots
Duct tape, gorilla glue, WD40
Small sewing kit, safety pins
Solar outdoor lights
Solar panel
Fire extinguisher
Toilet paper, paper towel
Lightweight folding shovel
Road Trip Music - ipod, satellite radio, etc.
Musical instruments
Whistles
Travel clock
Clothesline/pins
Water, water filter
Bedding - pillows, sleeping bags, blankets.

RV Packing List - Games and Recreation
Life jackets
Swimsuits, fins, goggles, towels
Canoe/kayak, inflatable dinghy, paddles
Tubes, noodles, boogie boards, float toys
Bicycles, wagon
Dominoes, cards, dice, board games, etc.
Bocce Set , frisbee, horseshoes, croquet
Volleyball, badminton
Baseball/glove/bat, basketball, soccer ball, football
Kite, remote control toys
Compass , maps
Mirror
Foot pump for inflatables
Fishing gear, licence, bait
Golf clubs, tennis racquets
Hammock

RV Packing List - First Aid
Emergency phone numbers, poison control
Flashlight, extra batteries
Pen/pencil, paper
1 First aid booklet
1 Barrier device (breathing)
4 Pair non-latex gloves (2 different sizes)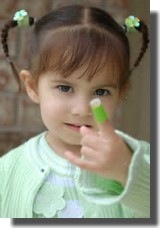 2 Burn dressings
5 Gauze pads 4X4 and 2X2
2 Pressure dressings
2 Eye patches
1 Abdominal pad
2 Roller gauze
1 Adhesive tape
1 Pair scissors
1 Pair tweezers
2 Triangular bandages
10 Alcohol wipes
2 Each hot and cold packs
1 Space blanket
10 Steri strips, butterfly bandages
Bandaids (various shapes and sizes)
Antibacterial hand gel
1 pocket mask



RV Packing Lists - Medical
Prescription medication
Epi pens, Inhalers
Glasses, Reading glasses, contacts, sunglasses,
Eyeglass repair kit , extra eyeglasses
Hearing Aid cleaning kit

Reminder

Don't forget Epi Pens and Inhalers!!!

Always pack a little more medication than you expect you'll need in case of travel delays or loss of/damage to meds.

Earplugs, hearing aids
Toothpicks, brush, paste, floss
ASA (aspirin)
Antacid (tums)
Benadryl
Eye drops
Ear drops
Toothache drops
Aloe Vera, soothing lotions
Sunscreen, bugspray
Pain relief, Tylenol, Motrin, etc.
Vitamins, herbal preparations
Cold medication (day and night)
Immodium, metamucil
Water purification tablets
Antibiotic cream (polysporin, neosporin)
Hot Water Bottle

Going Shoreside Camping?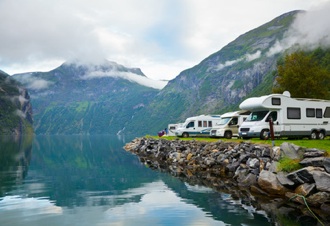 If your rv trip will include stays at beach areas check out our beach trip checklist too.
Browse through our RV checklist and add and subtract items to make our rv packing list your personal list.
For a checklist of personal items like clothing and toiletries, go to our Family Vacation Packing List
Documents, electronics and clever miscellaneous items are found here vacation packing checklists.
If there's something you think should be included on our rv checklist let us know.
Printable version of this page
Do You Wish You Could Do This Forever?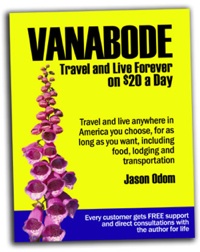 Good News!
When you go RVing do you wish you never had to go home? Just keep going.
Jason and Kelly Odom have turned that longing into a lifestyle of travel and freedom. They've been Vanaboding (their term for living aboard a small RV) for over 10 years and still enjoy every morning, every view and every new venture... for $20. or less, per day.
Not only do they tell you exactly how you can do it too, they share tips on how to earn a living while you're out there.
If you're serious about turning your dreams of wanderlust into a fabulous life, you must read what these two have to say ... it'll change your perspective, and your life.
Here they share simple strategies for getting out of the rat race and waking every morning to the heart pounding magnificence of the lower 48.
Everything you need to know to change your life - Just add a pinch of courage!
.....



More On-The-Road Tips
Top of page - RV packing list