The Day You Leave For Vacation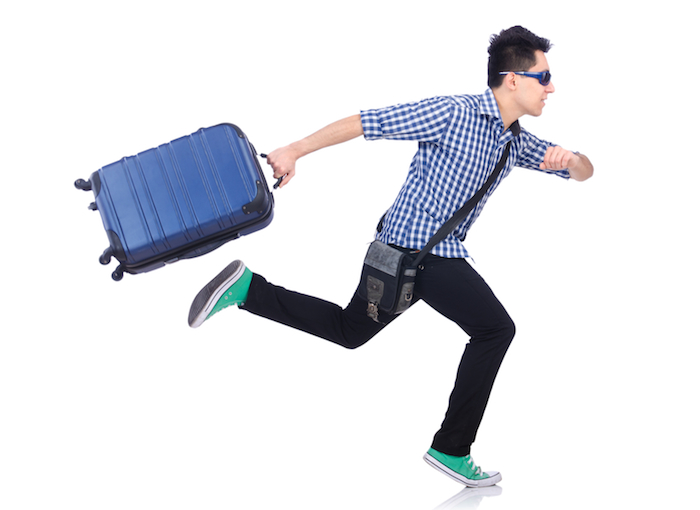 Putting Your Home on Roam

Finally it's here ... the day you leave for vacation has arrived!

If you've been following our guidelines you're well prepared and everything that  could be done in advance is already taken care of. If not you'll want to have a look at our list of things to do the day before vacation to make sure you're on top of it all.

Here's a list of the things that need to be done the day you leave for vacation.
It can be a little hectic when the deadline has arrived and it's easy to forget to do something important in all the excitement - only to remember (or wonder) at 38,000 feet or 200 miles down the road.
Since many of these things have to be done pretty much as you're walking out the door it's a good idea to keep this list of travel preparation advice handy to ensure that everything that needs doing has been done. It's also a great reminder when you return, of what needs to be undone.
Just before vacation these tips will get you gone, out the door and off to vacation-land for a sabbatical from real life.


Things To Do on the Day You Leave For Vacation
Water - Turn water heater down, set auto sprinklers if leaving water on or turn water valve off at property line if accessible and if no one will be in the house.


Air Temperature - In the Winter - set your heat at 65F or 18C if you're not leaving pets.
Summer - turn air conditioning to 80F or 27C and close drapes or blinds in most windows. Leave front drapes as usual.
Spring and Fall - turn heat and air conditioner off and leave most drapes open with the front window coverings left as usual.


Traveling Clothes - Wear the bulkiest clothes that are going with you rather than packing them (If you're traveling by air). Your clunkiest shoes and that long denim skirt. It'll lighten the load a smidge. Throw your sweater or light jacket  over your shoulders.
It's easier to wear it than carry it most times and you'll appreciate the room it saves in your carry on.
At the same time, dress comfortably. Of course, if it wasn't comfortable you wouldn't be taking it ... right?


Set Timers - Set radios, lights, even TV's (if you trust your surge protectors) to go on and off and foil would be thieves. Set a light to go on in your bedroom around the time you usually retire for the night and to go off an hour later - another to illuminate the living area for the evening hours.


Electronics - Unplug televisions, computers, stereo equipment and the like in case of power surges from electrical storms. Ensure that electronics that must be left on such as answering machines, fax machines and sometimes computers are adequately protected with surge protectors.


Forward Telephone - Set your landline to be forwarded to a cell or other number at your destination.


Pack the Car - Keep the garage door closed while you pack your luggage in the car to keep from advertising your departure to people who are driving by.


Lock Up - Check every door and window in the house including basement, garage, sun-room and upstairs to ensure that they are locked and that the drapes are positioned the way you want them to appear from the outside.
Do Not go around and close all the window coverings unless that's how you usually have them. Do close drapes to windows that expose valuables.


Stay Hydrated & Healthy - Don't forget to drink fluids and eat fresh fruits while traveling. Pack a few envelopes of Emergen-C to add to your water on the plane for a boost. Check with your airline about what you can carry on to the plane. Fluids are strictly limited through the security gates but once you get through there'll be places to buy a bottle.


Call Taxi - Arrange for a taxi or your ride to arrive at a specified time. Time your arrival at the airport for at least 1.5 hours in advance for National flights and 2.5 hours before departure of International flights.


Garbage and Recyclables - Remove all garbage and recyclables from the house.


Instructions and Emergency Info - Leave instructions, pertinent information, emergency numbers and photocopies in a pre-arranged place for your house sitter or other.
| | |
| --- | --- |
| Pets - If you're leaving pets behind, leave instructions for your pet sitter in an obvious or pre-arranged place. If they'll be staying away from home drop pets off at their kennel or caregiver. | |
Be sure their crate (if that's the place they feel safe) along with favorite toys, blankets and snacks accompany them.


Batteries and Chargers - Check to ensure that you've packed batteries and chargers that you may have been using to get ready for the trip.


Home Security - Set alarms, home security cameras, timers and other systems as you walk out the door.
Walk Through - Take a last walk through every room of the house. Check coffee pot, iron, curling iron, etc. Make sure nothing is left on and nothing is left behind.


More Vacation Lists


Top of Page - Day you leave for vacation