Camping Food List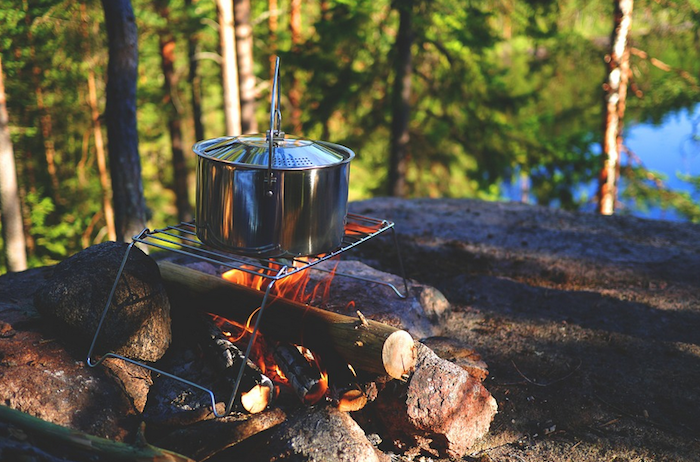 Food just tastes better out in the wilderness than anywhere else and this camping food list has all the basics you need to cook fantastic meals whether it's over a campfire, a camp stove or a stove.
Meal time is a big deal when we're camping and the laid back atmosphere and fewer demands leave time for us to plan and cook really great meals.
Add some of your preferences to the items listed here to personalize your menu. And speaking of menus it's a good idea to outline your meals and snacks and build your camping food list from that.

A cast iron frying pan is our favorite cooking implement on our camping trips and we use it for frying but also for roasting (meat, potatoes and vegetables).
We often use the pan in the  BBQ to roast a chicken or put another type of roast on to cook slowly while we visit with friends in neighboring campsites, we mosey back and forth keeping an eye on supper while playing Bocce ball, Mexican Train or the Washer Game.


Condiments, Toppings, Dips, Spreads & Seasonings
Salt, pepper
Sugar, brown sugar, sugar substitute

Herbs and spices
Cooking oil, salad oil (we use coconut, olive and sesame)
Mayo, mustard, ketchup, hot sauce, salsa
Bacon bits, parmesan, croutons
Cheese - cheddar, mozzarella, parmesan, blue, cream

Salad dressing, dip
Pickles, olives, hot peppers
Peanut butter, jam, syrup, honey
Onion soup mix, taco seasoning
Bouillon powder or cubes

Grains and Cereals
Bread, rolls, hotdog/hamburger buns, muffins
Pancake mix, flour, breadcrumbs
Pasta, rice, KD
Hot cereal - oatmeal, etc.
Cold cereal/granola
Tortillas, taco kit
Disclosure: Some links on this page may be affiliate links. When you buy a product through one of these links, for example at Amazon.com, we earn a small commission and that helps to keep the site live. Thank you for your support.


Dairy
Butter/margarine
Sour cream, yogurt
Cheese, milk, cream
Powdered whole milk - long lasting and easy to pack and store,

PEAK Whole Milk Powder
Powdered whole milk stirs up into a delicious full fat milk for drinking or making hot chocolate.
I use it in recipes that call for milk (like pancake batter) add the powder to the dry ingredients and just add water, It helps to stretch the fresh milk supply.


Protein
Eggs
Hot dogs, hamburgers
Chicken, pork, beef
Fish, seafood
Ground beef or turkey
Bacon, sausage, ham
Sliced meats

Hot & Cold Beverages
Coffee, tea, cocoa, creamer
Soda juice, iced tea, lemonade
Drinkin' boxes
Beer, wine, coolers
Liquor, Bailey's, mix, ice

Canned Goods
Canned beans, soups, pasta sauces
Beans
Canned fruit
Tuna, ham flakes
Smoked oysters

Vegetables & Fruit
Lettuce, cucumber, green onion, celery, radish, jicama
Cabbage, broccoli, cauliflower
Onion, garlic
Mushrooms
Tomatoes, colored sweet peppers
Corn on the cob
Potatoes, sweet potatoes, carrots
Limes, lemons
Watermelon, grapes, oranges, bananas, cherries, peaches, kiwi

Berries

Snacks
Marshmallows, popcorn
Campfire food
Cookies, graham wafers
Granola bars
Chocolate
Crackers
Peanuts, chips, pretzels, nuts
Raisins, dried fruits
Unsalted peanuts (for the little critters like squirrels)


Pre-Made Camping Food List

Macaroni salad
Marinated vegetable salad
Potato salad
Bean salad
Coffee cake
Muffins
Soup or chili
Hummus
Build a menu from the items in this list. A breakfast lunch and supper for each day then tailor your camping food list by choosing items you'll need to make each meal plus snacks and drinks.

More Articles For Campers

Printable Camping List

Top of page