Packable Rain Jacket

Your Misty Weather Friend
Rainy days on vacation don't have to cramp your style, you just need the right gear!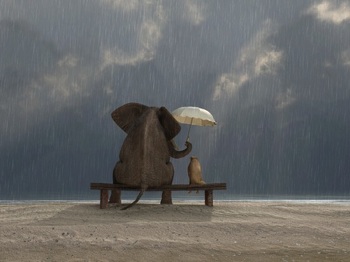 In fact there are some fantastic vacation destinations (Alaska, Ireland etc.) where you're almost sure to see some rainfall during your stay.
Find the perfect travel rain jacket that packs small but performs big.

Changes in the weather show off the different personalities of a place - new birds and wildlife show up, sidewalks clear, the energy crackles, leaves glisten and the smell in the air ... mmmmm.
Get out and enjoy those rainy times. Check out these packable weatherproof coats that keep you dry and look so awesome you'll wish for a little weather just so you can don your rain gear.

Disclosure: Some links on this page may be affiliate links. When you buy a product through one of these links, for example at Amazon.com, we earn a small commission and that helps to keep the site live. Thank you for your support.


Packable Rain Jacket for Her

Sierra Women's Trabagon Jacket
This lightweight packable jacket keeps the rain off, the wind out and the fun rolling along no matter what the weather decides to do.
Casual hip-length styling makes this very easy to wear. It covers your backside without getting in the way while sitting in vehicles, busses, trains and planes.
Available in an assortment of bright

and beautiful colors that increase your visibility on rainy days as well as those staple colors like black, white and navy.
Learn more here.

Trench Style Travel Rain Jacket

Columbia Women's Pardon My Trench Rain Jacket
So versatile, the trench never looks out of place and this easy to pack number teams just as well with jeans as it does with a little black dress.
This stylish packable rain jacket folds neatly and easily stows in your luggage or backpack but it does its best work while you're wearing it.
Once unfurled, the classic design enhances any ensemble and the rain shedding 100% Nylon shell keeps your clothing nice and dry. A non detachable hood tops it off.
This is the perfect travel rain jacket for layering in uncertain climates.

Learn more here.

His Travel Rain Jacket

Columbia Men's Watertight II Packable Rain Jacket
Take along one of Columbia's lightweight packable rain jackets  and you'll be up for anything - rain or shine.
Not only does this perfect specimen come in black, you can also choose from an array of rich colors including: back country orange, rocket, graphite, 4 different shades of blue and an earthy green along with carbon and buffalo.

Columbia is currently transitioning to the above featured jacket from it's much beloved
Original Watertight Packable Rain Jacket
.

Super Lightweight Travel Rain Jacket

Lightweight rain gear that looks just like any stylish jacket.
Stand out in the rain for all the right reasons. Just because you want it light weight and packable doesn't mean you have to give up on style and function.
These jackets perform valiantly whether they're in the rain or packed away for a drizzly day and they'll ask for very little room in your luggage.


Rain Gear For the Traveler


More Travel Clothes


Top of page