Travel Coat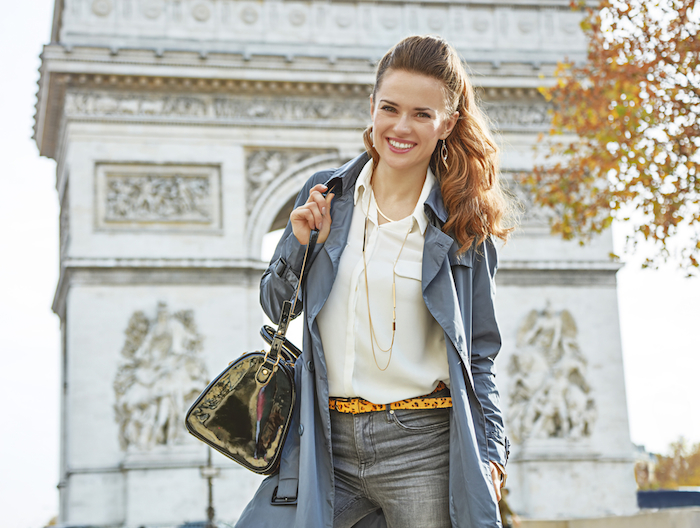 Disclosure: Some links on this page may be affiliate links. When you buy a product through one of these links, for example at Amazon.com, we earn a small commission and that helps to keep the site live. Thank you for your support.


The Go-Anywhere Trench
ANORAK Women's Packable Trench
This little travel coat tics ALL of the right boxes.
It's so chic you'd never guess it's also seriously serviceable. Perfect in variable weather and Spring or Fall like temperatures deflecting rain showers and wind like a personal shield of armor.

Scrunch it into your bag and whenever you need it ... voila.
Wear this trench open or tie it for an upbeat look, it teams as well with jeans as it does with a little black dress.
The length is just right for traveling and the split seam in the back keeps the coat from binding when you're sitting. Snug up the snaps at the wrist, pull the hood over your head and stay cozy in blustery weather.
It is a rain jacket after all - it just looks so good that it's easy to forget that it's not just a classy travel coat!

I know - right! Someone was really thinking when they put this number together.
It doesn't matter where you're going, this coat travels just as well tucked into your luggage as it does when it's wrapped around your form.
Ideal for spring and fall and cool summer evenings and although it's designed for traveling it's likely to become your everyday favorite whether you're driving to the mall or flying to Europe.
When you're out and about and navigating changeable climates this stylish coat adds casual panache and a put-together look.
...and they said you couldn't have it all.


Packable Rain Anorak

Weathertamer Women's Zip Front Anorak
Casual zip front rain and wind resistant travel coat combines a fun vibe with a practical side.

2 deep pockets in the front hold essentials and a drawstring at the waist adjust the size for a perfect fit.
The long tail keeps your bum dry but stays out of the way when it's time to sit.

A 100% polyester shell provides rain and wind resistance. It can be tossed into the washing machine and is available in Black, Navy and Olive green.

Detachable hood and sleeves that roll up to a 3/4 length add versatility ... because it isn't always raining.

6,000 Travel Coat Buyers Can't be Wrong

Charles River Apparel Women's New Englander Waterproof Rain Jacket
Stay dry - Look Great
Style meets functionality - this well loved travel coat is streamlined to flatter most body types has a reflective strip to keep you visible while you're out and about.
A two-way zipper zips up or down for freedom of movement.
A couple of deep pockets with a cozy

lining, zippered closure and a rain flap keep your fingers toasty and your belongings secure and dry.
It's just an all around great jacket, the kind of garment that quickly becomes the go-to option for any casual outing.

Available in a plethora of gorgeous colors designed to suit every personality.

Need Something Warm and Packable?

Calvin Klein Women's Mid-Length Packable Chevron Down Coat
Expecting some real weather?

Calvin Klein has the right idea when it comes to packable and puffy.
If your travels will take you to cooler climes and snuggly warmth will make it that much more fun take along a shiny mid-length coat.
Packing light can be a real challenge when you're traveling to a chilly climate ... unless you have a "Packable Puffy" which is how I refer to these down filled gems.
They look great, wrap you in toasty warmth and it is amazing how small it compresses when it's time to go in the bag.


Try These on For Size


More Travel Stuff


Top of page - Travel coat