Men's Travel Clothes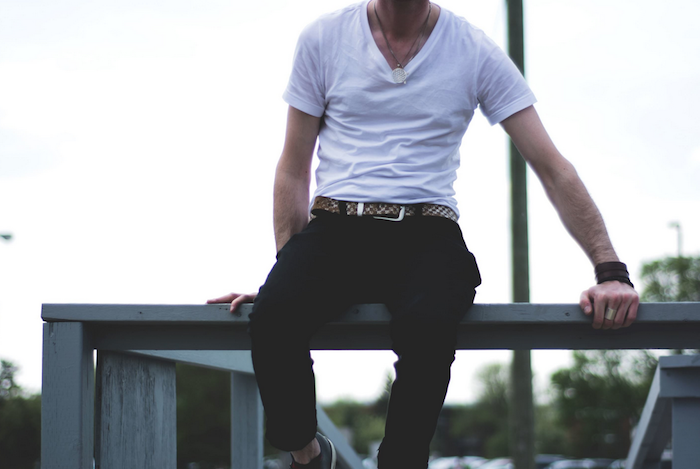 Disclosure: Some links on this page may be affiliate links. When you buy a product through one of these links, for example at Amazon.com, we earn a small commission and that helps to keep the site live. Thank you for your support.


ExOfficio Men's Give-N-Go Boxer - Men's Travel Clothes

Start with an ultra comfortable layer of underwear that just quietly and unobtrusively does its job.
2 or 3 pair of these underwear (they come in brief and boxer/brief styles too) will take a serious traveler around the world with nary a whiff or a whimper.
Wash them out in the sink (or a stream if your travels take you out to the boonies), rinse and roll tightly in a towel then hang to dry. They'll be ready to go again in a couple of hours.

The fabric wicks moisture away from your body keeping you dry and it's treated with an anti-microbial to keep odor causing bacteria at bay.

Learn more here.

Add the Fantastic Traveling T-Shirt

Follow up with a packable shirt that offers moisture wicking, rapid drying and pops out of a packed bag in ready-to-socialize condition.
Wear this silky comfortable layer alone or top it with a button shirt or vest.
* Note - These shirts fit large - order at least 1 size down from your regular size.

Learn more

Columbia Silver Ridge Long Sleeve Shirt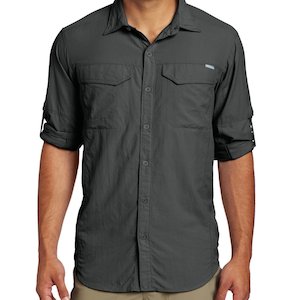 Wear it, wash it, hang it, repeat.
Here is a perfectly packable, UPF 50,  button shirt that can be a layer or stand alone at any event.
Create your own "settings" with the buttons and tabs to get the sleeve length you want from all the way down to above the elbow.
Tails look casual when they're left out and more pulled together when tucked in.

For your personal comfort there's the advanced wicking system to keep your skin dry and the fabric has just enough stretch to move with you but hold its shape.
Available in a whole palette of earthy colors like Cinnabar, Marsh, Gravel, Mountain, Windswept and White.

Learn more here.

Columbia Men's Silver Ridge Convertible Pant

My husband always wears convertible pants when we're traveling from one climate to another. A quick change from temperate to tropical wear make these the best travel pants for men.
Advanced wicking and advanced sun protection - with straight legged styling these are the pants for every need.
Convert from a full pant to a walking length short (10 inch) with a quick zip.

Learn more here.

Mens Travel Vest

The right vest is a simple layer that slips over any shirt and has a variety of pockets that is easy to remove at security screening stations. Just leave all of your stuff in the pockets and send the vest through the scanner.
Vests are perfect for layering in variable climates and a great wardrobe extender.

Learn more here

Men's Travel Clothes - Outerwear for Weather

Same thing with a jacket ... stow all of your essentials in the pockets and simply remove the jacket at airport security scanners and send it on through. Much easier than removing everything from your pockets.
This jacket by ExOfficio has just a bit of extra length to keep you drier in a downpour. You'll look forward to those rainy, cloudy, foggy, windy days just so you'll have an excuse to wear your RainLogic.
The pocket system and super light weight make this your go-to outer layer whether the skies are cloudy or bright.

Learn more here.

Garb For The Man-On-The-Go
When you're on the move it's important to have your essential things somewhere handy and secure.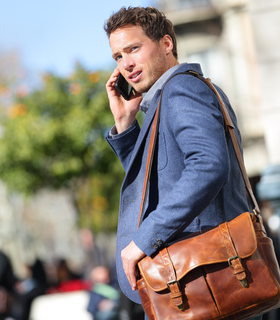 Men's travel clothes fall into two different categories - those you wear while traveling from place to place ... and the clothes you pack for the stay.
Although you'll look for different things in the clothes you wear for travel and the ones you pack in both cases comfort and functionality are the key features in all of the best travel gear.

Choose layers of clothes that provide secure pockets for your travel documents, pen, cash, cards, phone, lip balm, sunglasses, ear buds, music, ear plugs, medications, snacks ... even an iPad.
The pockets in your garments serve as stowage for a number of things that would otherwise be taking space in the limited area allowed in your bags.
That ups your carry-on capacity.
The links on this page direct you toward the best in the industryChoose packable, crushable fabrics that ask for little in the way of space but deliver big when they're called on to perform.


Try These On


More Men's Travel Clothes and Tips


Top of page - Men's travel clothes