Travel Vests for Men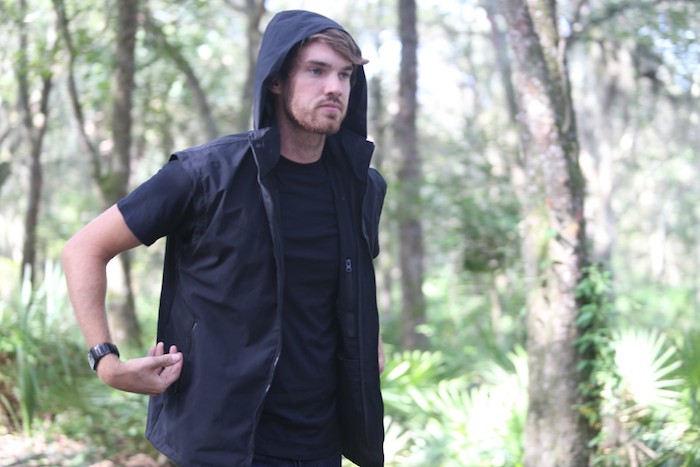 The Swiss Army Knife of Travel Vests

It's a good looker for sure but the real value of the Joey Travel Vest is in the functionality that's built right into this garment. Thoughtfully designed to step up to all of the roles that come up when you're underway.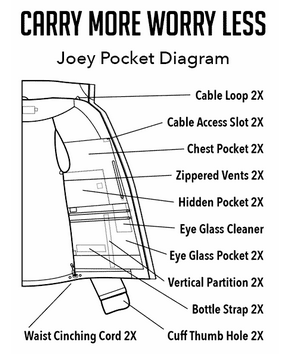 The diagram shows all of the features that are hidden from casual view - and that's just on the left side!

The vest quickly morphs into a jacket with or without a hood. Sleeves that zip on and off and a detachable hood with a pull down eye shade convert. Add a zip in liner for multi climate use.

Device pockets and ear bud guides direct your favorite tunes straight to your ears.

We haven't even talked about the pockets

and there's so much to say about them. There are 10 of them all together and every single one of them is functional and enclosed with either a zipper or flap to ensure that your gear stays right where you put it.
Have a look at some of the features in action in the video below.

You can buy a Joey vest/jacket here.


Photographer Style Men's Travel Vests

Photographer style travel vests are designed to carry everything a guy could need for a weekend expedition or a trip around the world.
If they look good while they're making your travels easier ... well, that's a happy bonus.
Unlike travel pants or shirts or underwear, the vest is easy to slip on and off in public view depending on what the day brings.
You don't even have to empty the pockets

- just remove it all at once, hang it up and you'll still know where all your stuff is ...
a super handy feature when you're going through security checks at the airport ...
- remove the vest
- place it in a tray
- send through scanner
- pick up at other end
- carry on.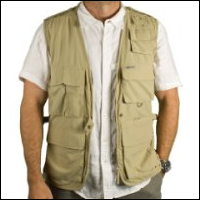 You can't really do that with a pair of cargo pants.
It doesn't hurt to have all of those pockets when you're traveling by air either.  Items you'll find on our carry on packing list can be transported in the vest pockets so they won't be taking up room in your bags.
Adds the ability to explore and experience your vacation with every item you require exactly where you knew it would be.

It's obvious why travel vests are so popular with travelers. They're a versatile layer that is as comfortable over a t-shirt or button shirt as it is under a warm or
weatherproof layer.
Sure there are other travel vests on the market, but if you're looking for a vest that  carries everything you need close at hand during trips, maintains a
 comfortable temperature in almost all climates, is water repellent, light weight and goes with pretty much everything ... You're looking for

The Epic air and adventure travel vest
Numerous pockets in sizes and shapes can hold a digital camera, wallet, sunglasses, medications, mp3 player, smart phone, maps, mints, snacks and a bottle of water.
Most of the outside pockets have velcro closures and a secret inside pocket zips closed.
Roomy pockets on the back flap will hold a notebook, a packable rain jacket and a bottle of water.

Engineered for portability and constructed of a durable, super light fabric that dries fast this garment is available in a Khaki color that blends in to any color scheme.


A Travel Vest You'll Want To Wear Everywhere

You can handily pack this vest away but we don't think you will. It will be called into action so often on your trip that it'll never have a chance to lounge in the confines of your luggage.
The back panel is composed of a breathable mesh fabric so that it can be worn in very warm climates and the collar has just a smidge of padding to keep it comfortable  when it's filled with weighty items.
It makes a perfect lightweight layer under a coat in cool climates and it works famously under rain gear if the weather does that thing that weather does.
It functions just as well on a camping trip as on a European vacation; taking care of your stuff so you can just enjoy the journey.
From rugged to sporty to everyday class - this vest effortlessly switches roles to fit every relaxed event on the agenda.


More Traveling Gear for Men


Top of page - Travel vests