Road Trip Food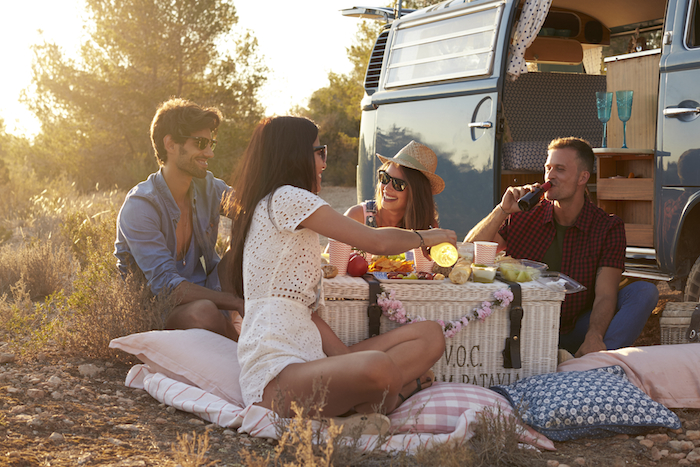 Food Ideas For Road Trip Power Snacking
Goin' on a Road Trip - Food for journeys by vehicle.
For us, food is a major consideration when we embark on any journey by road. Packing the right food keeps us on track and out of congested cities.
An essential part of any road trip is snacks that are easy to eat while driving and fun food for a picnic stop (or two) along the way.
Having food and drinks along gives you more options as you drive and explore, allowing the freedom to bypass the super busy areas and stop to eat and stretch in some of the most beautiful places in the world.


Getting it Together
Part of the fun of traveling by vehicle is the ability to stop and become a part of the scenery.

Disclosure: Some links on this page may be affiliate links. When you buy a product through one of these links, for example at Amazon.com, we earn a small commission and that helps to keep the site live. Thank you for your support.

You might be surprised to learn that you're not limited to a cold menu on the road thanks to the RoadPro 12-Volt Portable Stove
. This little gizmo is perfect for heating up smokies, chicken wings, lasagna ... just about anything. You can get little trays to go with it or just use foil.
We just happened to have one from my husband's working days and discovered that it's fantastic for heating food on the road.

The Night Before
The night before we leave (almost all of our road trips begin in the early - sometimes very early - morning), I boil a few eggs, wash and cut up vegetables and fruit and assemble sandwiches or wraps.

Sometimes I like to mix up a tuna sandwich mixture or a salad of some sort, oh, and I make sure the Reusable Ice Cubes
are in the freezer. I like the reuseable ice cubes because they don't melt and sog up the food. If you use ice, seal it in zip lock bags to keep food dry.
In the morning, the cooler gets packed and put in the car while the coffee brews.
Also packed in the vehicle is a small table and some of those fold up chairs that are easy to stow. That way we can set up our own rest stop wherever the mood, (the scenery, the sunshine, the hunger) strikes us.
A Seagrass Basket
holds the non refrigerated snacks. I keep it within easy reach.
One last check to make sure we have everything on our road trip packing list and we're off.

The Cooler - Road Trip Food

Boiled or pickled eggs
Carrot and celery sticks, radishes, cucumber slices
Cherry tomatoes, pea pods
Pickles, olives
Water, soda, juice
Sandwiches, wraps, burritos
Fruit - grapes, oranges, cherries, watermelon
Cheese, cream cheese

Condiments - butter,  salad dressing
Salsa, ketchup, mayo, mustard
Pepperoni sticks, smoked salmon, deli meats
Smokies, chicken wings, sausage rolls, cocktail wieners
Potato salad, macaroni salad, marinated vegetables


The Snack Box - Road Trip Food List

Salt, pepper, hot sauce
Peanut butter, honey

Bread, buns, crackers, tortillas
Muffins, bagels
Nuts, raisins, trail mix, seeds
Chips, cheezies, pretzels
Smoked oysters and fish in tins
Granola bars, candy bars


Non-Food Items - Road Trip Food

Paper towels, serviettes
Go cup
Paper plates, forks, spoons, butter knife
Sharp knife, small cutting board
Thermos
Wet wipes
Garbage bag
Foil / Zip lock bags
Swiss army  knife  - We never go anywhere without it. *Update: Mine was confiscated at a Mexican airport because I forgot it was in my carry-on.

A good cooler is a big plus. Get one that's big enough to hold your food and ice but small enough that it fits in the vehicle with the rest of the traveling gear.
The
Coleman Wheeled Soft Cooler
holds all we need for a 2 day trip and takes up a minimum of space.

More Tips For Your Road Trip

Coleman Road Trip Grill

Top of this page - Road trip food