Best Duffel Bags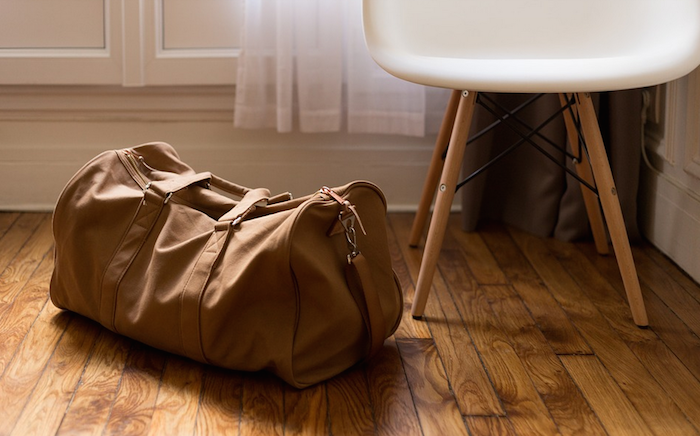 The age old travelers companion.
The best duffel bags for you will depend on a number of criteria like your size, fitness level, packing needs and personal preferences but the bottom line is that they answer your needs and ask for very little in return.

Pros and Cons of Duffel Bags

The Up Side

Rolls up small for stowing
Very light weight
Available in unique patterns
Easy to retrieve items while in transit
Small footprint when packing
They don't dent

The Not So Up Side

Not as secure as hard luggage
Can be cut open

Fragile items need special care

Large duffles can be unwieldy

Disclosure: Some links on this page may be affiliate links. When you buy a product through one of these links, for example at Amazon.com, we earn a small commission and that helps to keep the site live. Thank you for your support.


The Basic Bag

fabrics have brought flair and durability as well as weather resistance to the fundamental design ... but it's hard to improve on perfection.
Even though the duffel has evolved over the years and some have sprouted appendages like wheels, backpack straps and separate compartments the design has stayed essentially the same.
This 23" Duffel covers the basics.

The Pros & Cons of Wheels

Although it seems like wheels would be a good thing from any perspective that's not necessarily so.

Pros
Much easier to move heavy bags

Even so, most people love them.
Whether you think they're an upgrade or not, wheels are making an appearance on some of the best duffel bags and die-hard brands. Still it's entirely a personal preference and if you love the stowability of the roll up bag you may want to give the wheels a pass. They sure do take a load off though

The up side is that they make transporting your belongings so much easier.

The down side is that wheeled duffel bags have a rigid platform bottom to which the wheels and handle are attached. These bags collapse on to the base but can not be rolled up the same as the basic ones. It's a trade off.

Choose duffel bags for sailing, rving, cruise ship vacations and safaris.
Any trip where your space will be restricted, you need luggage that can be squeezed into irregular spaces or unpacked and made to almost disappear.


Here Are A Few Traveler Savvy Favorites

Kipling, of course.
Fabulous, mid sized and suitable for carry-on, this sweet bag measures 22.25 x 12.25 x 12 inches or 46.5 linear inches when packed.
Eight pockets between the inside and out in which to keep passports, boarding passes and all the little things that you like to keep handy.

Kipling duffle bags are available in a range of superb colors and sensible designs.
Kipling Itska N Solid

Patagonia Never Sleeps

Patagonia Black Hole Duffel Bag 45L

Super Packable

Folds up tiny and opens to an expansive 11 x 15 x 27 inches with 85 liter capacity. This baby is tough, inexpensive, super light weight and it can easily hold everything you need for a week long stay.

At 1.5 pounds this is perfect for packing in your luggage as an extra bag when you take more luggage one way than the other.

There's a smaller, 10  x  14  x  23 inch version too that would be more suitable as a carry-on.

Lightweight Foldable Duffle Bags

Duffel With Wheels

The best duffel bags with wheels combine all of the high points of soft sided luggage with the advantages of rolling luggage to get the best of both worlds.
Kipling comes through again with the

Kipling Discover Large Wheeled Duffle
.
which starts with Kipling's usual high quality duffle and mounts it upon a sturdy platform fitted with wheels and a telescoping handle.

Remember
If the rolling duffel has a handle attached directly to the end of the bag opposite the wheels the bag may follow too closely and bump into the heels and legs of a tall person.
Get one with an extendable handle to make the duffel follow at a better angle.

The unit itself weighs 8.9 pounds and measures 13.8 x 29.8 x 15.5 inches.
Three big outside zippered pockets make it super handy to pack small items together in an easy-to-find location.
It's hard to believe that they could improve on the good looks and hearty construction of this bag but they did it right by adding the convenience of the solid platform the 2 wheels and the extendable handle that allows enough room between you and the bag that you can walk comfortably.


Make the Best Duffel Bags Even Better

The open, roomy compartment is the perfect place in which to use
Packing Cubes
If organization is one of the keys to maintaining your sanity ... you are going to love packing cubes.
Sort things any way that makes sense to you. Sleepwear in one, shirts in another or Monday, Tuesday. These will really help to keep things together and easy to find.

The Best Duffel Bags For Vacationers


More Travel Bags


Top of page