Kipling Luggage Has it Covered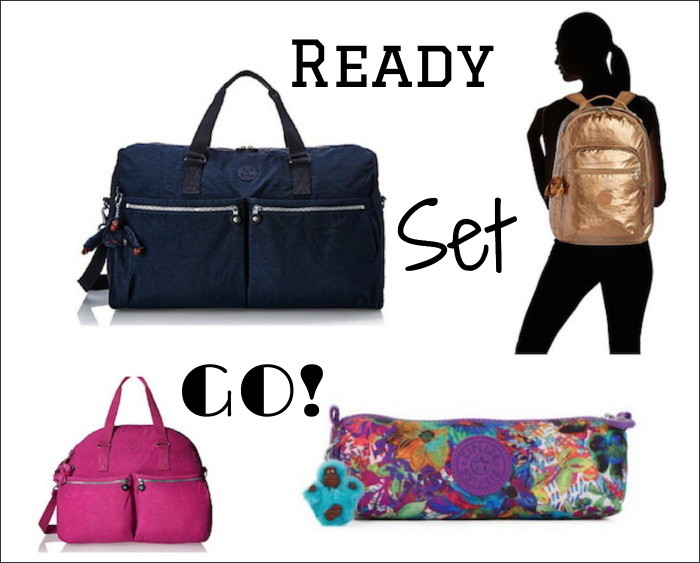 The Kipling luggage company has ruined me for any other brand of soft travel gear.
For 14 years my trusty red duffel has accompanied me on every journey and ably provided everything I want in durability while looking great on the luggage carousel, not to mention easy to spot.

I love everything about my bag - the vibrant color and durable fabric that has that tone-on-tone variegation that adds depth ... and you just know those chunky zippers mean business.

Almost every design - right down to their pencil cases - comes with a furry, color coordinated ape key chain swinging from the zipper.
Although my exact model of duffel isn't available any more, I do have some  new ones picked out. And they keep coming out with more designs, colors and patterns.

Have a look at the latest by my favorite soft-sided luggage company.



Carry On Sized Kipling Luggage

Aside from being beautiful and easy to stow, the soft sides allow you to find a corner where you can tuck that bag of cashews your Mother-in-Law gave to you on your way out the door and on the way home you'll have just enough give to squeeze that ironwood box in that you bought on the beach in Mazatlan.
At 9.5 x 14 x 22 inches high including handle and wheels (40 inches when handle is fully extended) the linear measurement  totals 45.5 which is well within the range of allowable carry on size on American based airlines.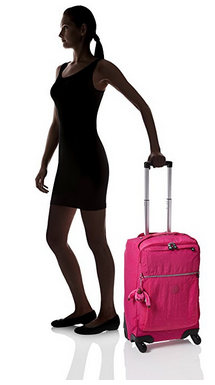 4 spinner wheels allow the bag to stand upright and move in any direction or roll it using only two wheels.

Choose a color from the juicy palette and the bag is transformed from manly (black), to sporty (true blue) to girlie girl (vibrant pink).
Medium Darcey
measurements - 26 x 10.5 x 17.5 inches
Large Darcey
measures - 28 x 21 x 10.9 inches
The Darcey style of Kipling luggage is available in Medium and Large sizes too but they're too big to be used as carry on. Have a look at them here

Learn more about the Small Kipling Darcey

More Carry-on Sized Bags

Wheeled Backpack
12 x 18 x 20 inches
Kipling Itska N duffel Bag
22.2 x 12.2 x 12 inches
Kipling Cross Body Tote
17 x 4.8 x 17 inches


The Little Everything Bag

If portability is high on your priority list this number pretty much has it all.
An extendable "T" handle and two wheels quickly convert it to a roller bag ... straps turn it into a hands free backpack or sling it over one shoulder.
You can even carry it like a duffel.
And those are just the toting options. There's a padded sleeve for a laptop that's 15 inches or smaller
Tuck the straps away when you're using it as a roller and extend the multi stage  handle to the length most comfortable for you.
At 18 x 8.5 x 16.2 inches it is a small carry-on and will fit under the seat (put it in handle first) in some aircraft but not all. It fits in the overhead bin though.

Inside the front pocket is a mesh divider which provides a place for the really small things that tend to get lost.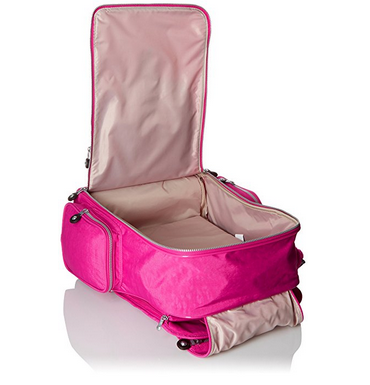 This bag actually packs like a suitcase which makes everything so much more accessible.  Remember to put the heaviest things near the wheels to increase stability when the bag is standing and decrease stress on the handle.

The outside pockets are perfect for keeping smaller items and things you want quick access to as you travel like a wallet, ear buds, pen, lip balm, passport, kindle and snacks.


A Little Panache With That?

Because soft sided luggage is so practical it's easy to forget that it can be glamorous too.
Metalics and glimmery fabrics sass up the image and lend a subtle halo to your favorite travel companion.
Here's my favorite
Kipling Seoul backpack
dressed up in a shimmer.
There are lots of different choices in the metallic line like platinum, silver, gold, pewter even metallic snakeskin. You have to dig around on Amazon, but they're there.

More Articles of Interest to Travelers


Top of page