Sea Glass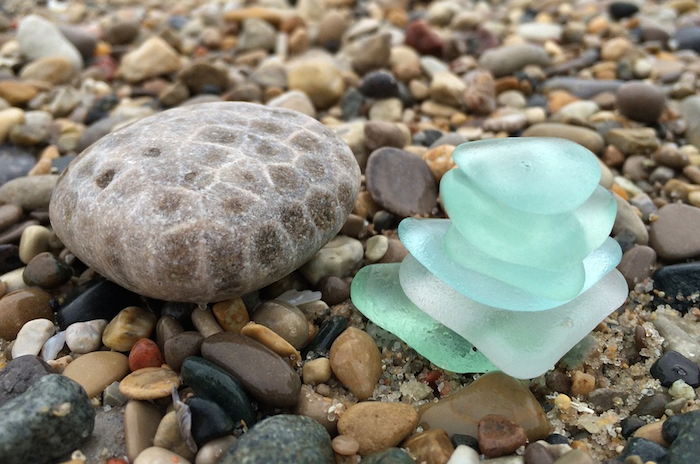 Collect your own mermaid's tears on beach walks, Sea Glass, also known by the enchanting name of "mermaid's tears", can be found on shorelines worldwide.
Beach glass is naturally worn and frosted by the sea over time and combined with other treasures can make a wonderful memento of your trip.
Authentic sea shore glass has been molded by the sand and motion of the sea over years or decades.
It's origin is a mystery ... maybe a shipwreck has yielded glassware, crockery or
navigational lights ... perhaps an ancient fishing float gone astray or possibly more recent bottles or glassware broken at the water's edge and crafted by the sea.


Craft Shore Glass into Beautiful Artwork

The mystery of it's journey is part of it's intrigue and the very thing that gives each piece soul. The potential for creating jewelry, mosaics and artwork is endless.

In recent years crafts-persons, artisans and beach-walkers have become interested in shore glass, harvesting the little nuggets and using them for a variety of purposes.
As a result sea glass is becoming more and more scarce. So scarce, in fact, that beach glass has an ever rising market value with the rarest colors (red, orange, yellow) fetching the highest prices.
Daily beach walks, particularly at low tide and after a storm often reveal new pieces but it seems the sea is becoming more reluctant to give up her mermaids tears.


Things to do With Sea Glass
Craft beautiful jewelry.
Incorporate into mosaics.
Put it in small bottles or jars to give as gifts.
Place a bottle of beach glass on a bathroom shelf.
Embed into concrete stepping stones.
Mix with a few shells, rocks or bits of coral and place in a shallow dish.

Places Where We've Found Beach Glass
Yelapa, Mexico
Punta Perula, Mexico
Mazatlan, Mexico
Cuastacomate, Mexico
Saltspring Island, Canada
Vancouver Island, Saanich Peninsula, Canada

Tumbled Glass
Because of the relative scarcity and sudden popularity of beach glass, enterprising vendors are tumbling their own glass, replicating beach glass in all ways but one.
Man made sea glass possesses all the beauty but none of the soul that sea sculpted glass holds.
It's journey from the recycle bin to the tumbler has no mystery and that is
reflected in the price of the glass. Sold by the pound or the truckload, tumbled glass is finding it's way into large mosaics, aquariums, even landscape features.
There is definitely a place for the man made product not the least of which is keeping broken glassware out of the landfill. Few recycling projects contribute a more beautiful
product than glass tumbling.

Keep your eyes open while wandering the beaches for frosted gems in sea green, bottle green, cobalt blue, violet, white, amber, orange, red, gray, brown and bits of crockery each holding it's own  secrets.


Pages That May Interest You


Top of page - Sea Glass