Baby Beach Tent

Shorelines and Kids are a Natural Fit

The little tykes can tire themselves out pretty fast with all that splashing around and sand-castle building in the fresh air and sunshine ... and isn't that exactly what we want?
A baby beach tent offers a place to play or rest when babies, toddlers and little kids need a little down time away from the sun, sand and bugs.

They easily pop up into a cabana for the tots and some are big enough that you can keep your beach bag and cooler inside too.
Tents these days are light-weight, easy to transport, fold into a little carry-along package and unfurl into a shady nook perfect for changing, napping and playing.
Disclosure: Some links on this page may be affiliate links. When you buy a product through one of these links, for example at Amazon.com, we earn a small commission and that helps to keep the site live. Thank you for your support.


KidCo

The mesh windows can be covered with flaps that  roll up or down to block wind and sun.
Folded, the unit measures 19" across  and 3.5" thick. It pops open into a spacious 52.5"L x 34"W x 22"H tent and has a pad that attaches to the bottom for cushiness.

Not only is this the best portable baby beach tent but it will serve as a travel bed for kids up to 5 years old.

Learn more about the KidCo Peapod Plus Infant Travel Bed


Playing and Sleeping Cocoon

When opened the tent measures 46 x 28 x 18 inches. and folds down into a  super packable 14 inch disc.
Read more about the portable baby beach play tent.


Baby Beach Tent - 50+ UPF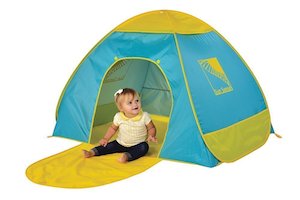 If your primary reason for using a tent is protection from the sun...this is the best choice.

Big enough for 2 sleeping toddlers and tall enough for  Mom to sit in and play  or find a little privacy while she nurses the baby.
This tent provides privacy and 50+ UPF.
Folds into a disc about 18" around and about 2 inches thick. and pops open on its own just by removing it from the confines of the carry bag.

Open, this measures 31 inches high x 51 inches wide x 39 inches deep, just the right size for a day at the beach with the kids.

It comes with a carry bag and pegs for holding the tent down on windy days and also has little pockets along 2 sides that you can scoop sand into or put heavy belongings (like bottles of water) to secure the tent from blowing around in the wind.

A large flap in the back opens to a screened window to allow air flow or closes for privacy. The front flaps drape down  or can be tied to the sides but they don't zip closed.
Learn more about the Infant UV Playshade

Links to Products


More Beachy Stuff


Top of page - Baby Beach Tent