Straw Beach Bag
Sashay Down the Beach With Stylish Straw.
The classic straw beach bag always makes a statement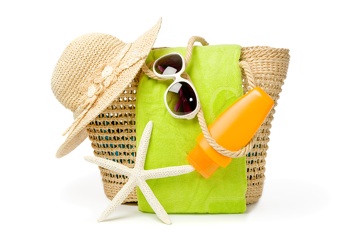 Straw never goes out of style. From classic to funky, straw tote bags have always been on the leading edge of practical fashion.
For a number of reasons the straw bag has a strong appeal to savvy beach goers.
Their sturdy stand-up profile allows you to include all the essentials needed for a shoreside excursion while providing a substantial barrier between your stuff...and the beach's stuff.
Made almost exclusively of natural materials, straw tote bags offer the best combination of flexiblity and rigid structure in which to tote your beach needs. And it does it all while looking super savvy.
There are just some things that are hard to improve on - The Straw Beach/Market Bag is one of those things, buy one today and in 2025 it'll still be fashionable.
Our Selection of Sensational Straw Bags.
Hoxis Beach Rattan Woven Braid
This classy straw bag is fully lined in a print cotton fabric that boasts 2 open pockets and a tiny zippered cellphone pocket for little things like keys, phone, change and lip balm.
The natural straw color and soft feel lends a trendy but classic flair to this roomy 17.8''x12.6"x5.1" inch carry-all and the top zips neatly closed for transport mode.
And get a load of those handles that are long enough to comfortably sling over your shoulder.
Beach bag or market bag or however you choose to use it this chic & funky tote beautifully blends the natural tones of the straw with leather look accents.
________________________________________________________________
Sexy Summer Beach Tote Bag
I just couldn't resist this one.
This ultra chic carry-all is one of those bags that you'll want to take everywhere.
Measuring in at 12.5" X 13" X 6" you'll find plenty of room for your beach accoutrements but the bag is small enough to use for everyday.
A magnetic snap closure keeps the contents where you want them and keeps prying eyes out.
If you're looking for a bag that makes a statement look no further, this one says "I Love Me!"
________________________________________________________________
Buji Baja Authentic Carry-all Bag, Natural with Beads
Turn heads with this ultra fashionable straw tote that goes the extra mile with style.
The supple straw exterior is adorned with bold beads on the ties that secure the bag closed. The goes-with-anything natural color and casual weave makes you feel like you're on a beach vacation even when you're at the market.
Closely woven enough to keep your stuff secure and airy enough that damp gear won't do that nasty thing it does - give it a shake and leave any sand on the beach.
The practical size is perfect for all of your daytime excursions.
More Beachy Things
Mesh Beach Bag

Top of page - Straw beach bag