Tips For Packing a Suitcase or Duffel
Easy guidelines for packing for a trip
Handy Tips For Packing a Suitcase or duffel bag the smart way.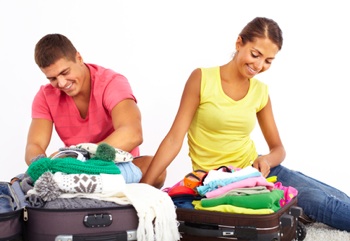 Here's how to pack a suitcase so that it's easy to carry, and gets your stuff from point A to point B, undamaged and in ready-to-wear condition.
Start with luggage that's made of durable, lightweight fabric that can handle tumbles like a gymnast. Choose pieces with a minimum of decorative hardware, zippers, caribiners and weighty structural details, all of which can add weight without adding function.
The price of fuel (in the long term) isn't going anywhere but up, and even if you're not traveling by air the amount of weight you bring with you translates into dollars. When buying luggage, always consider the weight of the bag itself and when packing luggage ... lighten up a bit.
I prefer duffle bags and knapsacks, but if the luggage carousel is any indication, the black rolling flight bag is the most popular luggage style. Our tips can be used for either type.
Tips For Packing a Suitcase or Duffle Bag
The basic packing principles remain the same no matter which luggage you use.
Weighty objects go on the bottom or directly over the wheels, toiletry bags and shoes (wrapped in plastic) are arranged in available pockets or at the ends of a duffle and the middle space holds clothing items.
Pants - Pack flat on the bottom of the luggage. Denim, in particular provides a flat and flexible platform to build on.

.....




Shoes - Shoes are packed facing each other with the soles out and the heel-half meeting the toe-half to take up as little space as possible. The shoes are bagged as a pair and placed at the end of a duffel (to add structure and protection to the bag), or along the sides of a rolling case.

Small items like socks and accessories can be wrapped and tucked into the toes to hold the shape.

.....



Toiletries - Small tubes (they take less room than bottles) of shampoo, conditioner, lotion, sunscreen, etc. should be packed in zip lock bags to prevent spillage and tucked into a side pocket or alongside the shoes.

Do not fill the tubes to capacity and squeeze some air out before you put the cap on to allow for expansion due to pressure changes in the cargo area.

.....




Outfits - Roll entire outfits (top and bottom) together including underwear, for stops along the way to make it easy to find a change of clothes. Pants and shirt or skort and tee, etc..

Pack them at the top so they're easy to find without going through all of the luggage.

.....



Underwear & socks - Keep these items together in a side pocket or in a zipper bag if your luggage has no pockets. Socks can be bagged in plastic and inserted into shoes.

.....



Documents - Documents should be kept in an outside pocket of your carry-on luggage, easy to access while you're traveling and then put safely away at your destination.

.....



Fragile items - Cameras and electronics and fragile souvenirs, should be packed among the rolled up clothing to cushion it from blows. Ensure that they're in the very middle to get the best protection.

.....



Other Tips for Packing a Suitcase
Unpack as soon as you reach your location and hang any wrinkled items in the bathroom. Run hot water in the shower until the room is steamy to hasten the dewrinkling process.
.....
Tips For Packing a Suitcase - Best Luggage
The Flight Attendant Rolling Bag
Style, color and pattern can be used to distinguish your luggage from "not-your-luggage" in crowded station houses and airports. If you choose black luggage, make it easier to spot on the carousel by adding some unique aspect. Sew on an applique', apply stickers, stencils, glitter ink or neon marker.
The American Tourister Xtreme Spinner 21
comes in a variety of colors and is a well respected piece of traveling equipment. Large enough for a 2 week vacation this bag is a lightweight model with all of the benefits that have made the rolling flight bags so popular.
Kipling Duffel
As I've said, I like a duffle bag and I LOVE my Kipling Duffel Bag
. It's amazing how much stuff I can get into it when I roll things up. I bought mine in the British Virgin Islands in 2003 and it's been my favorite ever since.
This is the most recent version of mine. It is exactly the right size for a lengthy vacation.
The color makes it easy to pick out when claiming it at the airport, bus station, cruise ship or train. Once you've retrieved it the handle telescopes out of one end and wheels on the other end allow you to pull the duffel rather than carry it.
Carry On Size
To serve as my carry on I've adopted the Kipling Seoul Backpack
. Between the two of them, I'm good to go ... anywhere.
The backpack is roomy enough to easily pack everything you need for a weekend trip and with a little diligence and our Packing Light List you could fit a weeks worth of stuff in it.
The laptop sleeve fits a 15.6 inch laptop and has a light padding for protection.
Look closely at the photo and you can see the signature gorilla that comes attached to all of Kipling's products.
.....
More...
Carry On Luggage
Carry on Bags
Luggage Restrictions
Kipling Luggage
Best Travel Bags

Top of page - Tips for packing a suitcase