Carry On Bags

What's The Best Carry-On Luggage?
Your carry on bags hold your most cherished and essential personal possessions when you travel. The best ones are designed to breeze you effortlessly around the globe while keeping your stuff secure and easy to access.
Practical, funky, durable, carry on luggage. Make yours unique and avoid mix-ups at the luggage cart and in busy terminals.
Your carry on bag should say "ME ME ME!"
Although the dimensions of the bag are pretty strictly regulated, there are lots of things you can do to make your bag easy to spot and uniquely yours.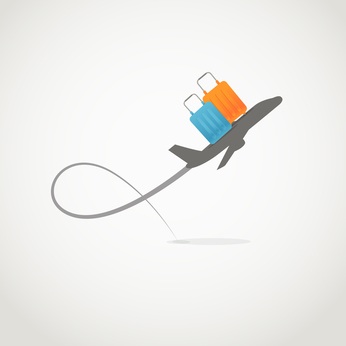 Bright colors, patterns or distinct visual features make your travel bags not only easy to identify at a glance, but less likely to be targeted by thieves.
Just as important as having your carry-on stand out on a luggage cart or cargo compartment, is the overall size of the bag.
Accepted dimensions differ from airline to airline and are determined by the size of under seat and overhead compartments in a given aircraft, multiplied by the number of passengers.



Allowable Dimensions of Carry On Bags

Dimensions are usually expressed in height X width X depth (eg. 22 X 16 X 9) and occasionally in linear format (eg. 52 linear inches). To calculate the linear inches, simply add the 3 values (22 + 16 + 9 = 47 linear inches).
If the measurements are stated as (22 X 16 X 9), ensure that your carry on bags do not exceed any one of those measurements.
However, if the measurements are stated in linear inches, (eg. 52 linear inches) as long as the height + width + depth = 52 inches or less, the bag is acceptable.


Is There One Size That's Acceptable Worldwide?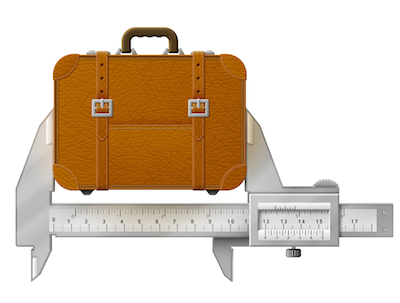 Not really. You'd have to go down to such a small size that it becomes impractical. For example Air Tahiti allows a not-so-roomy 17 x 13 x 7 inch bag.
However ... you can stay within the guidelines of all but a handful of flights if your bag measures no more than 20 x 14 X 8.
Carry on bags come in all kinds of configurations - hard, soft sided, backpacks, duffels, totes, you name it and it can be found in the overhead bins of aircraft around the world

Disclosure: Some links on this page may be affiliate links. When you buy a product through one of these links, for example at Amazon.com, we earn a small commission and that helps to keep the site live. Thank you for your support.


Tried and True Carry On Bags

Tosca oversized Tote
Make the most of your personal bag with this spacious handbag that'll keep your essentials under the seat and handy.
This stylish tote comes in a variety of vibrant colors as well as subdued earth tones and is inexpensive enough to buy more than one. The bag zips
closed and has two open and one zippered pocket in it's interior to keep you organized.

Measuring 18 X 12 X 8 inches it's roomy enough to carry all of your immediate needs as well as a laptop, book and techy devices.


Rolling Duffel - Lots of Patterns & Colors

Here's a
snazzy little rolling duffel
at a great price and in over 20 different looks.
For you and the kids, these inexpensive, funky, wheeled duffels come in enough styles that everyone in the family can have a different pattern or color.
Camo for the boys and hearts for the girls and tons of other patterns and colors.
Sized perfectly for cabin stowage with a roomy center area, this bag has four handy pockets on the outside to hold easy-to-access items.
Everyone gets their own bag for their own stuff.

Two Perfectly Sized Carry on Pieces
An inexpensive duo that looks great and travels better.

This soft sided carry-on comes in 4 jewel tone colors and sports pockets on the outside (one of my favorite features of soft luggage).

The dimensions of the rolling carry-on are 21" x 13.5" x 8.5" deep and it expands to 10.5 inches in depth. Its little buddy measures 14" x 10" x 6" perfect for personal items and effects that you'll need access to during the trip.

The soft sides are forgiving and allow you to squeeze in that last item and if you can't quite fit everything just unzip and the whole bag expands by 2" (to 10.5 deep) so that you won't have to leave anything behind.
US Traveler Rio Two Piece Expandable Carry-On Luggage Set
has 2 in-line wheels that
are recessed into the bottom of the suitcase which are more efficient and take less space than 4 wheeled spinners. It's an eye popping and practical set, for those who travel infrequently.


Smaller Sized Carry on Bags

A 21 X 14 X 8 inch like the London Fog Luggage Chelsea Lites 21 Inch 360 Expandable Upright
is the right size for European travel and just different enough to make it easy to recognize. The plus with this bag is the 8" depth which makes the overall size smaller than typical carry-ons.
Remember that this bag is expandable but in it's expanded form will no longer comply with size guidelines as a carry-on.

Kipling - There's a Monkey on Your Bag
I LOVE the Kipling bags and their soft sided carry-on at 22" x 14" x 9.5" which includes the wheels (45.5 linear inches) Kipling Darcey Carry-On
is well within the parameters of most airlines and is available in a beautiful array of solid colors and patterns.
A Kipling duffel was my first "good" bag and I've loved their products ever since. I still use the very first one that I bought (in 2003) at Soper's Hole in the British Virgin Islands while we were on a sailing charter.
Their signature gorilla and hefty zippers have turned Kipling into an icon.

Wear your carry on items with clever clothing that keeps all of your must-haves close at hand.
Conveniently located and appropriately sized pockets allow you to transport a whole carry-on's worth of stuff while maintaining a well dressed look and a sleek profile.

A growing segment of the "savvy traveler" population never checks a bag.
Along with your boarding pass and passport, your carry on should hold the things you want access to during the flight such as a book, ear
buds, music, pen, magazine, journal, snack and sweater.
If I'm traveling from one climate to another, my carry on holds a change of clothes suitable for the new climate. Additonally it contains a laptop, swimsuit, pareo, sleepwear and a bag of toiletries.
A plastic zipper bag holds all liquid toiletries in tiny bottles (3oz. or less).
Check out our page that details carry on luggage restrictions to see travel
information and carry on specifications for your airline.


More About Travel Bags


Top of page - Carry on bags