Travel Vest For Women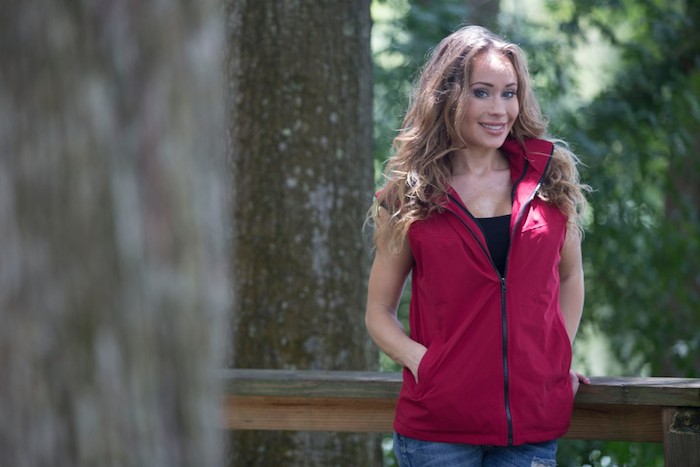 Panache and pockets make the perfect travel vest.

Disclosure: Some links on this page may be affiliate links. When you buy a product through one of these links, for example at Amazon.com, we earn a small commission and that helps to keep the site live. Thank you for your support.

Here It Is - The Perfect Women's Travel Vest

It's a vest, it's a jacket, it's the most versatile piece of travel gear you'll ever own.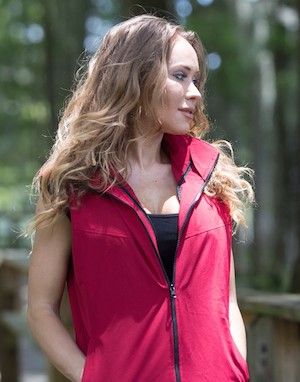 As a woman's travel vest the Joey looks just like a stylish piece of active wear, and it is, but it's what you can't see that'll blow your socks off.
Under all that style your most valuable belongings are concealed from the view of others but easy for you to access. If you're flying you just added a secret bag.
Tons of pockets - big and small - are either zippered or have an over flap that secures your stuff in place. There are pockets for an iPad, water bottles, smart phone, sunglasses, keys, wallet, passport, snacks - whatever you might need and still there's more.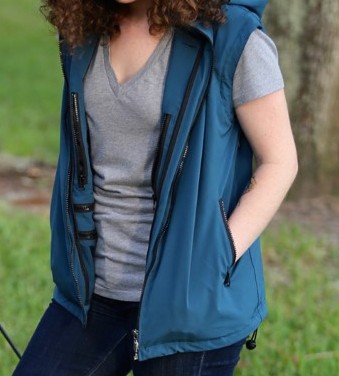 Zip off and on sleeves
Removable hood
Toothy zippers
Vented underarms

Custom loops to guide your earbuds toward your ears

Eye mask that hides inside the hood
Glass cleaning cloth right next to the sunglasses pocket

Thumb hole in the cuffs
Optional fleece liner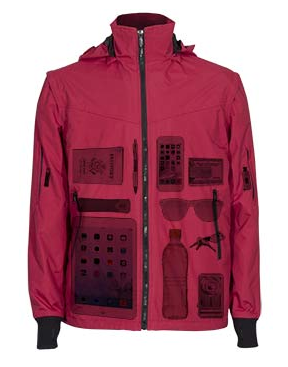 A rain resistant nylon shell will keep you and the stuff in your pockets dry for an hour in a light rain. The jacket is rain resistant rather than rain proof to maintain breathe--ability in the fabric and it's machine washable and dry-able.
The well thought out placement of pockets and easy to access zippers ensures that the vest hangs evenly when full or empty.

If you intend to fill the pockets to capacity - order a size up, same goes for adding bulky layers underneath or zipping in a liner.
Get a closer look at the Joey Vest and Jacket


Lightweight Women's Travel Vest

ExOfficio Women's FlyQ Lite Vest
This vest is made specifically for women and it shows in the way it fits.
Pockets inside the vest keep your items secure and close and your expereince hands free. This number was made to travel and the pockets are functional and plentiful.
You won't need to juggle with your purse, camera and water bottle when you start wearing your gear instead of carrying it.
Built like a sherpa this vest was designed to carry what you need without looking like it's carrying your valued possessions.
The design is genius - incorporating pockets of various sizes and dimensions for your needs.
Well thought out pockets that have transparent panels through which you can operate your touch gadgets and a special pocket for your glasses, sunglasses or clip-ons, that's lined with a micro-fleece fabric to prevent scratching.
Or how about the pocket that holds a water bottle and the vertical inside zippered pocket.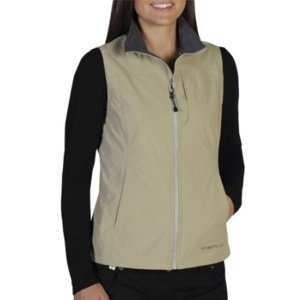 Add a Little Warmth, Color and Coziness in Chilly Climates

Travel to cooler climates requires layers and there are none better than the Columbia's Women's Benton Springs Fleece Vest
with some zippered hand pockets for keeping your stuff close.
A vest keeps the core warm without restricting movement. A definite plus for adventuring and traveling.
For a cozy experience choose fleece. It's soft, oh so soft and although it's a toasty layer the fabric is lightweight and perfect for packing.
This little vest layers beautifully for added warmth under a jacket but looks smashing as the topmost layer due to the impressive color selection.
The color drenched hues include: bluegrass, oceanic, red hibiscus, hyper purple, dark orchid and groovy pink to add a pop of color to what can sometimes be a rather neutral wardrobe.
And there's no shortage of basic shades that go with everything - check out their neutral palette of sea salt, black and charcoal heather.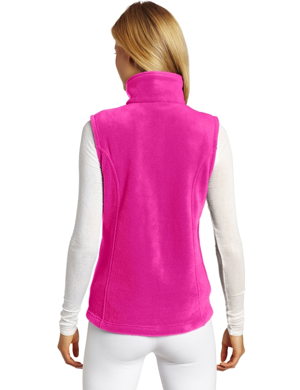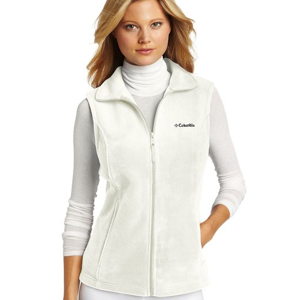 Zippered outer hand pockets offer a secure place to keep keys, money, cards, gloves, mints, phone etc. in place as you go about living life.
Roomy inner pockets hold an iPod, smart phone or camera ... or what ever floats your boat.
And it comes in Plus sizes
as well with an equally juicy color palette.
Every time I walk out the door I grab my vest and I know my keys, phone, bank card, a little cash, lip balm, tic tacs and almonds (I have my quirks) are secured in the pockets.
It really is just like grabbing a purse but I don't have to carry it.
What Makes a Travel Vest Better Than a Purse?
 Would-be thieves can't identify where your most valuable items are.
You don't have to find a place to put your purse down in restaurants, rest rooms etc..
Your hands are free to take photos, hold hands, eat street food and generally be a part of your vacation.
It's easy to find small items in their designated pockets.
Put down the purse and participate in your vacation hands free! Add a travel vest to your on-the-go wardrobe.


More Travel Clothes


Top of page - travel vest