Tenacatita
by Deb
(Canada)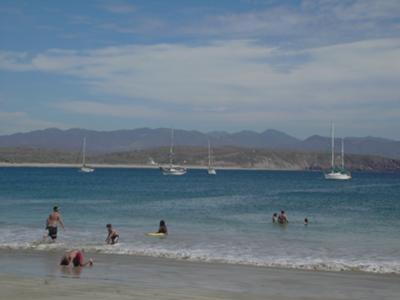 The Beach at Tenacatita
My Favourite Beach is at the Aquarium in Tenacatita Bay, Mexico. It's on the Pacific side of Mexico and offers everything I love in a beach.

Wide expanses of firm sand make for easy walking and there's hardly anyone else there when you get just a short way away from the palapas.

Oh yeah, the palapas, where you can sip a refreshing cocktail after your walk and bury your feet into the damp, cool sand while you relax and cool off. You can leave your stuff at the table after having a drink or a snack and have a spectacular snorkel amid the rocks. Just come back for another drink or lunch when you're done.

It's called the aquarium because the snorkeling is some of the best on this coast as long as the visibility is good on the day you choose.

If you don't like to snorkel this is a great beach for swimming or just paddling around at the waters edge.

Beautiful sailboats bobbing at anchor add to the serenity and it's not uncommon to see dolphins or humpback whales cavorting in the bay.

We've been to a lot of beaches in our travels but there's not a beach in the world I like better than the Aquarium at Tenacatita.