Disney World Packing List
You're going to Florida - There'll be Princesses!
The Walt Disney World Packing List will help to keep you from buying essentials at super inflated prices.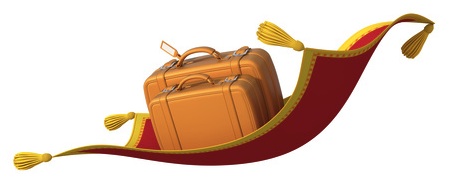 Adults and Teens - Disney World Packing List
2 swimsuits/trunks
Swimsuit coverup or pareo
2 pair of shoes - One for walking and a pair of flip flops or sandals.
Beach Towel - Turkish towels make the very best beach towels. Thirsty but thin and huge, compact to pack and super quick drying.
Packable Daypack - for the park and the waterpark.
3 sets of underwear
3 pair of socks
2 pair shorts - Skorts or skirts for the girls, if they prefer.
2 sleeveless tops
2 short sleeved tops
1 long sleeved top
2 pair long pants - or 1 pair capris and 1 long pant.
Dresses - exchange for pants/tops/shorts.
Lightweight jacket or sweater
Sport bra / workout clothes
Sleepwear
Shampoo, conditioner, brush
Hair care - brush/comb, accessories, hat
Toothbrush/toothpaste
Travel laundry kit - In order to reduce the amount you need to pack, plan to launder small items and pack layers that can be mixed with each other. A little is worth its weight in gold.
All of the things listed below.
The Packable Pack
Ultralight Packable Travel Backpack Daypack
Perfect for all of your excursions and super comfortable for carrying the stuff you might need while you're on-the-go.
The pack itself is super light weight which makes it easy to include in your luggage and when you unfold it into it's 20 liter size you'll be surprised at how well built it is.
If 20 liters (5 gallons) isn't big enough there's a 30 liter size too!
Choose from an assortment of colors.
Personal Disney World Packing List - Everyone
Dental care products - Toothpaste, toothbrush, floss
Hair care - Brush/comb, products, clips, pony holders, bands, etc.
Medications - Any prescription or essential meds.
Analgesic - Over-the-counter pain medication like Tylenol, Advil or ASA.
Bandaids/moleskin - Footsavers
Skin care
Shower products - Shampoo, conditioner, body wash
Personal hygiene
Kids Disney World Packing List
2 sets swimwear
Towel - For waterpark
3 underwear
3 pair of socks
3 pair shorts
3 sleeveless T-shirts
3 short sleeved T-shirts
1 Long sleeved shirt
1 Dress
2 pair pants - Or a skirt or capri pants
2 sets of PJ's
Shoes and sandals or thongs
1 warm layer - sweater, jacket, sweatshirt
1 packable rain jacket
Kid sized pack - Skip Hop Zoo Pack Little Kid Backpack
Remember that they will be wearing some of the clothing on the list so you won't have to pack everything.
Make adjustments according to each child's preference - some girls would rather wear dresses than pants. Switch some T-shirts to button shirts. Convertable pants that the legs zip off of can be substituted for shorts and pants.
Only you know that Ellie won't go anywhere without Pink Bunny.
When You Go To The Park
Skip Hop Zoo Pack Little Kid Backpack
Your life will be easier if each of the kids carries their own stuff and they're going to want to do just that with these colorful zoo animal mini packs.
Pick their favorite animal and you might have a hard time getting it off them.
Big enough for beach and waterpark days and compact enough for the little'uns.
Here's a list of what goes into the backpack for a day at the park.
Check out what to pack in a beach bag. for pool and waterpark days.
Getting it Together
The Mother of all packing lists offers a complete travel packing list for vacationers that includes personal items. Find it here.
Choose a high landmark at each park (easy to see from all points in the park) where you'll meet if you get separated and get out there and enjoy!
More about getting there....
How Will You be Traveling to Walt Disney World?