Cruise Packing List
Shipboard Essentials for On-Board Travel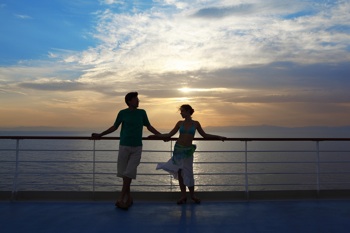 Cruise packing is about coordinating a few articles of clothing and accessories that can be blended and layered to form an entire wardrobe of exploring, shopping, sightseeing, sunbathing, dining and dancing outfits.
There's a LOT to do on a cruise and the activities are so diverse that you'll be changing at least once during the course of a day, but that doesn't mean you need to pack more...just smarter.
You'll have more fun and fewer worries if you keep the luggage to a minimum. And you'll save on those nasty fees that airlines have been imposing on every checked bag.
Cruise ships are floating hotels that provide almost every need thinkable. A few clothes and personal items are all you'll really need to pack and if you forget something important, the ship's store will likely have some...but at a premium price.
Things like batteries, sunscreen and Tylenol can be very expensive when you buy them from the Ship's store. You'll save lots of money if you make sure you have enough for the entire trip.
Cruise Packing List
Shirts & tees - for mixing, matching and layering.

.....



Skirts, Shorts, Pants, Capris - Skorts are making a big comeback and are great for wearing during activities while giving you a stylish look.

.....



Undergarments - along with socks and nightclothes.

.....



Jewelry and accessories - It is not recommended that you bring expensive jewelry on vacation. Funky beads and artsy bangles can look just as smashing without dangling temptation in front of the easily tempted.

.....



Jacket, Sweater or Vest - It can be cool on the water at night, even in tropical locations and especially after spending the day in the sun.

.....



Swimsuits & Cover-ups - You'll need at least two.

.....



Formal Attire - His and hers formal or semi-formal wear if your shipboard itinerary includes a formal event.

.....



Personal - Prescription medication, vitamins, herbal preparations and toiletries.

.....



Documentation - Passport, travel visa, trip confirmation, tickets or confirmation info for any extra excursions, etc. Check our vacation checklist for an in depth list.

.....



A Word About Shoes
Even if you never leave the cruise ship, you'll do a lot of walking.
Shoes take up a lot of space - keep it down to three pairs of shoes and tuck small items (like socks) inside the toes to help them keep their shape. You'll most likely be wearing the comfortable shoes while you travel.
Sandals or flip flops
Comfortable walking shoes
Dressy shoes for formal and semi formal events.
Staying Organized
On this page is a simple cruise packing list to give you some ideas about what to pack in general for travel by ship.
Get an Alaska cruise packing list here with tips to ensure that your bags hold the essentials for the Alaskan climate.
The tropical cruise packing list has - you guessed it - all the necessities required for sunny days and sultry evenings.
More Cruise Planning Information
Cruise Attire
Luggage Restrictions
Printable Packing List