Carry On Packing List
Get set for Air Travel
Most airlines allow you 2 bags as carry-on.
Here's a carry on packing list for each bag.
The main bag is a suitcase, backpack or duffel and your airline will have restrictions regarding it's weight and size. There is a difference between one airline and another.
Check here for your airline's carry-on packing guidelines.
The items on the packing list are in addition to the clothes you wear during the flight.
Here's how to decide which items go in which bag.
Carry On Packing List - Personal Bag
In the smaller of the two totes, which you'll keep under the seat in front of you, carry all of the necessities of the flight. Here's our list.
Wallet - ID, credit and debit cards, phone numbers.
Emergency underwear - One change of undies and sleepwear.
Passport - Make a copy and carry it in the bigger bag.
Boarding pass
Pen - On International flights you'll fill out customs forms.
Snacks
Reading material
Lip balm
Tissue
Ear buds
Cellphone / tablet / laptop
Inflatable pillow
Ear plugs / eye mask - If you plan to sleep.
Toothpick
Bandaid
Medications
Mints / Tic Tacs / gum
Carry On Packing List - Small Suitcase
In the larger carry-on, pack all of the bigger stuff that you won't need until you reach your destination.
Pants/shorts (2)
Skirt/skort/dress (1)
Tops (3)
Undergarments (2)
Shoes (1)
Laundry bag Include soap and hanging clips
Swimsuit
Pareo / swimsuit cover-up
Fashion and hair accessories
Journal
Brush/ comb/ hair products - see below.
Toothbrush/ paste/ floss
Chargers
Liquids/ gels/ lotions - see below.
Make up/ shaving needs
Feminine hygiene
Condoms/ other
Rain gear - see easy to pack rainwear.
Sleepwear
Check this page for some great tips on how to pack everything you need for a two week trip in a small bag that complies with the restrictions of the airlines.
Airline Rules for Liquids in Carry On Bags
Each passenger is allowed a single 1 quart (liter), clear, zipper bag containing liquids, pastes, gels and lotions. The filled bag must be able to zip comlpetely closed.
The products must be in containers no larger than 3.5 ounces (110 mls) and there must be no more than 3 oz (100mls) of product per container.
Large containers containing only 3 oz (100mls) will not qualify for carry on. The container itself must not be capable of holding more than 3.5 ounces of liquid.
More air travel tips and gear
Little Black Travel Dress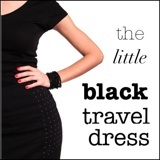 Air Travel
Carry On Packing
Air Travel Accessories