Sailing Vacation Lists
What to pack for a sailboat vacation.
Sailing Vacation Lists for packing essentials and sailing gear.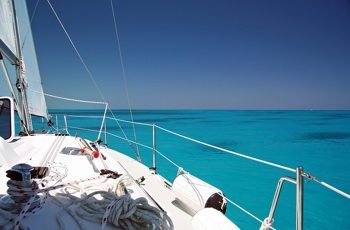 Whether you'll be Captaining the vessel yourself or going on a fully crewed charter, vacationing aboard a boat requires a unique list of items.
In order to live comfortably in the space and have the room to actually sail the boat, there are things that need to be paid attention to before you even board the vessel.
Constant motion and small spaces make for some interesting dynamics aboard - here are some basic rules to help you make choices.
Pack the absolute minimum.
Use soft rollupable bags.
Stow your stuff securely.
Layer clothing.
In short Stow your stuff securely and Pack the absolute minimum in a bag that can be emptied and rolled up for easy stowage.
After years of chartering and bareboating we bought our beloved "Pacific Jade", a 41 foot ketch rigged sailboat.
The following list combines what we've packed for numerous sailing vacations and what we want visitors to Pacific Jade to know when they're packing to come for a visit on board.
Many of the items below will already be aboard and you won't need to bring them.
Check with your hosts or charter company to see if foulies and other hard-to-pack items will be available.
Start with the Right Luggage
Seasickness Remedy
Recent studies strongly suggest that taking at least 4000 milligrams of Vitamin C for 4 days prior to sailing can prevent seasickness.

Try Ginger to settle an already upset stomach.
Nix the hard sided luggage for sailboats. Storage is limited on boats of all kinds but the configuration of the hull of a sailboat makes for small and oddly shaped stowage areas. There just isn't anywhere to put a big rectangular box.
Our Sailing Vacations start with soft bags. Usually a knapsack and a soft duffel bag each.
The back pack is used as carry on and later for shore excursions, day trips and shopping.
Soft duffels can be unpacked then rolled up and stowed in a net or cupboard out of the way.
Tropical - Sailing Vacation Lists
Passport/travel documents
Sailing Gloves
Boat Shoes (we usually go barefoot on board)

Nautical Superstition

Sailing history is rife with superstition and salty lore.
Here you'll find sailing superstitions that many a sailor still heed.

Backpack or Dry Bag for shore excursions
Sandals and walking shoes
2 swim suits (at least)
1 sun dress
3 pairs of shorts/skorts
4 t-shirts (you'll probably buy some)
1 long sleeved cardigan style (open down the front) shirt or sweater.
Swim suit cover-up
Underwear
Sleepwear (for privacy)
Light windbreaker

Sailing Vacation Tips

Avoid
hard luggage,
packing too much
and dark soled shoes.

A baseball cap worn under your hood helps to keep the hood from falling over your eyes.

Personal toiletries
Eye care products
Hat/ visor
Sunglasses
Sunscreen and SPF lip balm
Bug spray with DEET
Prescription meds in original bottles
Soothing lotion (aloe vera, noxema)
Small sewing kit
Flashlight/ batteries
Mini travel first aid kit
Zip Lock bags
Books/ magazines/ Kindle reader
Dice/ cards, etc.
Snorkel - I don't mind using communal masks and fins but I draw the line at a snorkel
Camera/ film/ chip/ batteries
Waterproof disposable camera
Journal/ notebook/ pen
Small binoculars


Sailing Vacation Lists - Gear for Cooler Climates
2 pair wool/ polar fleece socks
1 pair long underwear
1 foul weather jacket with hood
1 foul weather pants
1 long sleeved, turtle necked, t-shirt
1 polar fleece vest
1 pair seaboots
1 warm touque
1 fleece hoodie
1 pair warm pants (non denim). Polar fleece is a great choice.
More Articles for Sailors
Printable Sailing Vacation Lists
Salty Superstition
Vacation Packing Checklists

Top of page