Camping Checklists
The only camping list you need!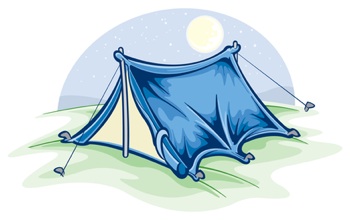 Camping is a great way to get away from it all with family and friends.
It's also a self sufficient pastime that often leads to remote locations where no store is available if you forget something important.
Everything you need to stay on track and prepared to enjoy the great outdoors.
Tailor These Camping Checklists To Fit Your Needs
You don't have to pack everything on the list, but it's all here.
A simple, organized camp packing list that'll take you to the lake or the wilderness - tenting or rving, with every base covered.
Everything you need to pick up your life and take it to the woods or the water's edge.
We've broken our camping list into several different categories to keep things simplified and easy to locate.
See our camping food list here.
Cooking/Eating ~ Camping Lists
Barbeque, camp stove, grill for campfire
Fuel for BBQ, stove, charcoal
Pot, pan, griddle
Strainer (collapsible)
Coffee pot, teapot
Matches, lighter
Bottle/can opener, corkscrew
Cooler, Ice
Timer
Plastic containers, zip lock bags
Napkins
Table cloth, weights or clamps
Plates, bowls, mugs, go cups
Wine glasses
Knives, forks, spoons
Cooking tools (flippers, grabbers, stirrers etc.)
Serving spoons
Flame resistant gloves
Knife, knife sharpener (we use Wiltshire self sharpening)
Toothpicks
Skewers
Mixing bowl
Oven mitts, pot holders
Sleeping/Tenting ~ Camping Lists
Tent, poles. pegs
Sleeping roll, inflatable mattress, cot
Sleeping bags/Bedding

Pillows
Book light
Brush or whisk
Mosquito netting
Ground cover for under tent
Floor mats
Tarps for shade and rain protection
Foot pump for mattress & inflatables
Campfire ~ Camping Lists
Firewood

Axe
Firestarter, fat sticks
Long handled lighter
Marshmallows, grahams and chocolate
Weiner stick, popcorn popper
Newspaper or other non-glossy paper
Camp chairs, side table
Weiner sticks
Other campfire cooking tools
Keep plenty of water handy when campfires are burning.
Washing Up & Hygiene ~ Camping Checklists
Toiletries - Go here for a complete list of personal gear.
Garbage bags
Dish cloth, soap, towels
Plastic washing bin
Towels, face cloths, soap, shampoo, conditioner
Paper towels, Toilet paper, wet wipes
Laundry soap
Rags, shop towels
Scrub pad



Leave-in conditioner gets the job done without using excess water. That's a big plus when you're camping!
Medical ~ Camping Checklists
Prescription medication
Inhalers, Epi pens
Reading glasses, sunglasses, extras
Contacts and solution
Eyeglass/hearing aid repair kit
Ear plugs, hearing aids
Toothpicks, brush, paste, floss
ASA
Antacid - Tums
Benadryl
Tissues
Eye drops
Aloe Vera, soothing lotions
Sunscreen, bugspray
Pain relief, Tylenol, Motrin, etc.
Vitamins, herbal preparations
Day and night cold medication
Immodium, metamucil
Water purification tablets
Polysporin
Hot water bottle
First Aid ~ Camping Checklists
Emergency phone numbers, poison control
Flashlight, extra batteries
Pen/pencil, paper
1 Barrier device (breathing)
5 Pair non-latex gloves

2 Burn dressings
5 Gauze pads 4X4 and 2X2
2 Pressure dressings
2 Eye patches
1 Abdominal pad
2 Roller gauze
1 Adhesive tape
1 Pair scissors
1 Pair tweezers
1 Triangular bandage
10 Alcohol wipes
2 Each hot and cold packs
1 Space blanket
10 Steri strips, butterfly sutures
Bandaids (various shapes and sizes)
Antibacterial hand gel
1 pocket mask
1 First Aid Guide
Activities ~ Camping Checklists
Life jackets
Swimsuits, fins, goggles, towels
Kayak/canoe, paddles
Tubes, noodles, float toys
Bicycle
Dominoes, cards, dice, etc.
Bocci, frisbee, horseshoes
Baseball/glove, volleyball, basketball, etc.
Kite, remote control toys
Compass, maps
Mirror
Foot pump for inflatables
Fishing gear, licence, bait
Golf clubs, racquets
Other Important Stuff ~ Camping Checklists
More Camping Savvy
Printable Camping List

Top of page - Camping checklists