Cool Camping Gadgets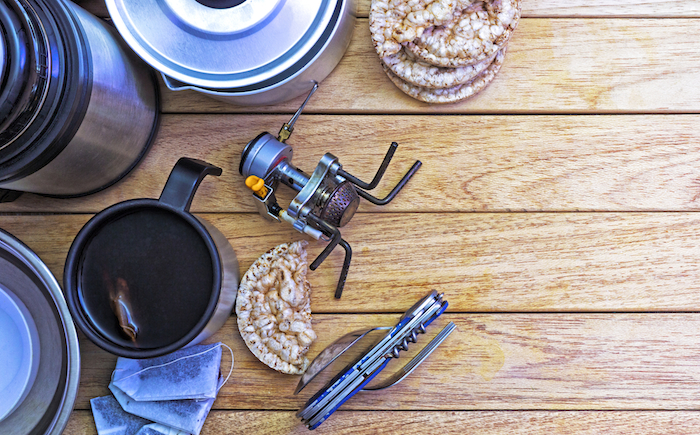 The Wild Blue Yonder is Calling

More than anything else, the perfect camping gadgets perform a much-needed task without being divas themselves. That means that the item has very few needs of its own, no batteries, low maintenance, no whining.

Solar powered and people powered gadgetry are high on our list of fabulous, fun and functional things to take on a camping trip because of their high reliability - low demand ratio.
Here are the things we love and that have served us well in our outdoor life along with a few we're just itching to try.

Disclosure: Some links on this page may be affiliate links. When you buy a product through one of these links, for example at Amazon.com, we earn a small commission and that helps to keep the site live. Thank you for your support.

Tried and True Camping gadgets for the Savvy Traveler


Suspended Tent Can Hold a Small Family

HugglePod HangOut
This swinger is a fantastic hanging hideaway that can hold up to 500 pounds.
Made from a durable nylon canvas with a reinforced metal ring by which it hangs.

Sleep off the ground swaying lightly from an overhead branch. Included is a comfy pad, a small string of lights and a ring of reinforced metal by which to hang it.

The battery powered LED lighting with an on/off switch creates a warm night time ambiance.

A roomy interior measures approximately 6 feet high and 5 feet in diameter.


Super-Fun Tree Swing

Family Sized Tree Swing
This durable (with a 1 year warranty)) Flying saucer swings and spins! Does it get better than that?
At 40 inches in diameter and rated to hold 700 pounds, well ... if the kids can get you off of it, they're going to have a heck of a good time on this swing.

An industrial strength steel frame encircles the saucer so it'll hold two adults (700 pounds) or a passel of kids.

All hanging hardware is included. The unit can be hung either by two points - so that it swings back and forth, or a single point - so that it spins and swings. I know which one I'm picking.

Solar Camping Gadgets

Luci Inflatable Solar Lantern
We LOVE Luci!
This solar light is ideal for camping, boating and traveling. Light weight and bright enough to read by, this little Luci collapses to a diminutive 1 inch thick disc measuring 5.2 inches across and inflates to 5.2 X 4.5 inches (13 X 11 centimeters).
Solar powered, rechargeable, waterproof, easy to pack and shatterproof the light will shine on low for 12 hours on a full charge.

The settings are bright, brighter and intermittent flashing. Solar panels and LED bulbs are well protected inside the plastic housing.
Just put the light in the sun with the panels facing the sun (through a window is fine or directly outside) during the sunniest part of the day for 3 or 4 hours and "let there be light".


LifeStraw Water Purifier Bottle

LifeStraw Go Water Bottle with Integrated 1000-Liter LifeStraw Filter
Hydrate, hydrate, hydrate ... the mantra of every wise outdoors-person.
Water is high on the list of priorities when you're in the wilderness and access to safe water is ensured by the lifestraw water bottle. Even if you're unsure about the source you can make it safe.
Fill with H2o and the 0.2 micron filter scrubs your water clean of impurities as you drink it through the straw.


Hair Clip Tool

Monkey Business Clippa Mini Tools Clip
Not only will this great gadget keep your hair in place but everywhere you go ... a tiny tool box goes with you.
It's amazing how resourceful us girls are, especially when we have access to the right tools.
You'll need more than one of these practical hair clips because all of your friends are going to want one as soon as they see yours.



Sandwich Iron - Tried and True Camping Gadgets
Pie Iron Sandwich Cooker
One of the very best things about camping is campfire time and that means yummy snacks and meals toasted over the flames.
Place bread of your choice on one side of the iron and add whatever filling or combination you like (cheese, pizza sauce, pepperoni, pie filling, even peanut butter and jam) then cover with a second slice of bread, close and toast ... yuuuum.
This pie iron is 28 inches long allowing ample length to get the food close to the fire without getting you too close.

Carry Along Campfire

Here's the answer to those hot dry summer days when actual campfires are restricted.

This self contained, portable, propane fueled fireplace gives you a real fire with genuine looking logs to kick up the camping
experience in parks where open fires are restricted.
An 8 foot hose connects to a standard propane bottle providing fuel for the fire. No need to gather or buy firewood.
Add the functional Campfire Cook Top
to turn this unit into a cooking fire.

Family Sized Hammock

Handmade Yucatan Hammock
Not only will this biggie seat two or three people side by side or sleep a couple (crosswise) comfortably (up to 550 pounds), it's a perfect siesta spot,
 can keep kids entertained for hours and is a great place to rock the little ones to sleep.
Pretty good for a scrap of yarn that weighs just over a kilo (2.5 pounds).
The plump and soft cotton yarn is expertly woven for comfort - no bumps or frays - and is loose enough to allow air to circulate on hot
afternoons and sultry nights.
Plunk a comforter or sleeping bag in it for cooler nights and your cocoon becomes a toasty cloud that supports you from head to toe.


Romantic Camping Gadgets

LED Real Wax Battery Operated Flameless Pillar Candle
Candlelight ambience without the flame. These candles create a lovely glow inside or out and they won't blow out or cause fires.
There's nothing more romantic than a candlelit table and now there's no reason not to have that romance even when you're camping.
We even keep one of these on the boat and it lights things up beautifully without interfering with star gazing.


Firing up the Campfire

Light-a-Fire, Amazon's Best All-natural Fire Starter
Non toxic fire starters burn for 15 minutes. That's long enough to get a fire started in practically any situation.
The natural ingredients (food grade wax and wood shavings) impart no chemical smell during storage or burning.

The company provides employment to people with disabilities.


Super Compact Mess Set

Camping Cookware Mess Kit
A hot meal and a cup of coffee in the morning perfect the camping experience. This set is a super compact entire mess kit ... right down to the spoon - a spork, really.
Of necessity, tenting and backpacking products must be small and lightweight, at the same time they have to  pull their weight at the campsite and prove their worth daily.
Add this kit to your gear and warm your belly in the wilderness.


Links to the Coolest Camping Gadgets


More Camping Savvy


Top of Page - Camping gadgets