Camping Packing List
Checklists for Tenting Excursions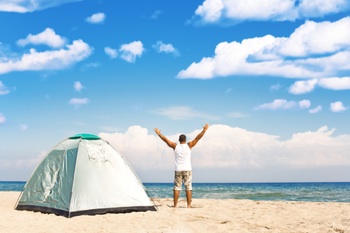 If you think a camping packing list isn't important, try opening a can of beans with a spork because you forgot the can opener -
assuming that you remembered the spork...and the beans.
Tenting is one of the most self sufficient activities enjoyed in the outdoors. If you didn't pack it you're going to have to get the job done without it.
Using a list ensures that you don't forget something important (like a can opener or a match) that could seriously cramp your camping style.
Cooking & Cleaning - Camping Packing List
Matches, lighter, butane torch
Cooking tools (flippers, grabbers, stirrers, pokers, etc.)
BBQ, camp stove, grill for campfire
Cooking fuel
Frying pan, Pot
Cooking tools (flippers, stirrers & grabbers)
Stainless steel coffee percolater (we use it as a teapot too)
Bottle/can opener, corkscrew (or a Swiss army knife)
Cooler, Ice
Zip lock bags, foil, plastic containers with lids
Serviettes
Table cloth, weights or clamps
Plates, bowls, mugs, go cups
Eating utensils, serving spoons, Spork
Sharp knife
Cutting board
Toothpicks
Stainless steel mixing bowl
Fire resistant gloves
Oven mitts, pot holders
Dish soap, cloth, scrubber and towels.
Plastic washing bin or bucket
Laundry soap
Rags, shop towels, paper towels
Garbage bags
Tent - Camping Packing List
Tent, poles
Stakes, rope
Sleeping pad, inflatable mattress or cot
Bedding or Sleeping bags
Pillows
Book light
Brush or whisk broom
Ground cover for under tent
Floor mats
Tarps for shade and protection from wind & rain
The ground cover should be the same size as the floor of the tent to keep rain from puddling around the edges.

Situate the doorway so that smoke from the campfire won't enter the tent.
Around the Campfire ~ Camping Packing List
Axe/hatchet
Firestarter, fat sticks, newspaper
Long handled lighter
Marshmallows, grahams and chocolate
Weiner stick, popcorn popper
Pie Iron
Folding chairs, side table
Be vigilant while campfires are burning. Keep plenty of water handy.
Washing Up & Hygiene - Camping Packing List
Antibacterial hand gel
Toothbrush, toothpaste, brush/comb
Toothpicks, floss
Towels, face cloths
Soap, shampoo, conditioner
Toilet paper, tissue, wet wipes
Feminine products
Medical - Camping Packing List
Prescription medication
Inhalers, Epi pens
Benadryl
Sunscreen
Bug spray, mosquito coils
Tylenol, Motrin
Vitamins, herbals
Bandaids
Go here for a full list of Medical & First Aid items.
Clothing & Gear
Cargo pants, Shorts
T-shirts, sweater
Flip-flops, walking shoes
Swimsuit, coverup, undergarments, socks
Ball cap, sun hat
Daypack, water bottle
Rain gear, boots
Music - ipod, satellite radio, etc.
Musical instruments
Warm jacket, vest, wool socks
Activities ~ Camping Checklists
PFD's
Swimsuits, fins, goggles, beach towels
Paddleboard, kayak, canoe, paddles
Water toys
Butterfly net
Bicycle
Wagon
Dominoes, cards, dice
Bocci, frisbee, horseshoes
Ball/glove, football, basketball, etc.
Kite, remote control toys
Compass, maps, GPS
Mirror, magnifying glass
Inflatables, paddles, pump
Fishing gear, licence, bait
Golf clubs, racquets
Other Essentials - Camping Checklists
More camping...