Alaska Cruise Packing List
Alaska Cruise Tips & Essential Cruiser's Info
What to pack for a cruise to Alaska and tips to get you underway.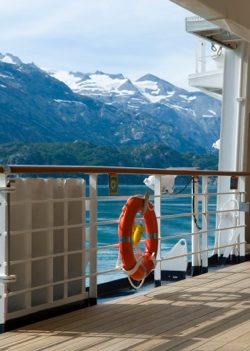 This Alaska Cruise Packing List offers a well-thought-out list of essential items for Northern shipboard and land based travels.
From Glitz to gumboots, packing for an Alaskan cruise calls for a wide range of items to keep up with all of the onboard and ashore activities.
From the glamour of the captain's dinner to rugged hummer tours and lumberjack shows, Alaskan cruises are a "something for everyone" kind of vacation and it's easy to get carried away when deciding what to pack.
There are, however, a few things that you'll want to be sure you include on your packing list specifically for an Alaskan cruise.
It's Alaska - Consider the Weather
Be ready for anything.
Alaska's official cruising season is May through September and you can expect almost any weather.
In general, the inside passage tends to be more cool and rainy and gives way to warmer and sunnier weather as you move toward the interior.
That's not to say that it's always rainy on the coast and dry inland, there are long strings of beautiful sunny days along the shore and damp, foggy days in the interior.
In other words - prepare for anything, and bring along an easy to pack rain jacket.
Alaska Cruise Packing List Essentials
Glitz - Every cruise has it's romantic and glitzy side. Pack one smashing outfit including accessories and shoes. Check to see if there's a Captain's dinner scheduled during your sailing, many require formal dress. Even everyday cruiseship dining can be a dress up affair although most evenings are "casual dressy".

.....



Umbrella & Rainwear -

No Alaska cruise packing list would be complete without including a collapsible umbrella, waterproof shoes and a rain jacket. Choose an umbrella that can easily be stowed in your backpack, ready for anything and a rain jacket that's packable. You can buy them there - but you'll pay dearly for them. You'll save a bundle if you plan ahead.

And bring shoes that won't get ruined if they get wet. A pair of comfortable, waterproof, closed toed shoes will likely be your most worn footwear.

I know they're not real pretty (especially with a pair of wool socks tucked into them), but those duck shoes can step lively in almost any weather (note: no ducks were harmed in the making of duck shoes).

.....



Small Daypack - The daypack goes everywhere with us. Carry all of your layers and needs and still have room for any purchases you make along your excursions. I find that my husband is very agreeable about carrying the daypack all day long without the slightest complaint, but if we only bring a roomy purse...not so much.

.....



Layers - Pack light under-layers (like chemises and T shirts). Zip-up, long sleeved tops (hoodies and sweaters) allow for lots of variations in temperature (leave it unzipped for mild weather; partially zipped for cooler and all the way up with the hood on, for chilly). We love polar fleece for layering, it adds a superwarm layer that keeps you warm even if it gets wet. Top everything off with a breathable, light, rain proof and windproof layer (that has a hood).

Vests are a great layer because they add warmth to the torso without bulking up in the arms. You should easily be able to carry extra lightweight layers in a small knapsack along with your binoculars and camera when the weather is warm and mild.

.....



Binoculars - Alaska is the land of some of the most stunning scenery on the planet and you'll want a good pair of binoculars to get a front row seat when sea life, black bears, soaring eagles and glistening icebergs appear.



For traveling, we like the Nikon 7216 - Action series 8 X 40mm because they're lightweight (1.7 lbs.) and powerful at a very good price point. The 420 foot field-of-view at 1,000 yards, makes these glasses ideal for spotting sea life and scanning shorelines for wildlife from the ship decks.

.....



Camera - Panasonic 8x Wide Angle Image Stabilized Zoom and 2.7 inch LCD is my first choice in pocket sized digital cameras. I love everything about it - picture quality, size, a screen that's almost 3 inches, it has zoom and all the settings I'll ever need, 8x Wide Angle Image Stabilized Zoom and 2.7 inch LCD. A small and very portable camera that will likely see more action than a 7 piece SLR. The photo quality that you lose is more than made up for in the number of photos that are taken with a small digital model.

Never will I dis the need for SLR or DSLR cameras with their smorgasbord of lenses and attachments for crisp and stunning images - but for sheer usability on an active trip you can't beat the pocket sized digital.

Try a disposable camera or get one for every member of the family. These cameras can be tucked into a bag and you never have to worry about it. If you're looking for an inexpensive way to record your cruise memories, the Kodak one use camera is a great alternative.

.....



Sunglasses - You'll spend a good portion of your time on the water where the glare and reflection can tire your eyes. The right sunglasses protect your eyes, fit your face and offer visual clarity.

Choose lenses that filter at least 99% of both UVA and UVB rays. For the most protection choose larger or wrap-around styles. Polarized lenses reduce the glare from water so are a good choice for viewing icebergs and whales.

.....



Gloves, Hat, Scarf & Wool Socks - You may be lucky and encounter nothing but fine sunny weather... but just in case, bring a scarf, gloves and a hat and tuck a pair of wool socks in too!

.....



Hand Held Radios - Walkie Talkies can keep your group connected on the ship and on shore excursions. A 35 mile range will work for shipboard and daytrips to keep you in touch with the kids, each other or traveling companions. In areas where the signal is obstructed by stuctures and topographical features a 35 mile radio set will actually have about a 2.5 mile range.

.....



Layers, Layers, Layers - The "Alaska Cruise Packing List" Mantra

Layering your clothes will not only provide the perfect level of warmth but give you lots of alternates that change the look of an outfit. Add a jacket, vest, sweater or throw over a basic outfit to add flair while adding layers.
Pockets, particularly in the outer layers hold essentials and leave your hands free to fully enjoy the journey.
Check out our travel clothing section for some of the travelin'ist clothing available. Comfortable, stylish garments that love to travel and wash, dry and pack like pros.
.....
How to Save Money on The Fun Stuff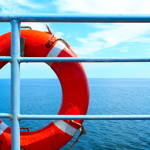 Secrets to Getting the Best Cruise for Less Money.
David Kirkland (a retired shipboard officer) shares all he learned during a 10 year career on board a cruise ship.
He delivers insiders information on How to get FREE cabin upgrades and VIP treatment on any cruise line.
Learn how to be awarded freebies and perks that are usually worth hundreds of dollars.
Make every cruise more luxurious and exciting without the extra costs that most travellers pay.
If you want more trip for less money, you need this guide.

More Cruising Lists

Top of page - Alaska cruise packing list