Things to do in Munich in September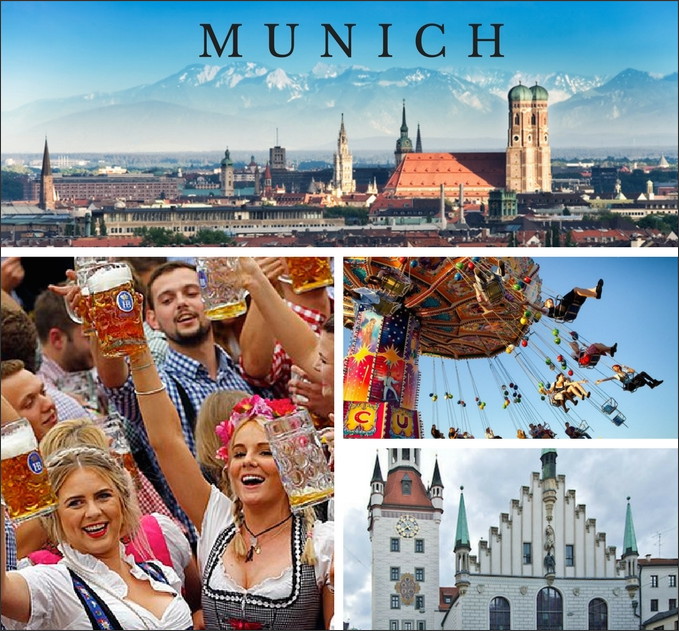 Munich is Marvelous in September
By early autumn the crowds have dwindled, the weather is warm by day and gloriously cool at night (my favourite). There are still tons of things to do in Munich, but the pace slows down a step or two.

At the end of September, Oktoberfest festivities begin and they spill over into October. The celebration lasts a little over 2 weeks and encompasses 3 weekends.
However, Biergarten's in general are a staple in Bavaria and you'll find them everywhere. Open all season long - the biggest of them holds 8,000 patrons. They are an outdoor place of merriment, dancing, eating, singing and beer drinking camaraderie held in the shade of overhanging trees or bright umbrellas.

The concept of these festive gathering places was born in Munich and they're  part of the weave that makes her unique. The season runs from May to October.

Take Note

Legal drinking age is 16 years of age.
Alcohol content of beer served at Oktoberfest is 6%.
Although the typical Biergarten serves up some fantastic repast along with tankards of beer (lots of meat - chicken, pork and ribs) patrons often bring their own food for snacks. It seems odd but in the traditional biergarten this is perfectly acceptable. Some venues even provide a grilling station for you to prepare your own food.

You can't bring your drinks in though. Those must all be purchased from the venue.

The Marienplatz


But Munich has a lot more to offer than Beer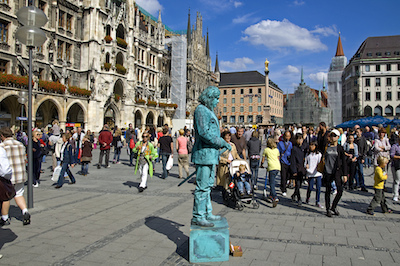 Start at the Marienplatz (St. Mary's Square) a hub of Bavarian activity. Established in the middle ages (1158) the square has hosted a variety of tournaments, a vital marketplace, public executions and local gatherings.

These days it is still the heart of the city and pulses with a lively collage of activities. Shopping, restaurants, street entertainers, and historical sights, it all happens right in this area. Time your visits to coincide with the enchanting glockenspiel performances held at 11, 12 and 5 o'clock.

Top Things to do in Munich

Museums, the Opera, fairytale castles, nightlife, shopping, astounding architecture, there's no shortage of things to do in Munich whether you rent a car and road trip it around or book tours that take care of the details for you.
Here's a list of TripAdvisors Top 10 Things to do in Munich.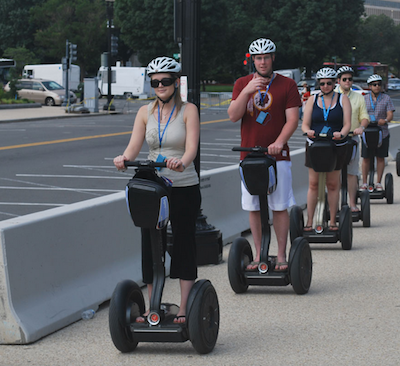 A big time new favorite are the segway tours. Segways are easy to learn, battery powered and can cover a lot of ground compared to a walking tour. Their stability, pace, small footprint and silent operation make them ideal for touring

Capable of speeds a little over 12 miles per hour (20 km per hour) the electric motor can cover a lot of ground - about 24 miles - before it needs another charge.
The new kid on the block, Segways are a ton of fun and an excellent way to get a close-up peek at the real Munich. Learn more about guided Segway Tours in Munich here.


One of the Most Popular Things to do in Munich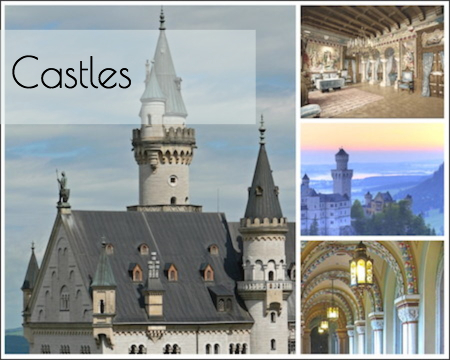 Visiting Neuschwanstein Castle in it's ethereal setting at the foot of the Alps is one of the most popular things to do in Munich. This picturesque palace was the inspiration for Disney's Sleeping Beauty Castle.

It's a day long trip (approx. 10 am to 8 pm) and involves two 2 hour train rides through a picture book setting and a 20 minute uphill walk. Take your camera because you'll see things you can't describe to your friends.
Since the tour companies pre-book the tickets it eliminates the need to stand in the long line-ups when you arrive at the castle site.

Book a tour of Neuschwanstein and Hohenschwangau.

Where to Stay in Munich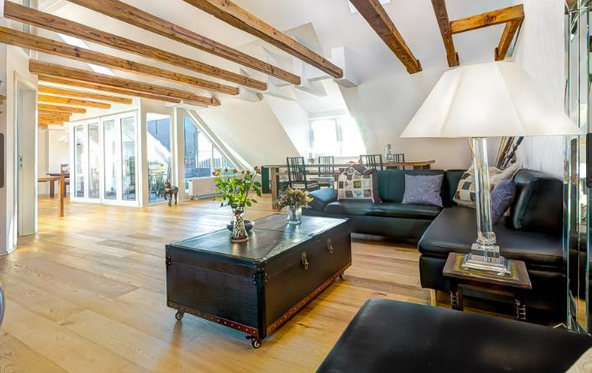 Above is a shot of a centrally located penthouse apartment that sleeps 4. Situated on the top floor of a 6 storey walk-up, you'll stay in shape and be rewarded with a spectacular view of the historc center from your private terrace.
Where you choose to stay will depend on budget and what you expect from the trip but by far the most popular locations are near the Marienplatz and near the train station.
The Marienplatz is within easy walking distance to both the square and the central train station. You'll have your pick of dozens of eateries, shopping establishments and attractions without need for a car.
The idea is for your accommodations to be walkable to everything - transportation, great eats and all the action - but not so close that revelers are reveling under your window when you're ready for some quiet.

There are a wide variety of places to stay from hostels to high end hotels to fully equipped homes, and condos.

The Hotel Blauer Bock is ideally located near the Marienplatz.
If you don't mind a bit of a walk, try the Marc Munchen a 15 minute walk to the square for a mid-range price.
Best value close to the bus station and a hearty breakfast for a mini price.
Alternatively, if you stay near the Hauptbahnhof station you'll have easy access to any of your planned excursions. The Sofitel Munich Bayerpost is right beside the station and a little less spendy than near the Marienplatz.

What to Wear in Munich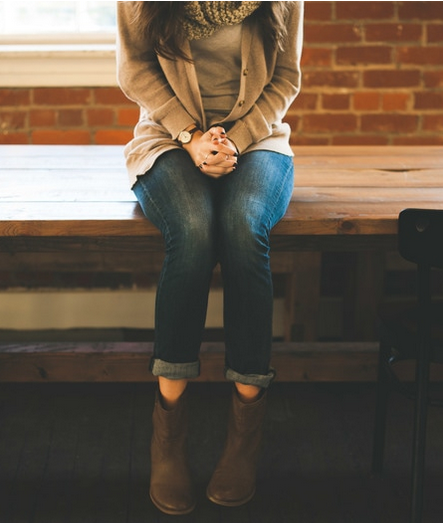 Munich has a casual outdoorsy vibe and the dress code is - Anything goes.
Summer weather is usually comfortable but temperatures can spike so bring summer clothes and an assortment of layers - short sleeved, long sleeved, zip up, shorts, vest, clam diggers and pants. Evenings are cool and you'll appreciate the long pants and a cozy sweater. Comfortable shoes are a must.

Winters are cold and you'll need boots, socks, gloves, a scarf, a heavy jacket along with the layers and sweaters.
Spring and Autumn weather is pleasant and a little unpredictable. September dresses in reds and golds and purples for the last fling of the season. The changing colors, the crisp air that hints of the coming winter and the often spectacular weather draws seasoned travelers who wait for the crowds to dissipate and appreciate the moderate weather.

What to Pack for September in Munich

For a complete vacation packing list go here.


Be prepared for anything. Weather can fluctuate from day to day in temperate zones particularly in the shoulder seasons. Remember to pack:
Scarf, shawl

Vest
Sweater, jacket

Wind proof layer
Gloves
Comfortable shoes


Sleeveless shirt
Short sleeved shirt
Long sleeved shirt
Pants
Dress, skirt

Clam diggers
Socks

Columbia Women's Switchback II Jacket

 This little jacket is rain resistant, comes in 20 gorgeous colors, looks great on and is reasonably priced...and that's
 not even the best part!

It packs away into one of its own pockets and tucks into a purse or bag so that it can just be there when you need it.


More Travel Articles


Top of page