Balearic Islands Travel Tips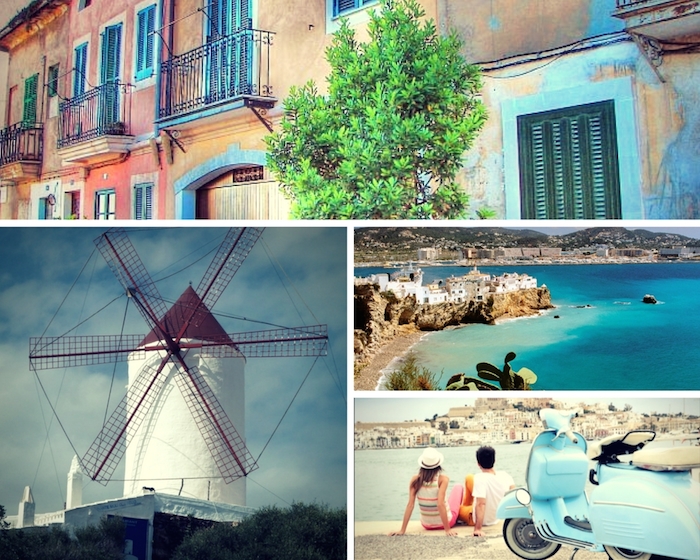 It Turns Out That You Can

Have it All!
Lying off the coast of Barcelona and Valencia, Spain the Balearic archipelago consists of 4 very different islands and many intriguing islets. 
There's a party island, a beach island, even a "clothing optional" island all overlooked by their big sister, Majorca.
Their location in the Iberian Sea offers a wonderful Mediterranean climate  and a ferry system connects them to each other as well as to the mainland.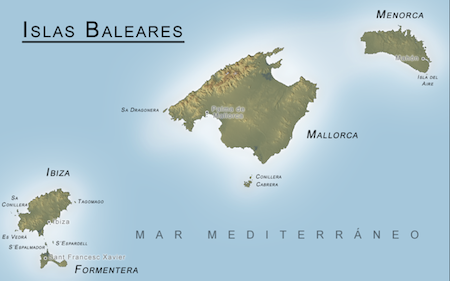 CC BY-SA 3.0
Due to the relatively low cost of living in these islands you'll get some of the best beaches Europe has to offer at bargain prices.
The best times of year to consider Balearic Islands travel is between May and October - keeping in mind that the months of May and October are more of a gamble with the weather and July & August must be booked at least six months in advance and will be very busy.

Mallorca - Balearic Islands Travel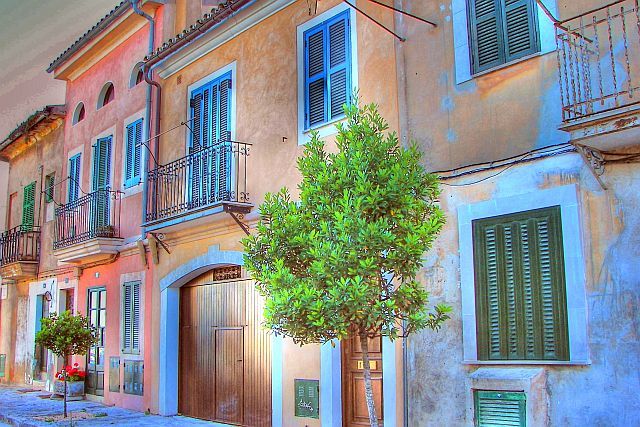 Of course it has beautiful beaches and is surrounded by the stunningly crystal water of the Ibirian Sea offering every water sport you'd expect on a tropical beach vacation ... but there is so much more to this island.
Stone villages, horse drawn carriages, tiny fishing villages, ancient olive and citrus groves and zip lining. Lively street markets with musicians playing on every corner, colorful goods piled high. That  elusive combination of interesting, fun, educational, relaxing, active and exciting.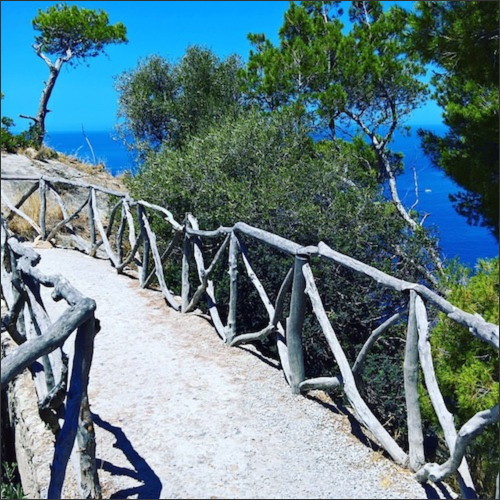 Balearic Islands travel destinations have long been frequented by mega yachters and movie stars, and it won't take you long to figure out why.
Walking, running, paddling, swimming, snorkeling, boating, dining, clubbing, photographing, shopping, wine tasting, relaxing, train riding, learning ... really, there's no end to the things you can do in Majorca and her sister islands.
No matter how you recharge your batteries you'll find your thing in the Iberian Sea.
Disclosure: Some links on this page may be affiliate links. When you buy a product through one of these links, for example at Amazon.com, we earn a small commission and that helps to keep the site live. Thank you for your support.



Where to Stay in Majorca
The best place to look for accommodations is close to the square where community events take place and hotels, restaurants, funky shops and music venues are clustered. Not so close that the party is on your doorstep.
The Fleming Hostel - Updated rooms, fabulous location. It's a hostel ... but it's all grown up.
Posada Terra Santa - is a mid priced boutique hotel tucked in the most perfect location on a quiet avenue right around the corner from all of the action.


Things to do in Majorca
Take a ride in a Vintage Train from Palma to Soller, a mountain town nestled in a wide valley of orange and lemon groves. Because the rail line was built to bring the citrus harvest to market it is often referred to as the orange train.
Visit Serra de Tramuntana - The brilliant adaptability and creativity of humankind. Terracing the steep hillsides has made it possible to sustain crops and enjoy a thriving lifestyle without taking anything away from the natural landscape.



Don't Miss Pollenca (Pollensa)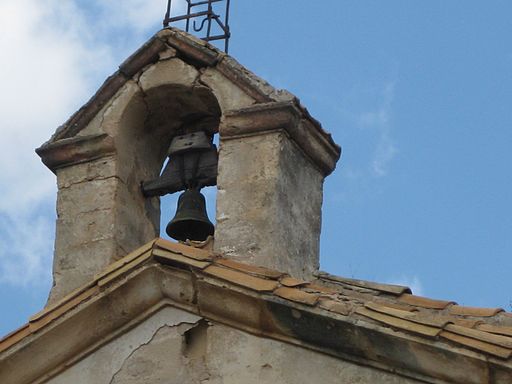 In the North-West of the island of Mallorca in a valley between two sacred sites lies Pollenca.
Although tourism has burgeoned around and into Pollenca as much as anywhere in the Balearic Islands, the town has managed to maintain an authentic, life-as-usual attitude.
If you're in for a stone built village dotted with art galleries, music venues and sidewalk cafes that surround a town square, head up to Pollensa (it can be spelled either way)

As in every Spanish village I've visited, it all happens around the square.


Menorca -
Balearic Islands Travel Mysteries
Menorca (also Minorca) is the beachiest - less busy, laid back, tons of beaches - but she has her mysterious side too.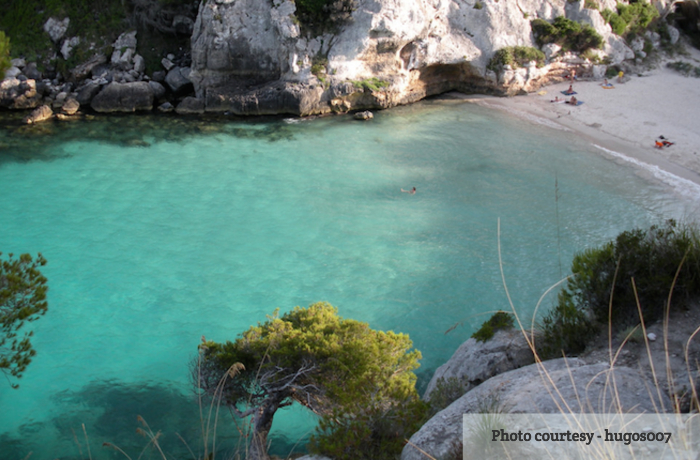 The flavor here is distinctly beach, not that Minorca isn't hiding all kinds of other wonders under her skirt, but the private coves and sugar soft sand really do deserve some attention.
As with all of these henge like structures found throughout the world their existence mystifies historians. How in the world did they get those massive stones in place? Theories abound but no one really knows. Maybe you can figure it out.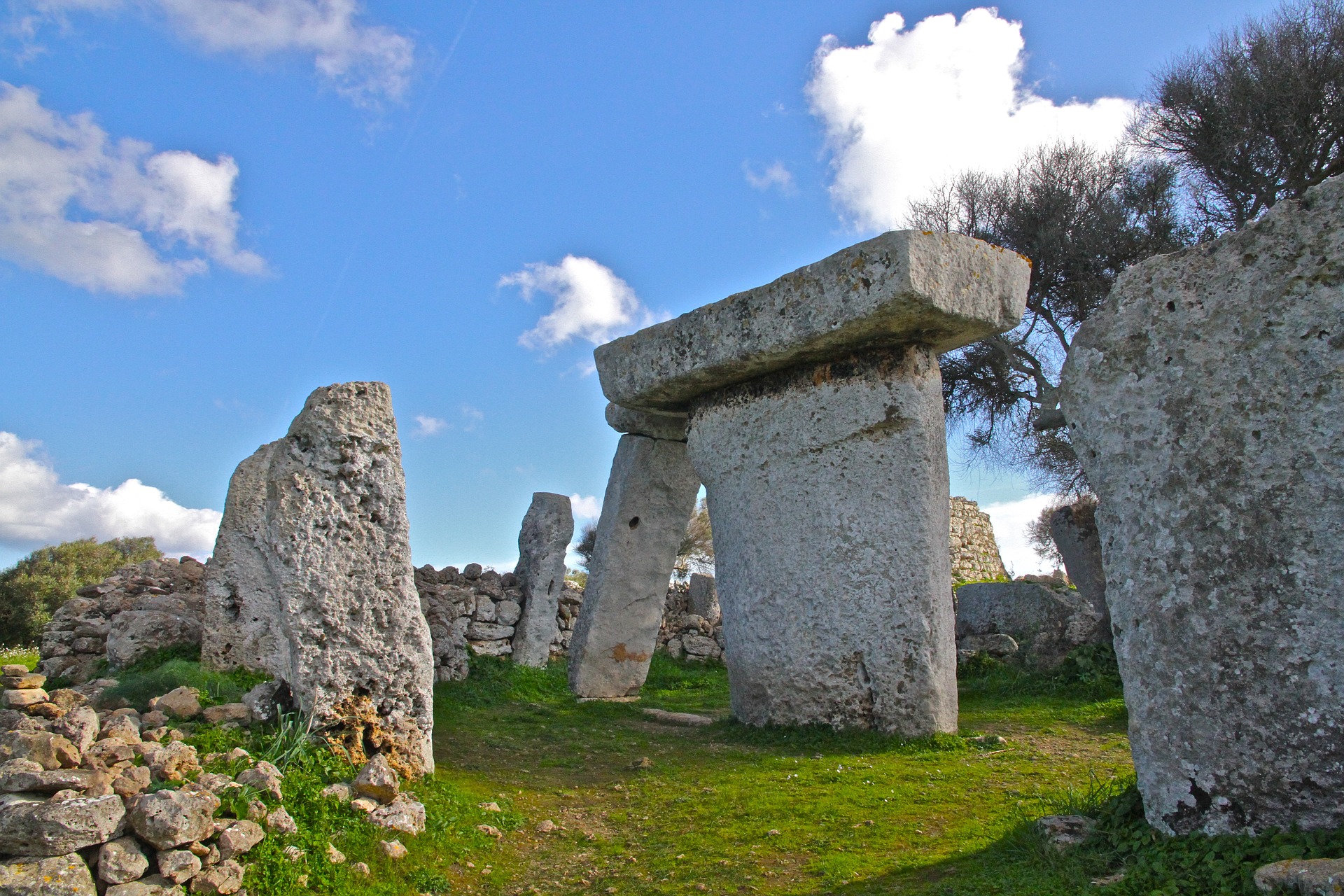 Tuala are what the Catalans call these curiosities.

Where to Stay in Minorca

Hotel San Miguel Mahon - Best little 3 Star in Minorca.
Consider a Villa if you're traveling with family or a group of friends. A four bedroom house located mid island is the perfect getaway for a family vacation.

Ibiza - The Sassy Sister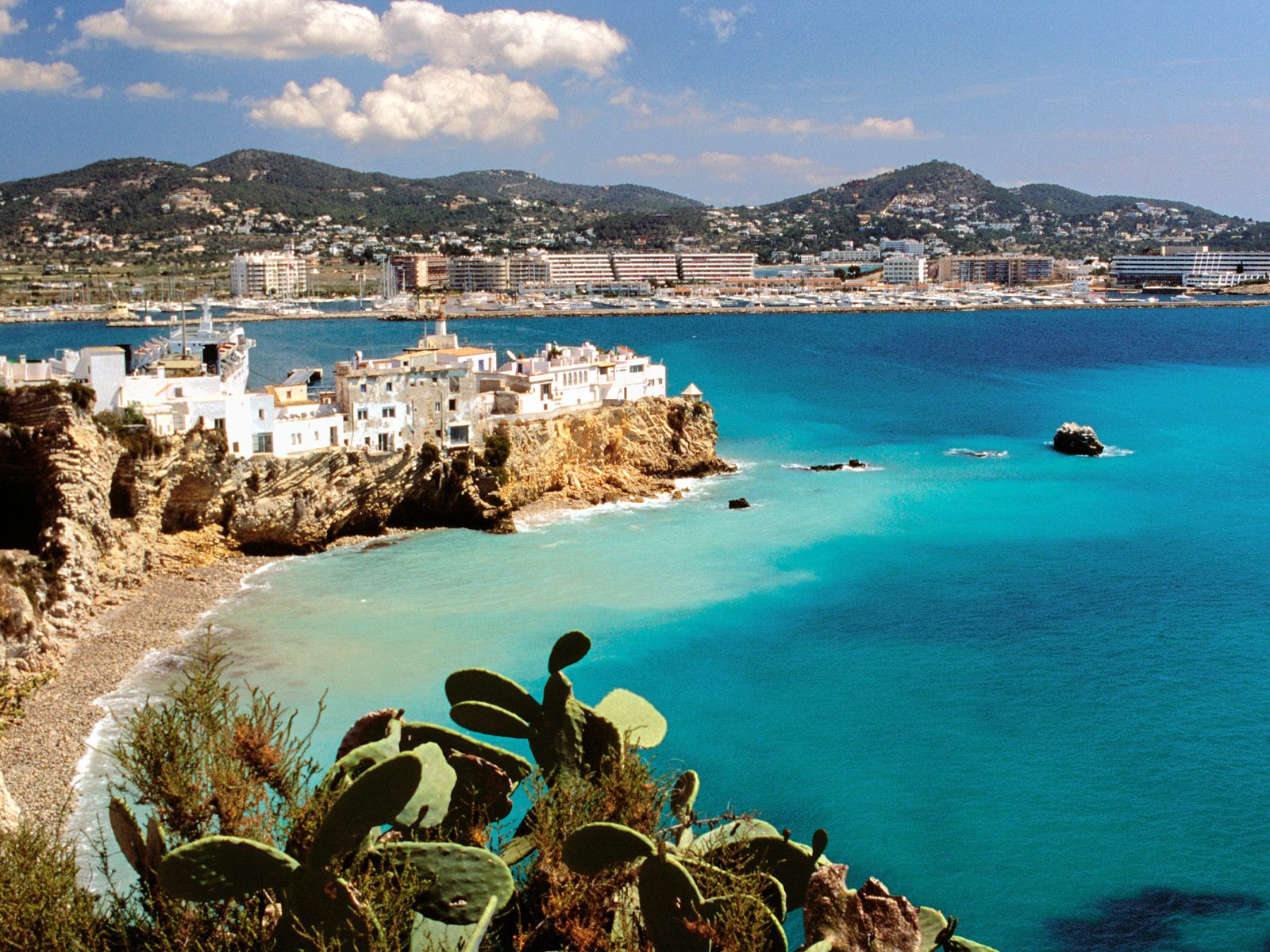 Sassy, sexy nightclub capital of the world.
The party on Ibiza has been going since the 1920's when the rich and famous discovered that  sun and sand and crystal clear water was the perfect backdrop for a let-your-hair-down getaway.
What to Pack for Ibiza

Swimsuits, bikinis, coverups
Hat, sunglasses
Sunscreen, lotion, toiletries
Halter tops, strapless

Something sparkly

Short or mid length dress
Skirt, shorts
Shoes for beach and clubbing
Secure little bag for clubbing
Beach bag

Although this island has a (not undeserved) reputation for being party central featuring wild boat parties and a sizzling nightclub scene, it's balanced out by a more cultural and historic side that is sometimes overshadowed by the fiestas.
If your Balearic Islands travel itinerary includes a stay in Ibiza pack for the beach and for at least one night out at the clubs.
Nightclub goers favor a sexy casual flavor. Short dresses or skirts (not shorts) and belly baring halter tops.
Don't forget your dancing slippers - add something sparkly or a sheer layer and a secure little bag for your must-haves and you are ready to party!
See our Mother of All Vacation Packing Lists for a complete packing guide.



Between Parties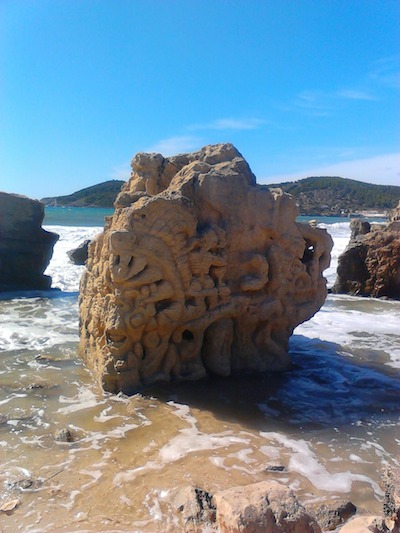 But don't forget your walking shoes for those exhilarating walks around the isla. If you don't fancy the idea of walking by yourself go on a tour with a knowledgeable local and meet other travelers.

Walking Tours are guided by knowledgeable residents and they'll take you to places you'd never see otherwise.
If you need to take a deep breath away from the frenetic pace spend an evening Restaurante Sa Soca and enjoy succulent seafood and a world class menu.
Catch the wind on a Catamaran Beach Tour and sail, swim, snorkel and paddleboard in water so clear you can see your shadow on the bottom. Bring your underwater camera.
The stone construction of the old quarter of Ibiza Town has been preserved as a heritage site.  Stroll through ancient stone avenues to appreciate the diverse architecture of the  Ajuntament (or Town Hall), the Convent of the Cathedral and the Banys Àrabs along with the residences, galleries and museums.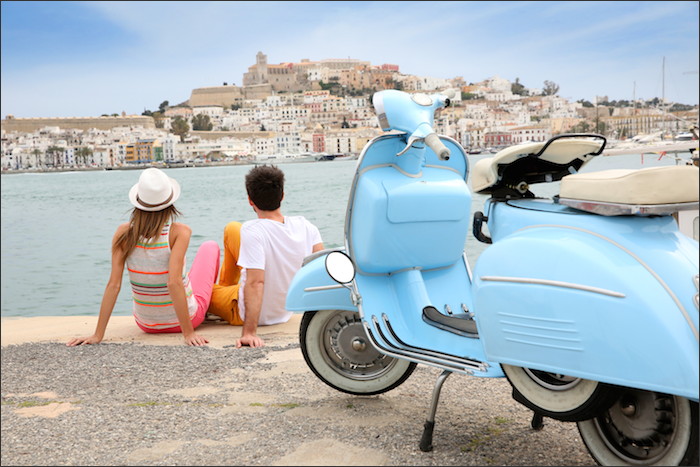 Shops and high end restaurants dot the streets.

Rent a scooter and find a secluded beach tucked in a hidden crevice. No matter how far off the beaten path you'll probably be able to find a beverage and tapas close by.

Formentera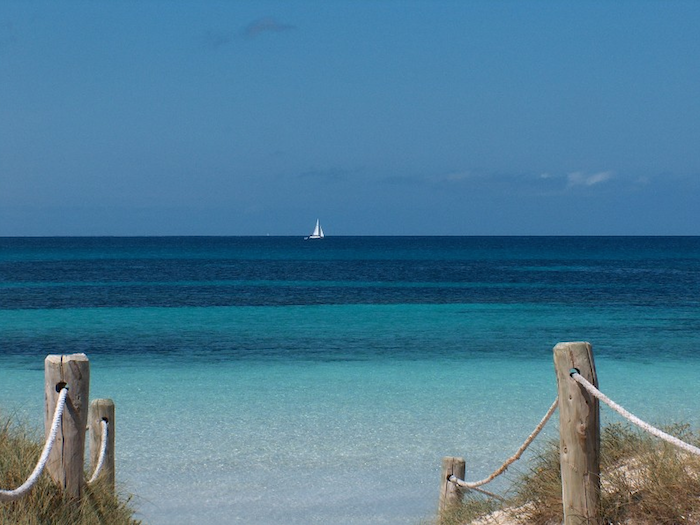 The smallest of the four, Formentera is the island of love and peace and natural living. Often referred to as the hippy island the values of the hippy culture have persisted here and the vibe is laid back and low profile.
Speaking of low profile, if you're looking for high rise hotels, you won't find them here. Buildings tend to blend in to the natural environment.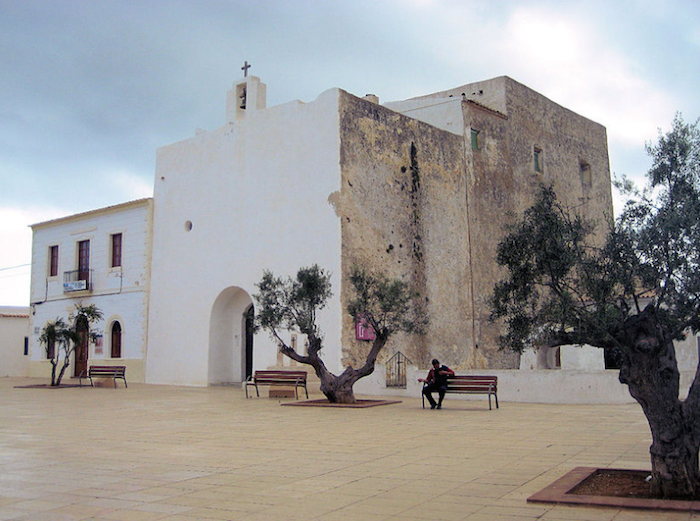 Packing Light

You won't need to pack much for the beach. Formentera's beaches are clothing optional for the most part.
The mood is very laid back, the food is simple hearty fare and the experience is authentic.
Resources (like water) are scarce on the island and prices reflect the added cost of supplying tourists with essential services and infrastructure.
There are some all inclusives like the ubiquitous Riu resort where you'll have your every need looked after. For the most part though the hotels are small (maybe 10 rooms)and 3 star.
Alternatively there are a number of vacation home rentals that are very reasonably priced. Scroll through them here.
Things to do on Formentera
Walk, bike, boat, paddleboard and kayak your way around Formentera. Visit lighthouses and windmills and beaches so beautiful your eyes will tear up.

Check here for some fun and interesting things to do during your stay on the isla.

Pages Travelers Frequent


Top of page - Balearic Islands Travel