Travel Packing List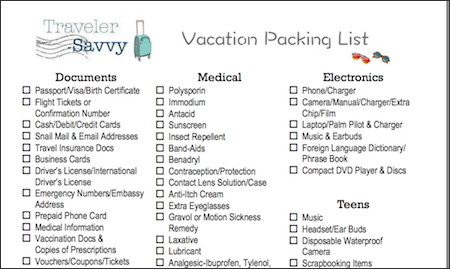 Going on a trip? 
Our visitors wanted an easily printable checklist with everything together. Here it is!
A travel packing list that's going to make your life a lot easier. Not just for this trip but for every trip you ever go on.
It's all here, documents, electronics, medical, his, hers, kids, teens, babies and the junk drawer category - miscellaneous, which covers essentials that can make or break a trip but are often overlooked.

There are some spaces where you can add things that are unique to you ... special camera equipment, sporting gear or lucky socks.

It's a 2 page, downloadable file in PDF format that will be stored in the files of your computer so that you can access it whether you have an internet signal or not ... any time you travel.

Fill out the form below with your name and e-mail address. Send the form by clicking on the submit button. Tick the box to join our newsletter (if you wish) where we share monthly travel info and special deals with our visitors.

You will then land on the thank you page which is where you will find the link to the List.
Click on the link and download to your device.
Have a fantastic trip!

Free Download


Coming Soon.....

We'll soon have a downloadable Road Trip Packing List ready as well as Camping and RV checklists.


Travel Packing List Allowable Items

As you're likely aware, there are a number of things that are not allowed to be carried into the cabin of an aircraft in your carry-on luggage. They will include weapons, sharp objects, liquids in amounts over 100ml, most fruits that contain their seeds.
Food Restrictions

Often you'll be allowed to bring consumables (lunch or a snack) aboard that will not be allowed through security on the other side.. Just be sure to eat them during the flight.

Additionally, there are items that are restricted from crossing borders in any capacity. They include restricted weapons, gas cartridges, a number of fresh foods and many organic items such as (but not limited to) seeds, plants and animals. Additionally cash in large sums (usually over $10,000) although allowed, MUST be declared on your customs form.

There will also be weight and size restrictions on your bags. Most airlines charge a (sometimes substantial) fee for overweight and oversized luggage.
In fact most airlines are charging for all checked bags these days which makes things a little competitive at the overhead bins.

Check with your airline for policies regarding the size and contents of the baggage that is allowed on your flight.

As always, pack lightly and travel savvily.
Top of page