Travel Jacket
Outerwear Designed for Travelers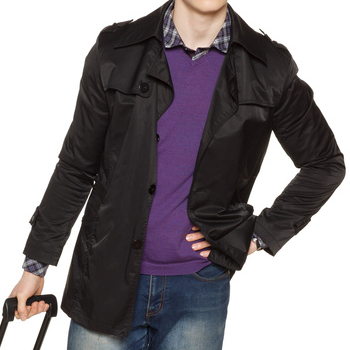 If you plan to wear your jacket while you travel you won't need to worry about how well it packs - instead you'll want a jacket that'll hold your stuff while it looks good with anything and complements the rest of your travel wardrobe.
If packability is your main need we've got that for you here too!
Scroll down the page for our hand picked selections - there's a travel jacket here for every trip.
Up for anything...at a moment's notice. Here are some favorites.
Men's Travel Jacket
ExOfficio Men's Rain Logic Jacket
The "everything" travel jacket for men.
The travel jacket that does it all. Stylish enough to wear anywhere and comfortable enough that you'll want to.
Made of 100% Nylon this breathable waterproof shell keeps the rain and wind out but maintains a comfortable climate inside. Pit zips increase temperature control and allow for added air circulation and comfort options.
The 8 pocket system is especially designed for the traveler featuring a variety of interior and exterior spaces to keep your stuff with you and within reach.
And as far as packability...it doesn't get any better than this. The entire jacket rolls into it's own hood to easily tuck into any bag...did I mention there's a hood?
Longer Travel Jacket Styles
Men's Stylish Travel Coat
It's not just a handsome face...although it could get by on just its good looks.
A casual but very pulled together look in a cotton blend with a lapel collar and zip pockets on the outside.
Button pockets on both inside chest areas offer the wearer secure and handy places to keep passsport, wallet, phone and travel documents.
This jacket is great for traveling in but just as great for every-day living.
Order in Khaki or Army Green - Sized small so order up at least one size.
More...