Find Your Travel Dress
Flattering, Comfortable and Functional Fashions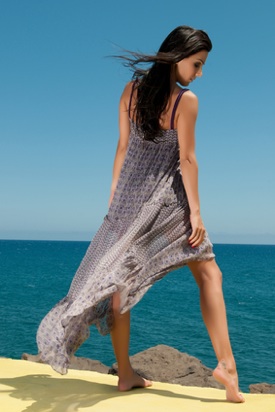 The best travel dress in the stratosphere packs easily, can be dressed up or down and goes anywhere with panache.
Try different accessories with your dress and completely change your look to match any occasion.
Here are our hand picked dresses to cover all of your vacation needs... from casual to dressy to active occasions, we've got you covered in style!
Choose from long or short - black or lusciously colored - travel dresses below.
Click on the photos below for more information about our favourite selections.
Long Travel Dress
The Ultimate Long Summer Dress
for those sultry vacation days...and nights.
T-shirt construction makes this dress comfortable in the tropics and more temperate climates too - throw a pashmina or jacket over top for an all weather ensemble. Try a little white denim jacket and leather flip-flops for a casual flair.
Made from wonderfully flowy cotton polyester mix in solid, saturated colors like light brown, dark purple, grey, black, red & navy.
Go from casual to glamorous simply by choosing different accessories.
Short Travel Dress Solutions
Royal Robbins Women's Essential Dress
.
You can dress it up and you can take it out!
Made from a blend of 58% cotton 37% polyester and just enough spandex to hold it's shape no matter how it's treated.
The moisture wicking fabric keeps you dry and comfortable and comes in a variety of scrumptious colors like Lime, Desert Poppy, Black and Taupe as well as the Woodland Green pictured. Colors that go with everything.
Ample sized pockets fall at the dropped waist line for stowing essentials.
This casual little dress will perform just as well in your everyday life as it will when you travel.
The supersoft fabric is flattering and forgiving so the dress goes along on all of your excursions.
The Little Black Travel Dress
If you're looking for the perfect little black dress, start with this basic but oh-so versatile dress with a cut that flatters most body types.
The sleeveless design makes this dress rock in almost any climate from sizzling hot to temperate.
Add a shimmery layer to glam it up or a fuzzy layer to warm it up.
Add a Pocket to Any Outfit
Silk Undercover Cash and Card Pocket
Actually, the pocket or pockets are added to your undergarments. Just big enough to keep some cash a credit or ATM card and a key secure while you travel, shop and explore.
Snap the pocket around the front or side of your bra or on the side of your panties to keep extra cash cards and ID secure.
Choose from black or rose color or don't choose at all and get more than one.
More...
Before You Head Out The Door