Suit Travel Bag

Safely Transporting Your Best Garments

If your trip will include anything from a wedding to a Captain's dinner you'll probably be bringing along some special clothes that won't like being stuffed into a suitcase, backpack or duffel.

A suit travel bag is designed to get you to the event looking smart and fresh no matter how far you've had to go to get there.
The thing that makes garment style bags different from the usual luggage is that they are designed for transporting dress clothes on hangers. Often the case can be packed while it's hanging on a door.

It'll unfold into a long main compartment into which you can hang a number of outfits. Some fold in half and longer ones sometimes fold in thirds. Open length varies from 40 to 66 inches

The bag is long and flat with hangers at one end and once it's packed the unit is folded. Additionally there are often enclosures and pockets for all of your accessories including underthings, shoes, belts, ties, scarves, jewelry and hair accoutrements.


Carry On Sized Suit Travel Bag

Zegur 40-Inch 3 Suit Carry On Travel Garment Bag
Perfectly sized to carry his and hers dress clothes for a formal or semi-formal event.
It's slim profile enfolds suits, dresses or coats and transports them intact and ready for action to your destination.
Suitable for a tux and cocktail gown ... but unless you're 007 it'll probably be used more often for sport jackets, dress shirts and dresses.
There are a number of little organizational pockets and the sizes conveniently range from the one on the outside that's large enough for a laptop to small cell phone sized ones.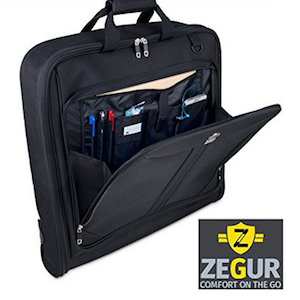 One pocket specifically for dress shoes that will accept a size 13 shoe ... well, two of them.
The front pop open panel keeps essentials at your fingertips and you can even put your laptop or iPad in it.

Carry it by the handles or sling the (included) long strap over your shoulder as a comfortable tote.
Folded, it measures 23"x 22"x 8" and unfolded 43"x 22"x 4" and it conforms to fit into the overhead bin at most major US airlines.
This bag is great for packing suits and cocktail length dresses but for long evening wear or wedding dresses you'll be happier with a longer bag.


WallyBags Are Everywhere

WallyBags are rocking the suit travel bag industry. Available in a variety of lengths and configurations  to accommodate your classiest and most delicate clothes.
This mid length unit opens to 52" and in travel mode it measures 26 x 22 x 8 inches.

Two large pockets safely stow shoes and accessories and the handles can be slipped over the handle of most rolling suitcases.

They're available in red, purple, black and 2 shades of blue.

Learn more about the
WallyBags 52 Inch Garment Bag
Here's a
60 Inch long version.

Extra Long Tri-Fold Suit Travel Bag

This 66 inch garment bag is the perfect choice for the safe transport of wedding dresses evening gowns and full length dress clothes.
Top choice of brides to be for carrying their dress to a destination wedding.

Folds in thirds to fit in the overhead compartment of most major airlines. Sometimes the flight attendants will allow you to hang your garment bag in the crew closet if the plane has one. Especially if it holds a wedding dress.

The bag unfolds to 66 inches in length and has pockets for shoes and accessories.

WallyBags 66 Inch Tri-Fold Destination Bag
There's also a
52" version of the tri-fold
Suggestions from Amazon

Top of page