Spinner Suitcase

The term spinner suitcase is used to describe travel bags that have 4 multi-directional wheels on which the bag stands upright. An extendable handle slides into the body of the suitcase for easy stowage and out when you're ready to roll.
Well designed spinners can be propelled with a light hand on a variety of surfaces, but stay in place when you want them to. Additionally the wheels will be sturdily constructed.
The telescopic handle on this type of bag is often used for attaching other bags so it should feel solid when it is fully extended.

The structure of a spinner allows you to stand more upright than a roller causing less stress on your back and arm.
It doesn't matter if you're more of a hard sided luggage fan or opt for soft sided bags, they're both widely available in tons of sizes, colors and styles.



The Expandable Carry On Spinner Suitcase

This trusty little sidekick has integrated several features that have just made it so much better.
Its small-but-mighty dimensions before being expanded are 22 x 14 x 8.5 inches with the wheels included.
On top of that it's expandable! Unzip the zipper that encircles the case and voila' you've gained just enough space to get those souvenirs home.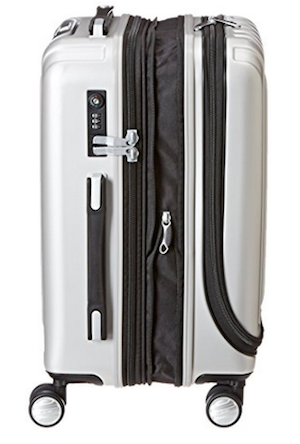 Once you've expanded the suitcase it may no longer qualify as carry on luggage.
Depending on how full it is you may be able to press the two sides together to squeeze it into the luggage measurer.
Smooth wheels glide over most surfaces including tile, lino, wood, carpet, tarmac and others too.

Maybe my favorite feature of this spiffy little number is the flip open compartment on the front.
It's position is ideal if you need to get something out whether it's standing up or lying in the luggage compartment.
Remember that this compartment shares space with the inside of the suitcase so if you stuff it full you'll lose a corresponding amount of room inside. That being said, you can fit your laptop or iPad in the front for super quick and easy access.

Learn more about the
Delsey Carry-On Epandable Spinner.

25 Inch Spinner Suitcases

American Tourister 25" Soft Sided Expandable

Here's a name that's been around a long time in the luggage industry.
Mid sized bags hold enough for a 1 week stay at the same time as being easy to manage ... especially with the wheels.
This soft sider is suitable as a checked bag and measures 25 x 18 x 10 inches. Also there's a zipper that, when open, expands the bag by 1.5 inches in depth.

American Tourister Spinner 25
Hard Sided 25" Spinner

Delsey does it again.

Sleek and savvy suitcases to perfectly protect your pretties. And they come  in a palette of absolutely scrumptious colors.

The 25 incher is our preferred size for checked luggage. You can get bigger (see below) but there comes a time where you're serving your luggage rather than the other way around. Packing light is definitely the way to go if you can.

Measurements without wheels are 25 x 17.5 x 11.5 inches. When you add the wheels the unit stands 27 inches high which meets the international restrictions for checked luggage.
It opens like a clamshell and on one side of the fully lined interior there are straps to hold your garments in place. The other side has a full zip cover that holds the contents and a small zipper compartment for tiny things.
If you can't quite squeeze it in - no problem - this baby is expandable.

Large Sized Spinners

If you're going to go big, you might as well go beautiful too.
Delsey has consistently high rankings for their luggage line which combines sensible luggage with affordable prices.
Their 29 inch hard sided bag has every base covered.
It's adaptable too, expanding up to 2" in depth for those extra long or chilly trips.



Amazon Selections


Top of page