Travelogue 2015
Mexico to Canada and Back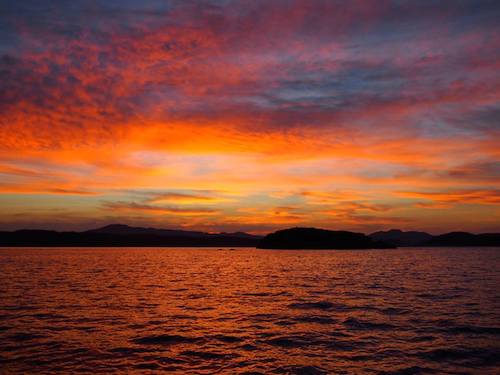 Travelogue-2015 begins with the sweetest sunrise over the Bahia de Chamela.
We (Joe and Deb) are at anchor in the Islands that the locals refer to as the Kitchen Islands (Islas de Cocinas) and there's not another soul within sight. The glow in the East has burst into a crescendo of brilliant light shards bringing with it the first day of the new year.
We spent New Year's Eve at sea and celebrated by tapping together our plastic water bottles as the year ticked over and we exchanged watch duty. Maybe not so exciting, but we are heading to one of our favorite places on the planet.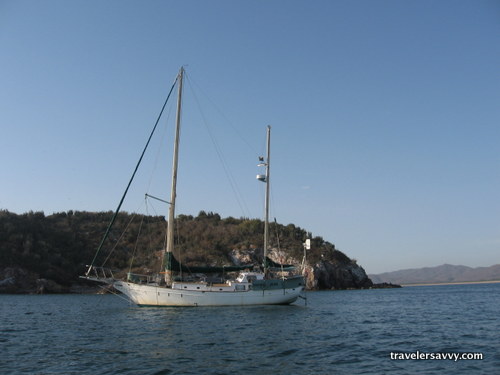 Early this morning we dropped anchor in 15 feet of crystal clear water after a 48 hour journey down the coast.
Before long we spot some sails and are joined by friends aboard "Lovely Reta" and "Lion's Paw" soon to be followed by 2 other boats.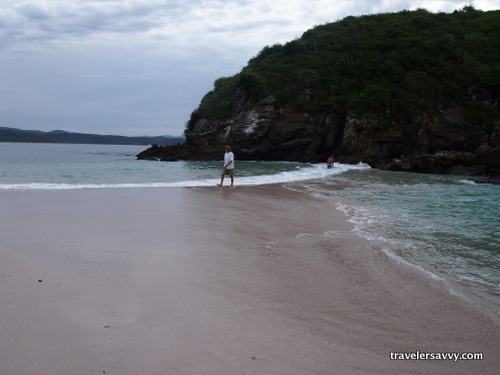 We all have a rest and play around the islands for a couple of days before resuming the journey to where we'll spend the next few months, Barra de Navidad...or rather the Gold Coast playground between Chamela and Manzanillo.
Once the anchor drops in the lagoon we get the boat in "living" mode rather than "cruising mode" putting away the offshore gear and the jack lines and getting the cockpit dressed and ready for company.
We'll hang out here for a while.
Barra de Navidad - Travelogue 2015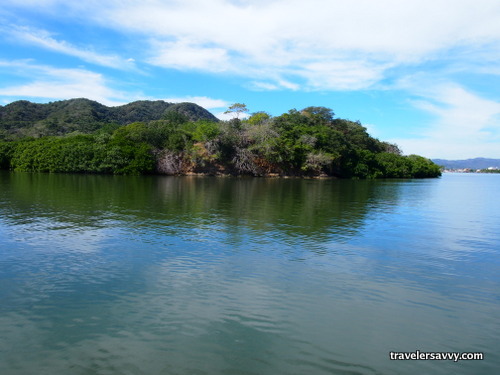 When we're cruising, Barra is one of the places where our friends and family can catch up with us.
This is a funky little Mexican beach town that has colorful shops, delicious food and a fantastic music scene at night. Dancing in the streets is by no means uncommon. Market day sets the town abustle on Thursdays and a parade is likely to break out at the slightest provocation on any day of the week.
Barra has an ATM machine as does Melaque, the neighboring town that is accessible by bus or taxi or a walk along the beach.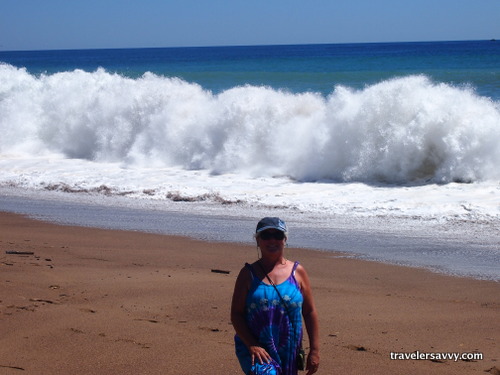 Places to Stay in Barra - Travelogue 2015
Friends who were looking for a boutique style hotel right in the midst of everything really enjoyed the Casa Senorina where there are only 8 rooms and a "you're one of the family" type atmosphere.
Although the property is close to everything including the beach it is completely walled creating a serene garden and pool area where drinks and food are served. Step outside the gate and you're in town.
All Inclusive
If all inclusive and luxury surroundings are your thing you'll be completely enchanted with the The Grand Isla Navidad which is across the channel and accessible by water taxi or car.
We sometimes keep the boat in the marina there and though I don't like marinas much this one is a treat. The swimming pools, the golf course, the lacy hammocks swinging idly between palm trees, the walks through groomed tropical foliage. If I start out early enough, 7:00am or so I sometimes catch a glimpse of a coatimundi (a racoon like creature) and the birds are always most lively and vocal in the mornings.
The grounds are stunning and extensive. Brick walkways meander through old stands of mango trees and along breezy bluffs that overlook the malecon, the harbor entrance or the lagoon depending upon which direction I choose that day.
The hotel itself is a grand fortress of stone and marble built into a hillside that embraces the little marina and we've left our boat here for the summer twice now believing that it would be a good hurricane hole.
Budget Hotel in Barra de Navidad
A number of friends who spend more than a month at a time here stay at the Posada Pacifico which is well located, inexpensive
Because of the water taxi (taxi acuatico) system here, it is one of the only places where our visitors have access to the boat when we're at anchor out in the lagoon.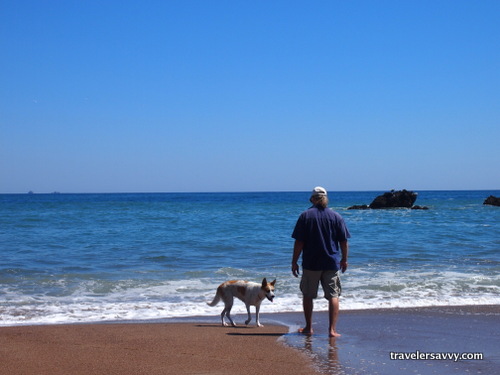 Travelogue 2015 - January
This is the month we head off on our budget trip Guadalajara with our buddies Jeff and Sharon so we're off to see some architecture and immerse ourselves in the language.
We put PJ (Pacific Jade) in a slip in the marina and call the water taxi at about 0730. Our bus leaves at 0900 and we want to be there in plenty of time to get 4 seats together.
Sharon and Jeff are ready when we get there with their single backpack each. We're playing by ear on this little jaunt and really haven't made any plans. No reservations, no timetable and packing light and we'll see how we get along out there.
Are we crazy? That's what we're going to find out.
Clutching our little bags with a sandwich and drink we board the bus (Elite) with our backpacks. The bus stop in Barra is on the main road across from the OXXO store on the way out of town.
It's a 6 hour bus ride from Barra to Guadalajara past the puffing volcano in Colima, ranchland and farmland and groves of palm and banana trees and somewhere in the middle a large barren area that resembles salt flats with the odd weed poking through the crusty surface. Little homesteads intermittently dot the edge of the road - I wonder what it would be like to live in one of these tiny satellite worlds under the shade of spreading branches with my cow and chickens and a pair of goats all sharing my space.
Guadalajara - Travelogue 2015
Guadalajara is a huge city to the 4 of us - all small towners. We snag a cab and ask to go to Tlaquepaque because we've heard good things about it (and It's fun to say). It's lovely but a bit pricey for this low budget trip and I've been told not to buy anything in Tlaquepaque because you can get almost everything you see for less than half the price in Tonola.
After a few cervezas we taxi back to Guadalajara to look for lodgings.
We ended up at the Hotel Aranzazu on the recommendation of our cab driver.
So this is the part where we start to ask ourselves "what were we thinking?"
The hotel does have some good points, location being one of them. It is right across from a lovely cathedral and it's walking distance (5 blocks) to the town cross and the action.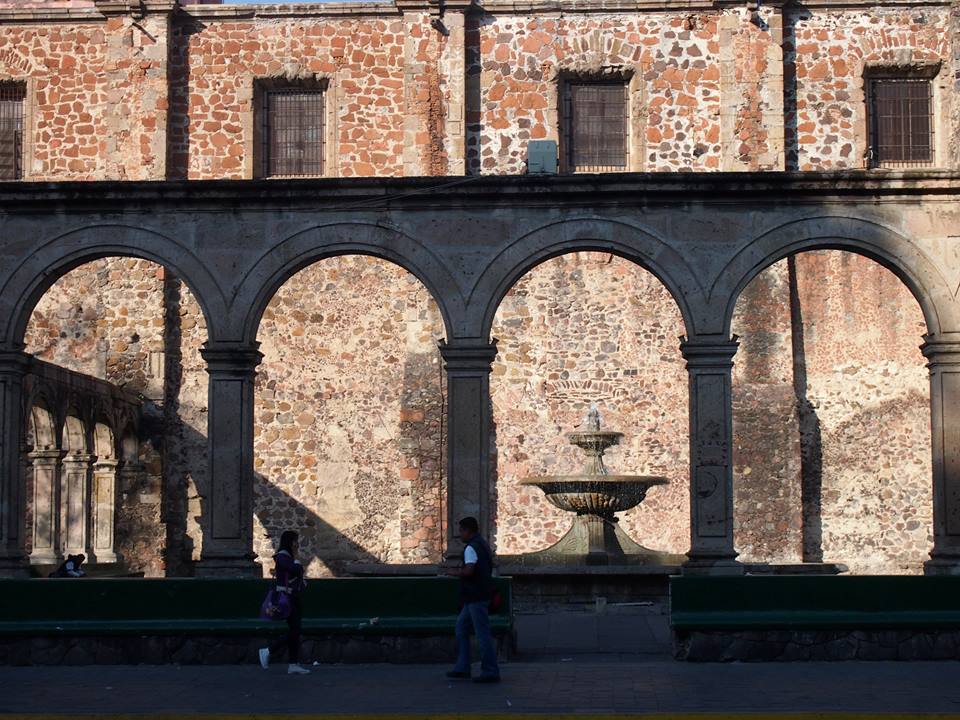 OK, maybe one good point, but it's a big one. Otherwise the rooms were passable as far as budget accommodations (clean, soap, functional shower, friendly staff) I don't know where in Mexico you've traveled but that's not a bad recommendation. Take a pass on the complimentary breakfast, in fact I wouldn't even go back into that dining room.
Would I recommend it to a friend? You can find out here, in an e-mail to a friend.
Had we done our homework we'd have stayed at the Hotel Morales Historical which for only a little more money goes the extra mile as far as comfort and good bones. Next time...and there will be a next time
We are completely WOWED by the architecture everywhere we look. Take a chariot ride around for 300 pesos per hour for the best unobstructed view during a guided tour. Honestly, you'll feel like you've squeezed backwards through a time tunnel and arrived in to 1800's.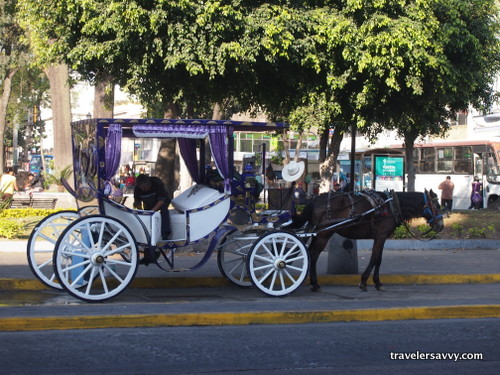 Travelogue 2015 - February
We've decided leave the boat here for hurricane season and travel home. We like to make the decision about where we'll leave "Pacific Jade" about 2 or 3 months before we intend to leave. I need to know where we'll be so that I can book our flights home.
We could fly out of Manzanillo but WestJet only has 1 flight a week and they're pricey so we'll book our flights out of Puerto Vallarta and we'll take the bus (Elite bus lines are super comfy and they even pack you a lunch) from Barra to PV.
It's about a 4.5 hour bus ride from Barra to PV through jungly growth, past spectacular outstretched trees and over mountaintop vistas that overlook deep verdant valleys dotted with orderly patches of palm, mango or banana trees.
When glimpses of the sea start popping up on our left, Puerto Vallarta isn't much farther.
Puerto Vallarta
The Flamingo Vallarta is the place we always stay when we're doing a quick in and out of Vallarta because of it's proximity to the airport, bus station and the bus stop at Wal-Mart. (In front of Walmart are 2 bus stops - the one that's closest to the cruise ship docks is where the out of town busses stop. From here you can catch a bus to Bucerias, La Cruz, Punta Mita or Sayulita at a cost of 8 to 20 pesos depending on how far you're going.)
But we also love it because of the fair price, comfort and marina vibe. The Hotel is beginning to show its age but because it was a grand old marble structure in the first place its charm is still evident. They must have upgraded the beds because ours is fabulous. Tomorrow...Canada.
Share your own travel tales here.