Air Travel Pillow

See more of this Inflatable HoodiePillow
Disclosure: Some links on this page may be affiliate links. When you buy a product through one of these links, for example at Amazon.com, we earn a small commission and that helps to keep the site live. Thank you for your support.

The air travel pillow of old has morphed into a great variety of creative comfort cushions.
Some are designed for side sleepers and others for back or forward sleepers.
Still others lend a little privacy.

They come in styles that are inflatable or squashable and all of them travel well and heighten the level of comfort you can experience on board.

So here's a rundown on the different types of cushions that make sleeping while underway a lot more likely.
Choose more than one to give you lots of options during long trips.


Semi-Rigid Neck Support

Here' s a nifty idea. It's a different  way of addressing the sleeping-while-underway issue that so many of us struggle with.
The neck wrap doesn't even look like a travel sleep aid, but it addresses the main issue that sleepers on the go need.
It is designed to keep the head in a more natural position and curb the head droop that results in things like stiff neck and open mouth snoring that keeps seat mates awake while providing easy access for bugs and germs.

The soft plush fabric wraps around your neck  with semi-rigid supportive ribs that can be placed on either side so that you can lean your head on the side that's convenient.
Travels well and packs small. You can wrap it around the strap of your carry on to keep it handy.


Huggable Body Pillow

Calling all introverts. When you don't feel like socializing...just inflate the happy bubble and place your head, face down, into this puffy sidekick.

But seriously, as a sleep aid for those confined to a limited space for long trips, this is a champion. 
This unit allows you to be in positions that you just can not be in with a traditional air travel pillow and uses space that often goes unoccupied.
It promotes a forward leaning position that stretches out the lower back and relaxes shoulder muscles.

In addition to offering a big cushy place to rest, it also has a handy little pocket in which to put your hands.  Just wrap your arms around the cushion and tuck your hands in.

Because it's inflatable it doesn't take up much room in your luggage during transport.
It might look silly, but when you're soundly sleeping you will not care what it looks like and the only ones who will notice are those who aren't sleeping ... soundly.


J Pillow - For Side Sleepers

This weird little configuration actually improves the functionality of the  everyday horseshoe neck pillow.
The J shaped extension goes under your chin to keep your head in the proper position and your mouth closed.
The cushion goes to either side of the head with the "J" shaped extension fitting under the chin to secure your head in the most comfortable position and keep your mouth closed.

It's actually super comfortable and it works great in the dreaded middle seat by essentially giving your head a structure to lean on.
In 2013 this pillow won the "British Invention of the Year" and has been traveling the world since.
This unit is stuffed with light weight squishy poly-fill that can be squeezed into a spare corner.

Learn more about the J pillow here.

Across Body Air Travel Pillow

Suitable for adults and kids this long inflatable pillow can be worn across the body or vertically down one side or the other...and in a multitude of different ways to make any seat a better bet for sleeping.

With 3 or 4 puffs this inflates from its roll into a 26 inch long tube of comfort. Adjust the amount of air to get the just-right firmness for you.

It then quickly deflates and rolls into a 2" x 9" x 3.5" roll that can be attached to your luggage for transport or tucked into your carry-on.

Available in an assortment of colors including; red, navy, gray and moss.
Learn more about the Travelrest Travel Pillow here.
If you're not keen on the flocking or want a washable alternative kick it up a notch and add the
Luxurious Velour Travelrest Cover with Memory Foam Inserts
Amazon Suggests


Related Articles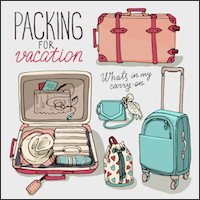 Mother of all Packing Lists

Top of page - Air travel pillow