Beach days.
by Allyson Anderson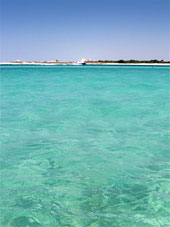 I'm going to Florida to their famous, Panama City Beach that sits on the gulf of Mexico.

My mother, father, and sister in-law will join me and my husband.

We're leaving in 2 days! We will be there for 6 days, which I'm super excited about!

I could use this break from work! I want to lay on the beach all day and feel the sun in my face. :)

We also plan on swimming with the dolphins and getting up every morning at 7 to go to the gym and then relax on the beach after that.


Vacation Lists says,

Have a great time Allyson. The beach, dolphins, six relaxing days without work... who wouldn't be excited?

Come back after your vacation and share your adventures and photos with us if you can.

For those of you that are wondering, Panama City Beach is in the Northwestern portion of Florida and enjoys year round average temperatures of 78 degrees F.

Water temperature hovers around 72F for comfortable, year round swimming, skimboarding, body surfing and general basking.

Panama City's beaches claim the title "The World's Most Beautiful Beaches" in large part because the sand is actually formed from quartz
that has been pulverized by the surf over thousands of years.

St. Andrews State Recreation area boasts a mile and a half of white beaches dotted with natural dunes and flanked by sparkling, turquoise water.

And it's more than a glorified beach town too. Panama City Beach has a rich history that includes Native Indians, Pirates... and hidden treasure!