Travel Packing Advice
Vacation Packing Tips From Veteran Travelers.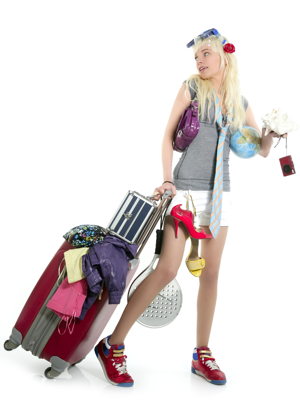 Here's Timely Travel Packing Advice and information that'll make you look like a seasoned traveler, even if you're still a novice.
What goes, what stays and how to get everything you need around the world and safely home again in a bag that handles easily, looks good and protects your stuff.
Our Packing Advice page is jammed full of tips to help the savvy traveler arrive on the scene with all of the vacation essentials in tow... without bringing the excess baggage that can make your travels a real drag - and make you look like a target.
~ Travel Light ~
It's the mantra of the seasoned traveler. When it comes to packing for vacation - more is not better.
Pack a Bag-Within-a-Bag - More travelers than ever are taking their maximum allowable limit of carry-on bags and avoiding checking bags now that charges are being imposed for every checked bag. You may be asked to check your bags at the last moment due to limited cabin stowage space. Pack your most valuable and essential items in a small bag that you can remove to keep them with you.

.....



Identify Your Luggage - Ensure that you have tagged your luggage with your name and contact information (women, put only your first initial(s) and your full last name for safety reasons). Inside and Out.

.....



Make it Unique - Make your luggage stand out from others by wrapping a colored ribbon or band securely around the handle (nothing dangling). Apply stickers or draw in glitter pen on the sides.

The only problem with the black wheeled luggage is that half of the population own them. Make your luggage easy to identify.

.....



Bring a Tote - We always take a lightweight knapsack whenever we travel anywhere. Use it as carry on luggage when you're flying. The knapsack goes on all day trips, bus tours and overnight excursions.

.....



Roll Outfits - Roll several garments together rather than packing flat. You can fit more in and it distributes the weight more evenly, you may even end up with fewer wrinkles.

.....



Protect Clothing from Leaks - Lotions, liquids and creams should be packed in sealed zip-lock bags. Empty a little product from full plastic bottles. Squeeze the bottle slightly then place the cap on. This allows the contents to expand in flight without letting the contents ooze out.

.....



Check Questionable Items - The rules about what you are allowed to take on board in your carry-on bags are in constant flux.

Restricted items may be confiscated by security at the airport.

Visit our page on Luggage Restrictions which will link you to most airline baggage allowance pages. Additionally, visit your airline's website the day before you leave to get the most recent update of their expectations.

.....



Don't Bother with the Butane Hair Dryer - Gas cannisters of any kind are not allowed on planes even in your checked luggage. This includes butane cannisters for hair appliances and lighters. Co2 cannisters are usually allowed. Call the airline with any questions, these things change constantly.

.....



Choose Wisely - Packing double duty items (things that fill more than one need) reduces bulk in your luggage. Hair conditioner makes a fabulous shaving cream, a pareo or sarong can be used as a dress or coverup but it also makes a great beach blanket, table cloth, privacy curtain, sun shade just to mention a few. Check out all of our double duty items.

.....



Soft Luggage for Cramped Quarters - On sailing vacations and RV trips use only soft luggage (duffle bags) that can be unpacked and rolled up for storage. Hard sided luggage is difficult (or impossible) to stow in a small space. You might even end up sleeping with it.

.....



Keep the Stink Out - To keep clothes clean and smelling fresh, pack shoes and laundry in double garbage bags.

Extra bags can be used as emergency rain gear, a laundry bag, a ground sheet, to keep your luggage or gear dry, a privacy curtain and on and on...

.....



More Packing Pages
Before You Head Out The Door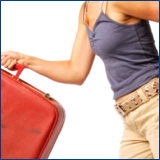 Vacation Planning & Home Preparation

Top of page - Travel packing advice