Sensational Spa Retreats
Top Hotel with Spa Facilities Worldwide
Pamper Yourself from the Outside In.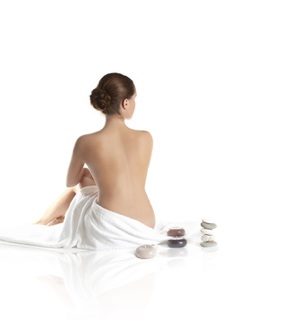 It's all about you, inside and out ... body, mind and soul.
We've devised a list of vacation destinations that offer outstanding Spa services in drop dead gorgeous settings.
Body pampering, hydrotherapy, beauty treatments, laser procedures, waxing, pedicures, medical treatments even dentistry, are available at resort and spa vacations around the world.
Stay for a night, a week or a month in the location of your dreams. Spa Retreats are the ultimate in "Me" or "Us" vacations.
These fabulous Spa hotel selections include a link where you can see for yourself what others have to say about their visit to a specific destination. There's no better way to evaluate a "pamper me retreat" than with unbiased reviews from previous pamperees.
A Spa in the Maldives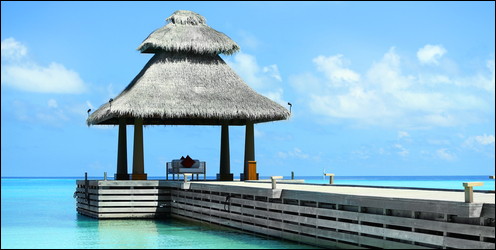 Baros Maldives, North Male Atoll
Who knew you could go to Heaven without that inconvenient dying part?
If there's one place in the world that you should include on your own "bucket list" this is it!. Seriously, you couldn't dream it better than this "pinch me" location.
A resort doesn't get accolades like "Best place on earth" and "Heaven on Earth" by accident. Meticulous attention is paid to every aspect of your stay and you can do as much or as little as you like.
After being greeted at the Male airport you'll be swept away by motorcraft to the island paradise called "Baros".
Because the resort provides things like robes, slippers, hair dryers, spa quality beauty products and laundry service, you can pack super light and avoid airport lineups.
Located in the Indian Ocean archipelago, Baros is the ultimate in luxury Spa vacations and so much more.
The Spa
Every fiber of your body yields to the magic touch of your spa professional.
Body, foot or face massage
Wraps for hair or body
Soaks and steams
Refreshing scrubs
Couples Spa sessions
Yoga pavillion
Ayurveda
Make it Unique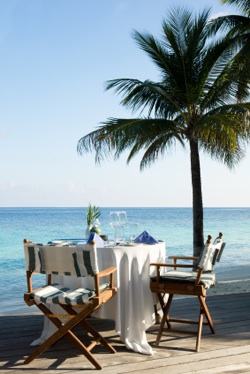 The food is delectable at all 3 restaurants - The Lime, The Cayenne and The Lighthouse or set sail for a sunset dinner cruise on a Maldavian sailing vessel. The staff is committed to making your fairytale come true.
Arrange to be served a picnic, cocktails or a romantic dinner or breakfast anywhere on the island or sail away to a secluded sand isle where you'll be discreetly waited on in luxury.

Want to see reef sharks, a friendly turtle and brilliant coral and fish? Snorkel the house reef or choose from 30 diving locations close by.
Maybe it's time to exchange the snorkel for a dive tank, PADI instructors are available to certify you or take you to the next level.
Romantic meals or picnics on a sandbank.
Choose any location on the island for a special meal.
Outdoor garden tub.
Rainfall garden showers.
Diving excursions and learn-to-dive opportunities.
A fabulous snorkeling reef just 15m off shore.
Walk around the entire island in 15 minutes.
Private and secluded pools.
Gym.
Free internet.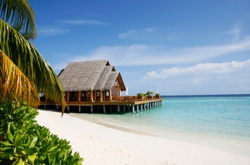 Exquisite dining, luxurious pampering facilities, unbeatable diving and snorkeling combine with drop dead gorgeous beaches and scenery to make your dreams of paradise a reality.
The only downside is that eventually...you have to leave - but the memories you make will inhabit your daydreams for the rest of your life. Bring a still or video camera to prove to yourself that it all really happened (and to prove it to your friends too).
Find the best deal, compare prices, and read what other travelers have to say about their experience at Baros.
.....
Palm Springs Spa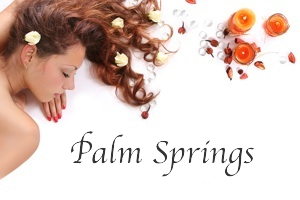 You've heard what they say about location.
The Andreas could not be more centrally located to casinos-that-never-close and sassy boutiques. Fit for a King entertainment and dining establishments beckon as you stroll the promenade and soak up the energy of vibrant Palm Springs.
Park the car - everything you could possibly want to do in Palm Springs can be done within a few blocks of the Andreas and thats only if you can tear yourself away from the spa and enchanting poolside.
Room hints
Built in 1930 the Andreas has a selection of 25 unique rooms. Accommodations on the pool side of the building are generally quieter but rooms on the street side have a closer connection to the sizzling energy of the city.
King bedroom suites have a cool bathroom and an outside cabana.
Room 221 has an enchanting wrought iron balcony overlooking the street.
For a large and quiet corner choose room 212.
The Spaaaaaaahhhhh
Cool your heels...and your toes with a reviving foot massage or soak your entire self in the mineral spa after a shopping extravaganza or an eventful day at the casino.
Spa Services include...mineral spa soak, massage, skin pampering, body and foot treatments.
Hotel Amenities
The pool is open day and night so you can enjoy a midnight swim in the heated pool before zonking out on the pillow topped cloud they refer to as the bed.
Smoke free.
Kid friendly.
Pet friendly - make arrangements prior to arrival.
Free Wireless Internet in public lounge areas.
Includes continental breakfasts (in breakfast lounge)
Workout room.
24 hour pool and jacuzzi.
Unbeatable location.
Couple's suites with a couple sized jacuzzi and a romantic fireplace.
Find the best deal, compare prices, and read what other travelers have to say about Andreas Hotel & Spa
.....
Packing Specifically for Spa Retreats
2 swimsuits
Walking shoes
Workout clothes, golf attire
Book or Kindle reader
Journal and pen
The dress code at most Spas is casual with a pinch of flair.
In addition to their exemplary spa services many of our recommended Spas offer surroundings that invite you to participate in the act of living...by walking, paddling or cycling in their midst, so don't forget the workout clothes and walking shoes.
No matter what the climate is at your destination the Mother List covers all of the packing essentials.
We've partnered with Tripadvisor in order to feature these great spa vacations pages for you. Our list of Best Spa Vacation Hotels changes regularly. Come back and visit whenever you need a break from real life.
Visitors to our Spa Retreats page may also be interested in the following pages.
Island Vacations