Packable Sun Hat
Fashionable, Funky, Fabulous Head Gear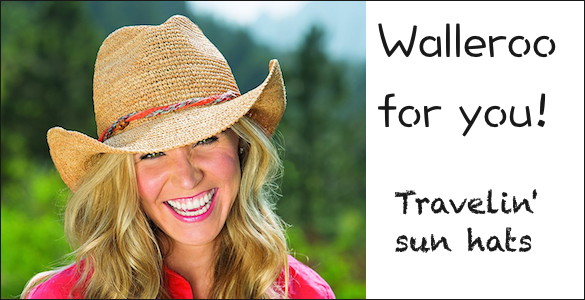 OK, I'm smitten, I've found the perfect packable sun hat company located right in good old Boulder, Colorado, USA.
They make SPF products for men, women and children - Not just any hats but beautiful, shapeable, capable toppers that fit every lifestyle.
And they make packable ones too!
I'm always on the lookout for wearable sun protection that doesn't mind being rolled or scrunched up... and these luscious creations have recently showed up on my radar.
Western Flair Packable Sun Hat
Yeehaw! Covering up never looked so good, you might even forget that you bought this Catalina Cowboy Hat for sun protection.
Trimmed with a beaded band that adds a fun flair and an inner band with a drawstring that adjusts the hat size and snugs it up for windy days.
Of course , it's packable and you'll love it on vacation...and when you're not on vacation.
A thin wire threaded through the brim aids in getting - and keeping - the shape you want.
The mushroom and turquoise colored versions are equally covetable and you probably shouldn't look at them...it's just going to make it harder to decide.
.....
Wallaroo Women's Breton Sun Hat - UPF 50+
Available in chocolate, red, ivory, seafoam, turquoise and a more-white-than-black combo.
The durable ribbon material offers a very fashionable look along with UPF 50+ protection to keep wrinkles and other undesirable consequences of sun exposure at bay.
Wear the brim up or down to direct the shade to exactly where you need it at the moment and an adjustable drawstring inside the brim allows you to snug the hat up for windy excursions.
.....
The Scrunchie Packable Sun Hat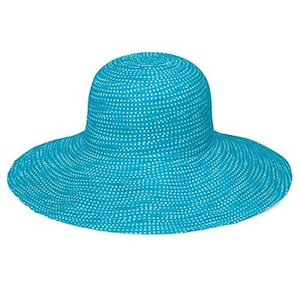 This little number is crushable, washable and UPF 50+.
About as close to perfect as a packable sun hat gets, the "Scrunchie" comes in a glorious selection of colors like - turquoise, coral and hydrangea along with the must-have neutrals like black, white, beige, navy and brown.
As with most of Wallaroo's packable sun hats the internal drawstring allows you to adjust the size of the crown and the snugness of the fit.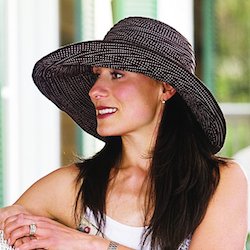 The brim is a mid sized 4 1/2 inches and wired at the outer edge for easy shaping. Great protection for head, face, neck and shoulders without being too big.
The polyester ribbon is sewed in an artfully asymmetrical pattern which makes for a colorful, pliable, durable and interesting hat that's light in weight and easy to fit into your luggage, tote or purse.
Available in Petite Sizes
too!
.....
Wallaroo Women's Ellie Sun Hat - UPF 50+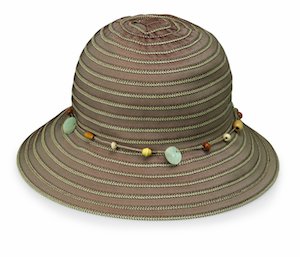 A stylish 3 inch brim offers UPF 50+ coverage in this adorable "Ellie".
It rolls into an easy-to-pack size and unrolls into a mid-sized brim shade generator and stylish accessory for sunny excursions.
The polyester ribbon braids are sewn into a versatile hat that's perfect for travel. The result is a durable and flexible accessory that's beautiful even without any embellishment but a string of beads and polished shell encircles the crown and subtly adds to the charm.
Colors include: purple, seafoam, black, chocolate and white.
.....
Packable Sun Hat Buying Tips
Different hats work for different purposes. While a chapeau the size of a satellite dish provides excellent coverage at the beach or poolside it's not practical on a crowded bus or in a shopping mall. Short brimmed selections are funky and fashionable but the smaller the brim, the less coverage in the way of UPF...and then there are the colors, how to choose?
If you'll be buying only one packable sun hat here's what you should look for:
Sun protection - The UPF rating tells you how much protection the hat provides. UPF 50+ is the highest factor and is usually applied to tighter weaves and bigger brims.
Quality workmanship - Choose a hat that's well built with top-notch materials from a company that has a reliable track record.
Good looks - Find a style that looks great on you while giving as much protection as possible.
Packable - Foldable, rollable or crushable styles travel well and even when you're not traveling the hat can be stowed in your tote or handbag when the sun goes down or when you go indoors.
Lightweight - It matters. Light weight hats are easy to wear for long periods, that means you'll leave it on.
Colors - Choose neutral tones that can be pumped up with the addition of hat bands, pins and scarves.
Versatility - Shapeable brims can be worn in different ways and styles matching your mood and the circumstances perfectly.
Adjustability - Drawstrings or tabs in the inner band allow you to snug the hat up on active pursuits or breezy days.
More Pages of Interest for Sunny Travels