Cruise Packing Tips
Packing Tips for Cruise Ship Vacations.
How to have everything you need and still have room to sleep in your cabin.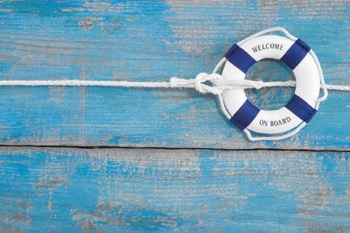 No matter where in the world your ship sails.
On a cruise vacation you can experience a variety of climates and weather conditions as you move from one place to another.
Wherever your ship will take you, you'll find cruise packing tips and lists to ease you into the on-board life.
Cruise ship quarters are not known for their expansive closet space and our packing tips are just the ticket to make sure you have everything you need, and nothing more.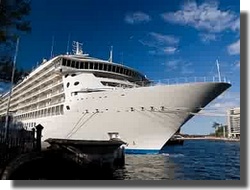 Our traveling lifestyle began with a Caribbean cruise in 1989 and we haven't stopped since. Cruising really opened our eyes to the diversity of landscapes and lifestyles in a single trip.
We saw just enough of each place to tempt us back and have re-visited many of our cruise destinations in our travels.
Have more fun and fewer hassles - Here are our cruise ship tips.
Find a 3 or 4 Color Scheme
Packing in three complimentary colors makes it easy
Tips
1- Most cruise ships have a (very expensive) small store on-board that carries essential drug store items.
2- Making use of laundry and dry cleaning services means you can travel light and still have everything you need.
to mix and match a few pieces into dozens of outfits. Try - black/cream/red or blue/green/copper, or maybe, taupe/fuchsia/black or how about pink/white/burgundy I know, khaki/copper/black or...whatever floats
your
boat.
Find a good color combination by choosing a patterned piece you adore and selecting three colors from it. That way you're sure that everything goes with your favourite item.
While you're going over our cruise packing tips, wear those new shoes that you plan to take on vacation.
Cruise Packing Tips and Checklists
Check your travel itinerary for formal nights or other events (masquerade ball, theme night, etc.) so that you can add special items to your list.

.....



Coordinate your outfits so that each item can be worn with at least 2 other pieces of clothing.

.....




Layer easy care fabrics that will be comfortable while you explore your destinations. Cotton, rayon, hemp and bamboo are most comfortable in the tropics. For temperate climates, layers of clothing with soft fabrics next to your skin under polar fleece, wool and wind resistant layers depending on conditions. Layers are great for all day excursions, just add or remove them as the weather changes throughout the day.

.....



Pack fewer items and take advantage of the ship's laundry and dry cleaning service.

.....



In order to be able to pack appropriate cruise attire for all aspects of your vacation, book tours and special events in advance.

.....



Sometimes an overnight stay is necessary when you're traveling to the ship. In a giant zip lock bag, pack each outfit you'll need while you're traveling, include undergarments and accessories. Another bag can carry a toothbrush, night clothes and all toiletries and medications you'll need while traveling.
These bags go on the very top of your luggage, they'll be the last things you pack.
When you're ready for a change of clothes everything you need should be handy and no tearing through your carefully packed luggage will be required.

.....



Soft luggage (duffels) can be unpacked, rolled up and stowed out of the way in the sometimes tiny cabins aboard ship.

.....



While many cruises host a Captain's dinner or other event at which formal cruise attire is required, a suit will work just as well as a tux. If he has a tux and is comfortable wearing it, include it on his cruise packing list along with all the accoutrements.
For the girls, pack one formal outfit with all the accessories ~ jewelry, belt, handbag, shoes, stockings, hair accessories.

.....



Comfortable walking shoes are a must if you intend to do any exploring.

.....



Don't forget to pack sun block as it can be expensive to pick up onboard. My travel colleague at Best-Travel-Deals-Tips.com has more sun safety tips for your cruise vacation.

.....



It Can Get Even Better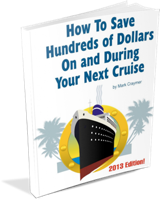 Secret Cruise Tips is a guide to saving hundreds of dollars on cruise vacations and it's backed by a money back guarantee (you won't see that in the conventional book market).
Tips on saving a ton of money - not just on booking but on the costs that pop up during the vacation.
The things that make it extra special often have extra costs tacked on to them...but not if you know a few secrets.
This very reasonably priced guide (less than 10 bucks) will pay for itself the first time you use it and for years to come. Seriously, once you discover these secrets, you'll be spending a LOT more time on cruise ships.
If you love being catered to while your vessel sails to yet another fabulous destination this book will help you get a whole lot more of that.
.....
More Cruise Planning Savvy
Packing list for an Alaskan cruise.
Cruise Attire
1 week before vacation...do this