Carry On Luggage
Weight and size restrictions for carry on bags.
Each airline has it's own carry on restrictions and guidelines which include items that are not allowed in the cabin, as well as weight and size of each bag.
Are you looking for carry on sized bags? Those are over here.
Wonder about the carry on baggage size allowable on YOUR flight or applicable carry on restrictions?
The links below lead directly to the luggage guideline pages of most major airlines.
Because the regulations change constantly (every time a threat occurs) it's best to do a quick check on the day before you leave.
Carry ons are restricted by size, weight and allowable contents.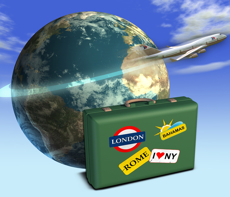 Most carriers allow 2 pieces of carry on luggage per passenger. One is considered a personal item and it can be a computer bag, large camera case or roomy purse. In this bag keep your most valuable belongings, medications and documents as well as anything you need during the flight - passports, credit cards, cash, keys, iPad, phone, book, neck pillow and a pen.
The second is usually a duffel bag or luggage with wheels that's easy to pull along behind you. A lot of stuff can be packed into that much luggage, especially if you know a few secrets for packing light.
When it comes to carry on baggage, size does matter. The size of carry on bags is restricted to dimensions that fit beneath a seat or in an overhead bin in the cabin of the plane. It differs from airline to airline, but not by very much.
Check the carry on restrictions of your airline (below) to avoid being inconvenienced at the airport...or worse.
Find Your Airline
Aer Lingus Carry on restrictions
Air Canada Carry on baggage regulations

~ If They Can Do It ~

A family of 4 that we know has carry on baggage down to a science.

The kids are in their teens, one boy and one girl.

The parents are young at heart and lucky that he works for an airline that offers the perk of affordable travel.

On their frequent trips they take only carry on luggage, breezing in and out of the airport with no waiting for luggage.

If it doesn't comply with carry on luggage restrictions it doesn't go with them.

Restricted items are purchased at the other end.

Alaska Airlines Carry on restrictions
American Airlines Luggage policies
America West Baggage - carry on
Frontier Luggage FAQ's
Japan Airlines Carry on baggage
SouthWest Airlines Baggage Information
Tango - See Air Canada
West Jet Carry on baggage
Zip - See Air Canada
Medications, computer equipment, passports and other documentation should accompany you in your carry on luggage. If your checked luggage takes an unplanned trip to Amsterdam while you're in Costa Rica you should have the important stuff with you.
Unless you're traveling to Antarctica there'll probably be stores where you can buy enough basics to get you by 'til you and your luggage are reunited.
Additionally, in your carry on baggage, pack a change of clothes, sleeping attire and essential grooming aids.
For the kids - If you paid for a seat for them, each should have their own carry on bag that carries their essentials. If you did not pay for a seat for the child you must incorporate their luggage into your allowance.
More Vacation Luggage Tips
Checked Luggage Restrictions
Checklists for Packing Vacation Bags
Top of Page