Best Island Vacations
Experience Island Time
Live the dream!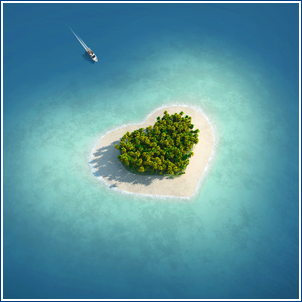 Run away to one of these fabulous tropical islands!
Picture yourself strolling along deserted crescents of powdery sand as the sea nudges a lacy froth of surf ashore.
The beach is always within a stones throw on an Isle so whether you like being in the water, on the water or beside the water, there's an island retreat out there that'll go way beyond your expectations.
We feature 3 very different island locations including a resort with a private island, a breathtaking Fiji getaway and an Island retreat in the Solomon Islands..
Have a Look at Our Top Picks
Tavanipupu Private Island Resort
If you appreciate "barefoot luxury" and fabulous food...run away to Tavanipupu for a little respite.
Tranquility, serenity, peace...however you percieve it, you'll find it at this pristine island resort - near Guadalcanal in the Solomon Islands.
No hustle, no bustle... just authentic living amid parrots, cockatoos and tropical flora or floating, weightless, in an aquamarine sea.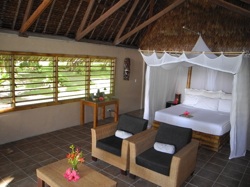 Experience tropical island life in one of six handcrafted island structures appointed with luxurious linens and towels.
Each of the six bungalows face the beach and the setting sun. Rent all 6 and have the whole island for a special family event none of you will ever forget.
Take an underwater camera with you to capture those once-in-a-lifetime shots of turtles and brilliantly colored fish as you snorkel. The crystal water makes it easy to see the red sea fans and giant clams nestled in the sea bed.
If you're a photographer, snorkeler or just an appreciator of heart tugging, natural beauty, you'll want to record this vacation to relive over and over.
Learn to sail a catamaran, go fishing for yellow fin tuna or the rainbow hued mahi-mahi, build sandcastles on the beach.
It's your dream, Go for it!
If this isn't remote enough for you they offer day trips to even smaller isles and you can book a whole island for an overnight stay.
Sandals Royal Bahamian Spa Resort & Offshore Island
Sandals does it yet again. The famous "couples hideaways" chain boasts a Bahamain paradise that sits on a pristine beach with it's own private island for guests only.
This is a vacation filled with romantic interludes and sun dappled daydreams for couples only.
Prices include meals, drinks and activities (even diving). Choose from 10 sumptuous restaurants that cater to every tastebud - semi-formal dress is required attire for a few of the upper crust restaurants.
Don't Miss!
Don't miss the Sea Lion Encounter at Blue Lagoon Island and make a personal friend of a dolphin or a sea lion.
Book a lunch at
The Atlantis Aquarium
and enjoy a spectacular underwater show without getting a drop of water on you. Watch as a graceful manta ray glides by accompanied by hundreds of other species of sea life.
If you go late in the afternoon or evening there's no admission charge
.
Sandy Toes beach day excursion to Rose Island a glorious day trip to Heaven-on-Earth. Take part in beach and water activities or a special "Sandy Toes" beverage at the beach bar or just soak up some tropical sun.
Packing Tips
Semi formal wear (if you wish to access all restaurants)
Kindle, Journal, Notebook, Pen
Dry Sack (for beach and island excursions)
Flip flops, sandals or beach shoes
Nukubati Private Island in Fiji
Dive or snorkel the Great Sea Reef from your assigned dive boat with guide and gear. Just a half hour from the resort this world class reef shelters a myriad of fish and coral species.
Watch whales, rays and turtles glide majestically through the aquamarine waters as you scoot along the surface in a catamaran.
That is, of course, if you can tear yourself away from the sun dappled beach and tranquil surroundings of this spectacular paradise.
This all inclusive sanctuary offers a blend of island charm and decadent luxury all within an eco friendly environment that functions completely off grid.
Solar, wind and water desalination along with expansive gardens offer complete self sufficiency to complete the feeling of connection between person and planet.
Rent the entire island for 14 people or one bure or suite for a romantic interlude!
Plan a fairytale wedding on the beach - you can rent the whole island for yourself and 12 guests.
More Vacation Planning
Vacation Home Rentals
Vacation Planning
To-Do List - The Day Before You Leave